The Eleventh Annual Weblog Awards ("The Bloggies") are upon us! For those of you who don't know about The Bloggies, once each year they set out to discover the best blogs on the web in a variety of categories (sort of like the Academy Awards for bloggers). The Bloggies began in 2001 and have grown to be the longest-running and one of the largest awards for blogs.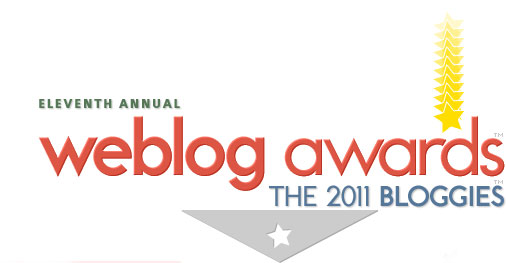 Last week I learned that Hole In The Donut has been chosen as a finalist this year in the Best Travel Blog category. I am thrilled, not only to be chosen, but also because I am in the company of four other finalists who are masters of their craft: Gary Arndt's Everything Everywhere; The Vacation Gals, written by Jennifer Miner, Beth Blair and Kara Williams; Kristin Luna's Camels & Chocolate, and my good friend, Donna Hull, who writes the quintessential baby boomer travel blog, My Itchy Travel Feet.
Being selected as a finalist is certainly a validation of my hard work over the past four and a half years, but it's especially nice that a lot of new readers will be exposed to my writing and photography through the awards. The Internet is a vast and complicated network – there's a reason it's called the web – and it's not always easy to find gems amidst the mountains of trash in cyberspace. The Bloggies make it easy to find great new reads. For example, Ruth Pennebaker of The Fabulous Geezersisters has been a long-time favorite of mine, yet she never really got the notoriety she deserved. However Ruth has also been named a finalist this year in the Best Writing category, so she'll begin to reach a much wider audience.
If, like me, you're always on the lookout for quality, thought provoking writing, I encourage you to browse the list of finalists in all the categories for this year's Bloggies Awards. Whether your interests lie with travel, sports, politics, fashion, science, religion, computer technology or even gossip, you're sure to find some great new talent. And if you're so inclined, you can also participate in choosing the winners in each category, as the general public is invited to vote for their favorite blogs between now and February 20th. Unlike other contests, you do not need to register, sign up for anything, or agree to be on a mailing list to vote. Just go to The Bloggies Awards website and scroll down until you see the various categories. To vote, click on the small gray circle at the bottom of your favorite blogs, then scroll down to the bottom and enter your email address, type in the two words that prove you are a human rather than a robot, and click on the "Submit your nominations" button. You'll receive a confirmation email, with a link that you must click on to confirm your vote. That's all there is to it.
Thanks so much for your support over the past years as I pursued my dreams. And happy reading!