Jampa Chodok is 83 years old but he remembers his days as freedom fighter in Tibet as if they happened last week. He joined our small tour group just as we were finishing lunch at the Jampaling Tibetan refugees settlement, located about 12 miles east of Pokhara, Nepal. He sat in the sun, as old men often do to warm their bones, and, squinting in the bright light, began telling us about a life sacrificed to years of war.
Hostilities began in 1949, when Mao Zedong proclaimed the People's Republic of China and made it a top priority to incorporate Tibet into the PRC. The government of Tibet sent letters to the U.S. State Department, Great Britain and Chairman Mao, declaring its intent to defend itself against occupation "by all possible means." China sought negotiations with Tibetan government officials but they refused to talk, instead stationing more than 8,000 ill-trained and nominally equipped Tibetan soldiers on their eastern border with China. Chinese troops invaded on October 7, 1950; 12 days later 5,000 Tibetan soldiers were dead and the army had surrendered.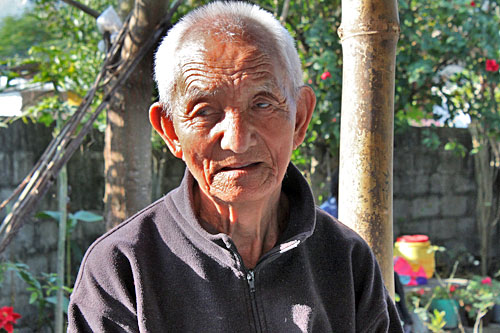 Jampa was only 22 years old at the time and not involved in the fighting. Like other Tibetans, he watched helplessly as China amassed 20.000 forces on their eastern border, advanced to within 120 miles of the capital, Lhasa, and then stopped. Surprisingly, the Chinese government demanded Tibet send a delegation to Beijing to negotiate an agreement. Although they were given no authority to sign any such agreement, representatives put their seal to the Seventeen Point Agreement for the Peaceful Liberation of Tibet, giving China sovereignty over Tibet. It was signed and sealed in Beijing on May 23, 1951 and confirmed by the government in Tibet, which later repudiated the agreement, claiming it had been signed under duress and threat of attack.
China immediately began implementing land redistribution in the far eastern part of Tibet, where the indigenous Khampas and nomads of Amdo traditionally owned their own land. By 1956, fighting had broken out in both Amdo and eastern Kham and in 1958, when the Chinese ratcheted up their efforts to fully incorporate the still semi-autonomous area around Lhasa into the PRC, Jampa, now 33 years old, joined the resistance forces forming in the capital.
In March  of 1959, Chinese officials invited the Dalai Lama to attend a theatrical performance at the Chinese military headquarters outside Lhasa and insisted that he not be accompanied by his traditional armed escort. Thousands of citizens of Lhasa, alarmed by rumors that the Chinese army was mounting an attempt to kidnap the Dalai Lama, surrounded Norbulingka Palace, where the Dalai Lama was in residence, preventing him from attending the event. Within days, protesters were marching in the streets of Lhasa, proclaiming Tibet's independence and infuriating the Chinese. As the Dalai Lama was preparing to flee the city, the Chinese army surrounded Norbulingka and began shelling the palace.
Miraculously, the Dalai Lama, accompanied by a lone security guard, made his way through the Chinese lines and escaped. Jampa and his fellow resistance fighters accompanied the Dalai Lama and his small group of followers for nearly a month as they trekked across the Himalayas on foot and on horseback, bound for northern India. When they had safely delivered their spiritual leader, Jampa and his fellow soldiers headed back to Tibet to fight, however the Chinese forces in Lhasa were so overwhelming that they soon had no choice but to return to India.
For a year the guerrillas lived in Sikkim, building a road for the Indian government, but their hearts still burned with a desire to liberate their homeland. When the road was completed in 1960 they decided to return to Tibet via the mountainous Mustang area of northern Nepal and once again combat the Chinese. While the rugged terrain allowed them to stay relatively safe from Chinese forces, it also was an area virtually devoid of food. Sometimes Jampa went five days without eating, as they had only half a kilo (1.1 pound) of rice per person per month. During this time, the United States had been secretly training Tibetan guerrilla fighters and by 1961 the CIA began dropping shipments of guns into the Mustang area and deploying the newly trained forces. Although the guns were of older make, the guerrilla forces were now adept at map reading and hide and seek tactics; using Nepal as a base they would strike out into Tibet, engage Chinese forces and blow up tanks and security vehicles before retreating back into Nepal.
Jampa fought the Chinese for the next 13 years. He had escaped to India alone, leaving all his loved ones behind. Occasionally he received news of his family from travelers on the road; in this way he learned that his parents, two daughters, and five brothers had all perished in the war. An older brother and a younger had both joined resistance forces, but only the youngest survived. By 1974, it was obvious that the Chinese would prevail and the Dalai Lama instructed all forces to stop fighting. Jampa's group surrendered their weapons to the Nepal government and served a prison term of 3-4 months while the Tibetan Government in Exile negotiated terms for their release and arranged for Nepal to donate land where Tibetan refugees could build permanent settlements.
Today, Jampa Chodok lives at Jampaling with a surviving daughter who recently traveled back to Tibet to meet a few cousins who survived. Jampa's younger brother also lives nearby. Through our interpreter, I asked the storyteller if he'd been happy in Nepal. Without hesitation, he expressed gratitude that Nepal had provided Tibetans with sanctuary and land but quickly added: "I really love Tibet but there is no choice. The only way for you to understand is to become a Tibetan refugee."
Tsewang Choedon lives the Tashiling Tibetan refugees settlement in Pokhara with her daughter Sinon, who manages the book and gift stores at the Monastery, and her son-in-law, who is the manager of the community's carpet factory. At 79 she no longer works, but she's rarely inactive. During one of my visits, she spied me at the small Buddhist temple in the grassy field behind her home and hobbled on over to join me as I circumnavigated the small stupa, spinning the brass prayer wheels and chanting "Om Mani Padme Hum." Even when she relaxed in the midday sun, her hands worried the polished wooden beads of her prayer necklace, perhaps giving thanks for the relative comfort in which she lives these days.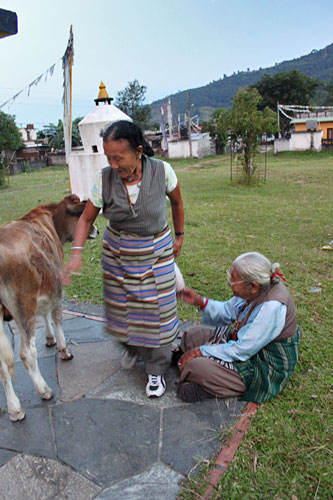 Tsewang fled Tibet in 1959, just ahead of a Chinese army that was destroying monasteries and slaughtering thousands of monks. With her husband and son she crossed the Himalayas, carrying a few personal items and herding their cattle. Twenty days later they arrived in Nar, a tiny town in the remote Mustang area of Nepal. Winter came on with a fury that year and an early October storm raged for two days, killing all their cattle. With no food, money, or livestock to trade, finding work became imperative but since she didn't speak a word of Nepali, jobs were limited. Finally, Tsewang found employment as a porter; for a year she carried backbreaking bags of fertilizer up and down mountainous trails to area farms. The following year the family moved to nearby Nechung and for the next seven years she continued to work as a porter until her daughter, Sinon, was born. Things were easier for the family in Nechung; more plentiful work meant they had enough food to survive.
Yet another move to Kombakar proved ill fated when her husband died, leaving her as sole provider. Seeking a better life for her family, Tsewang began looking for a place that would offer more opportunity. A passing traveler told her that the Lama who had built the Dhargay Ling Monastery in Pokhara was the reincarnation of her grandfather, who had built a monastery in Tibet near her ancestral home. She took this as a sign and immediately headed for Pokhara. It was a wise move; not only did a house await her, but both she and her eight-year old daughter were immediately able to work in the carpet factory. For the first time in years, she had a sound roof over her head, a good job, and ample food.
Now, years later, I wonder if she is happy in Nepal. "I would be happier in Tibet because this is not my place, but this is the only place I can be. His Holiness the Dalai Lama chose to leave and all the monasteries were destroyed. We had nothing left but the Dalai Lama, so we must also come to Nepal."
The philosopher George Santayana said, "Those who cannot remember the past are condemned to repeat it." Like the generation that fought in World War II, I worry that these courageous Tibetans will take their stories to the grave with them, so I am grateful for having an opportunity to document even two such stories, especially since Tibetans living in Tibet are not able to speak freely about the political situation in their country.
My trip to Jampaling Tibetan refugees settlement was arranged through Tibetan Encounter in Pokhara. The Tibetan owner, Thupten Gyatso, was raised at Jampaling and has designed a number of tours to the refugees settlements in this area of Nepal. My two day, one night tour included an ethnic dance presentation, stop at a Tibetan carpet factory, three typical Tibetan meals with a local family, a tour of the schools and other community facilities, a visit to the monastery, the ability to consult with a Tibetan doctor who deals in natural medicines, and a visit to an old folks home, in addition to the fascinating storytelling session. To arrange a half-day, full day or multiple day cultural tour to a Tibetan village, contact Thupten at [email protected], or phone 061-464586 or 980-66-48485. Tibetan Encounter's offices can be found on the main street in the Lakeside district of Pokhara, inside Avia Club and next door to Thic Thak Restaurant.
To learn more about the second most popular destination in Nepal, check out my comprehensive Traveler's Guide to Pokhara.