Malaysia's State of Penang is made up of a turtle-shaped island and a large strip of land on the mainland, joined by one of the longest bridges in the world. However, when tourists refer to Penang (or Pulau Pinang in Malay), they almost always mean the island. Penang is an exotic melange of old and new. The south side of Penang is home to the country's second largest airport, an industrial area where electronics manufacturing reigns, and the world's only Snake Temple. On the northwestern tip, Penang National Park lures visitors with unspoiled natural beauty of Monkey Beach, waterfalls, jungle paths, and a meromictic lake.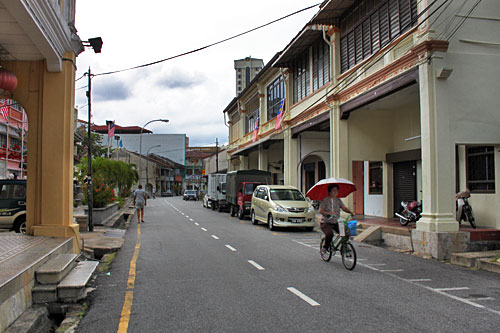 In between, on the east coast, the capital of George Town melds a bustling port with one of the largest collection of intact pre-war buildings in the whole of SE Asia, which earned it UNESCO World Heritage status in 2008. The British laid out the city in a grid system designed to segregate ethnic groups. To some degree, these invisible boundaries still exist in neighborhoods such as Little India and Chinatown, but today George Town is a melting pot where residents of all ethnic backgrounds easily mingle.
The historic center of George Town, compact and easily seen on foot; continually surprised me. Every few feet I discovered an old temple, church, mosque, clan house, market, historic government house, or bazaar. During the nearly two and a half weeks I stayed on Penang I spent most days wandering around George Town and still didn't see everything it had to offer, but the above slide show will give you a small taste of just some of the more interesting sites I found on my walking tours.
Can't view the above slide show of George Town, Penang, Malaysia? Click here.
During one of those walks, I met Lee Ben Chuan, the only remaining traditional joss stick (incense stick) maker on Penang. He happily told me about his trade and his life in broken English, then shoved a brochure in my hand that listed the other vanishing traditional artisans in George Town, insisting that I visit them all. I did my very best.