The driver who picked me up from the airport when I arrived in Penang suggested things I might want to see while visiting this part of Malaysia. "Of course, you want to spend time in George Town to see the many UNESCO World Heritage buildings. Kek Lok Si, Goddess of Mercy, and the Snake Temple are all interesting. And you must go to Batu Ferringhi; they have a good beach and the most incredible night bazaar." Indeed, most of my time on Penang Island was spent wandering around George Town, but one day I just wanted to lie on the beach, so I caught a bus up to Batu Ferringhi.
From the moment I set foot on the beach I was disappointed. The sand was coarse and grainy and trash was scattered around. Granted, I've been spoiled by sugary white sand beaches in Thailand, the Gulf Coast of Alabama, and the Caribbean, but even the water here seemed dirty and signs warned of danger from jellyfish. I walked a couple of miles up the beach, hoping it would improve, but instead the further I went the more erosion was evident, forcing me to walk over sandbags in places.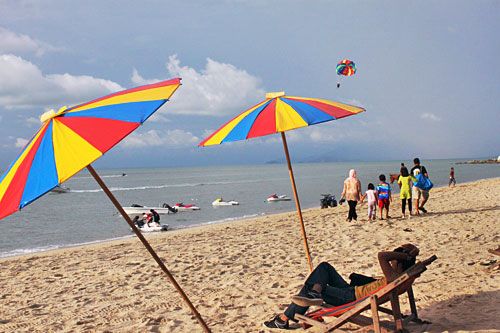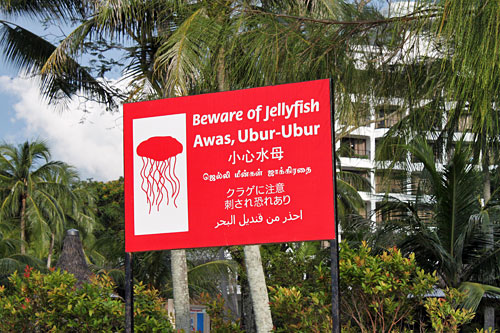 I'd cut back over to the main highway and was making my way to the bus stop when rain came pouring down. I ducked under the first available store canopy and found myself standing in front of something called a fish spa. Intrigued, I peeked in the windows, until one of the proprietors stepped outside and reeled me in.
Since he had limited English skills, he handed me a brochure that explained the concept of the spa. Garra rufa, also known as "doctor fish," occur naturally in the waters of a hot spring in Kangal, Turkey. Locals realized that the fish would peck away at dead and diseased skin of bathers, helping skin conditions such a psoriasis. Also known as "lickers," "nibble fish," and "red log suckers," these fish can grow to a length of 7.5 inches. They have bodies covered in gold scales and use their crescent-shaped, toothless mouths to nibble away dead skin, which supports renewal and rejuvenation. The high temperature of the water makes it difficult for any nutrients to survive, turning the fish into insatiable diners that will attack nearly anything that enters their domain.
The Fish Spa has recreated the conditions of the Turkish springs as closely as possible and stocked a giant tank with these skin-eating fish. $50 Malaysian Ringit (about $14.50 USD) buys clients the right to sit with their feet in the water for half an hour while the fish munch on their corns and callouses, followed by a 30-minute reflexology foot massage. It sounded a bit strange, but since I have bad feet, I'm game to try anything. They led me to the tank room, where I sat on a pillow and dangled my legs over the edge of the concrete pit, allowing the fish to do their thing. Instantly they swarmed and began feasting. The initial sensation of a million critters crawling up my legs gave way to a sort of tickling, until I totally relaxed. Twenty minutes later it was time to let the big boys – the larger fish – have a go, so I changed tanks and, reminding myself that they have no teeth, gingerly lowered my feet again. Ten minutes later I pulled my callous-free feet out of the tank.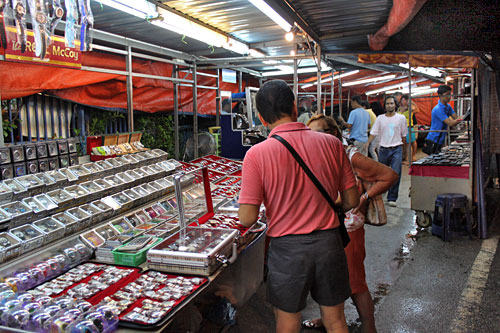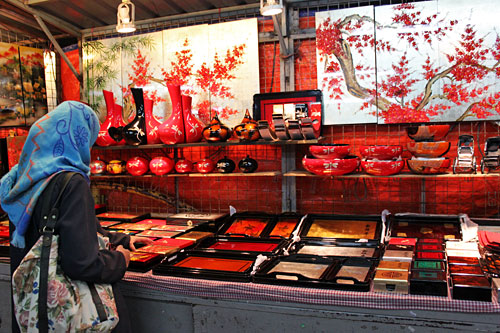 By the time my 30 minute foot massage was done it was late afternoon, so I had some dinner and stuck around for the night bazaar. I emerged from the restaurant after dark and wandered out to the main road, which had magically been transformed into a mile long strip of vendors selling accessories, artwork, crafts, souvenirs, clothes, and much more. Since I'm not much of a shopper the bazaar was of little interest to me but I enjoyed listening to the intense bargaining going on all around me. I'd go again, but not for the bazaar or the beach. I'd go for the fish foot cleaning.
Many thanks to the Heading There travel blog for featuring this post in their recent carnival: "Getting away from it all: retreats, spas and spiritual travel." Check out this week's Heading There blog to read some other inspirational posts from some of the world's best travel writers.