I met Dr. Fauziah Ahmad in 2007, during my first ever round-the-world trip. We happened to be on the same city tour of Hanoi, Vietnam, and bonded when we had to fight to get a portion of our money back because the tour operator failed to deliver on promises to take us to see the Ho Chi Minh Mausoleum. We later attended a performance at the Water Puppet Theater, followed by dinner, at the end of which we exchanged contact information and she invited me to visit her in Penang, should I ever make it to Malaysia.
Over the years we'd exchanged a few emails, but hadn't been in regular contact, so I held off contacting her until I knew for sure my arrival dates. Once I had arrived and recovered from my horrible experience in China, I emailed to let her know I was in Penang. Realizing it was short notice, I told her I'd understand if she didn't have time to get together, but I underestimated the bonds of friendship made during travel.
The following week, Fauziah arrived at my guest house and whisked me away to her home for the night, where she set me up in her guest room and introduced me to her lovely family. But that was only the beginning; she had plans for me…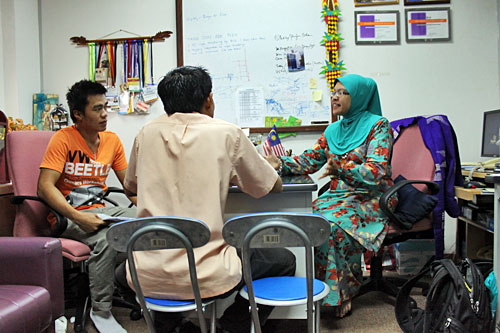 Fauziah is a geotechnical engineer specializing in soil stability, landslides, and ground improvement, and a full professor at the Universiti Sains Malaysia (Malaysia University of Science). She had timed my visit to coincide with the Hari Raya Adilfitri, one of the high Muslim holidays, and insisted that I accompany her to the University the next morning, where I would sit in on a presentation by one of her students and afterward attend the school's Hari Raya celebration.
"But if you don't mind, I am going to dress you for the occasion," Fauziah said the night before. Apparently my khakis would have been inappropriate.
The next morning my old friend dressed me in a floor-length two piece shimmery gown, gorgeously embroidered with gold lame, and finished me off with long beads and a glittering brooch at the neck. I felt like a queen as I settled onto the couch in her office and listened to one of her students practice a presentation to be given at an upcoming conference, where he would introduce a new ground stabilization system that Fauziah has developed utilizing old tires.
Afterward, Fauziah and her husband, Shukri, who is also an Assistant Professor at the University, escorted me through the doors of a large hall, where everyone I was introduced to grasped my hand between theirs and then touched their fingertips to their heart in the traditional Muslim greeting. I was honored to sit at the head table with other professors and, along with a couple hundred engineering students, share in a delicious feast celebrating the occasion. Later, I was given the go-ahead to take photos and the moment I raised my camera, students rushed to be included.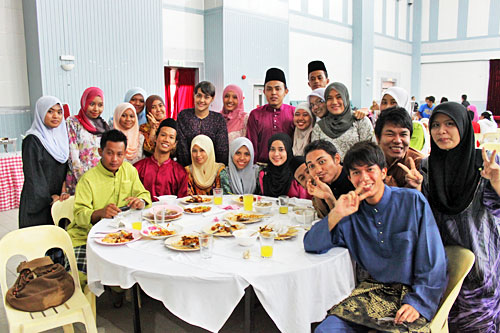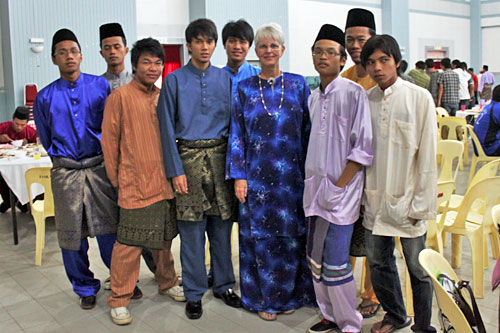 Two days later I had a second opportunity to meet up with a friend on the road, David Hogan, Jr., owner and editor of the popular travel blog Malaysia Asia. David and I "knew" each other because we are both Lonely Planet Blogsherpas, part of a group of hand-picked travel bloggers whose destination articles are imported into the Lonely Planet website. Although we'd never met in person, we'd exchanged emails and tweeted and communicated via Facebook, so when he was scheduled to be in Penang for a government sponsored travel blogging conference during my stay, we made plans to get together for dinner.
David brought along Lex Liang, the only other Malaysian Blogsherpa travel blogger, and introduced us all to the delights of New Road, the best local hawker food court in Penang. After dinner David and I headed for the streetside cafe at the Straits Collection Hotel, where the manager insisted we sample every dessert on her menu. I resisted for about three seconds, but when plate after plate of goodies appeared before me, including my favorite, cheesecake, I relented and dug in!
More and more, my travels are focusing on people rather than visiting famous sights crammed with tourists, where no sign of the local culture is to be found. I count my friends from all walks of life, but those I've met on the road are kindred spirits who enrich my travel experience in a way no attraction or sightseeing tour can. Thank you David and Fauziah; I carry you both in my heart.