Just six of the 720 parking spaces were occupied when I pulled into the lot of Muscle Car City. I surveyed the squat building before me. Despite a fancy black and white checkerboard paint job, it still looked every inch a converted Wal-Mart. Inside the only sound was a hushed conversation between two elderly gentlemen sipping coffee in the Muscle Car Diner. Even the two employees standing behind the front counter were eerily silent. But when I stepped through the door separating the sterile gift shop from the museum, my world reeled. Vintage neon signs cast electric colors on long walls. Car wax and engine oil scented the air. Row after row of highly polished muscle cars stretched out before me, their hoods propped open like alligators waiting to chomp down on their prey. Was I really hearing deep-throated engines revving up at the starting line, aching to drag race, or was it just my imagination, conjuring up memories from my youth?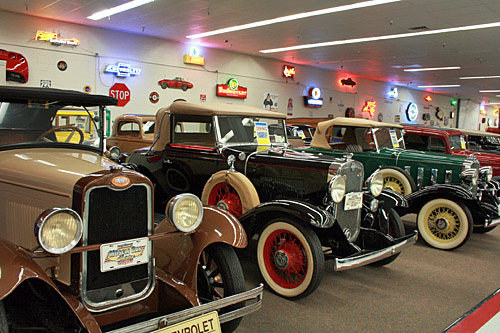 This 99,000 square foot museum, which contains more than 200 classic cars and hot rods spanning 35 years of makes and models, is the culmination of a lifetime of collecting for owner Rick Treworgy. Its extensive inventory of GM Performance cars includes Z-28 Camaros, 396 Camaros, SS Chevelles, SS El Caminos, big block Impalas, Pontiac GTOs, Oldsmobile 442s, and one or more Corvettes for each year from 1954 through 2006, making the museum one of the largest muscle car displays in the nation.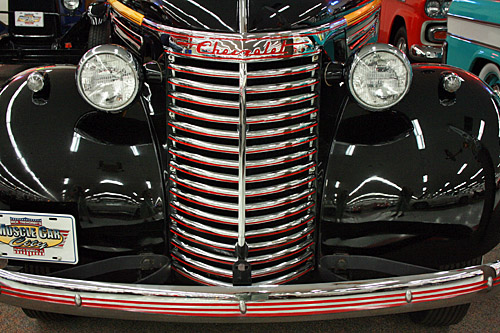 Treworgy doesn't remember the exact moment when his hobby became a business. "I was young and working in the construction industry, and I knew there would be no pension for me down the road. At some point I realized that the muscle cars I had been restoring were my retirement." His obsession had humble beginnings: Treworgy purchased his first old car at age 16 because it was all he could afford at the time. He painstakingly restored and sold the car for a profit, then bought another and repeated the process. And then did it again, and again. Gradually, his emphasis shifted from selling to collecting. "I sold one and used the money to get married; sold another when I opened a construction business," he recalled. But for the most part, he just kept amassing his collection, specializing in mid-60's to early 70's General Motors muscle cars, with an emphasis on Chevys.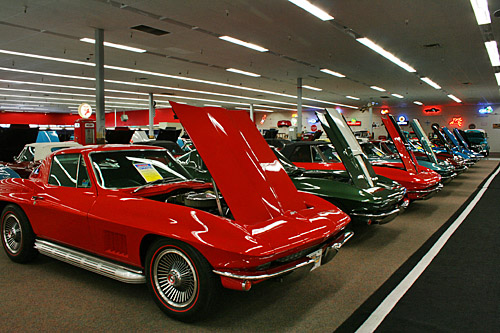 In between restoring cars Treworgy carved out a successful career in real estate and development that included partial ownership in several local restaurants and businesses. One of these, the new Laishley Crab House Restaurant in downtown Punta Gorda, is said to be the largest waterfront seafood restaurant in SW Florida. His imprint on the eatery is subtle but unmistakable: during construction a shiny black 1930 Chevy truck was hoisted onto the rear deck of the restaurant and converted into an open-air bar. A red and white logo on the truck's door proudly proclaims "Treworgy Distillery." Now 60, Treworgy could have opted for retirement. Instead, in a move that could be considered an extreme example of the adage "one man's trash is another man's treasure," he sold a construction landfill and purchased the vacant WalMart in Punta Gorda, determined to fulfill his long-time dream of having a permanent home for his classic car collection.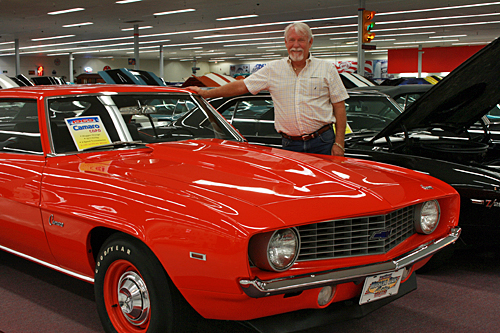 After seeing every last car in the museum I tracked down Rick Treworgy. I wanted to know which car was his favorite. He brushed aside a shock of white hair that had fallen across his forehead and grinned mischievously. "The next one I'm gonna buy," is all he would venture, although when pressed he did admit to having a core of twenty or so cars that he would never sell. As for his individual favorite, I can hazard a guess. When asked to pose next to one of his cars for a photo, he unhesitatingly walked over to the 1969 Camaro Copo standing just outside his office door. Gently closing the hood, he caressed the fire engine red chassis, smiled, and casually leaned up against the rare "Plain Jane" muscle car that was specially built for drag racing. With his ruddy complexion and muscular frame, they seemed ideally suited for one another.