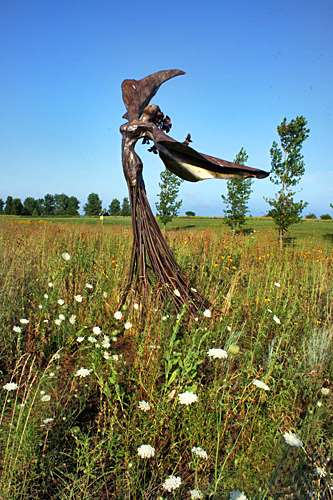 During my recent trip to Chicago, I took an afternoon stroll around Northerly Island, located just behind the downtown Museum Campus on the lakefront. This narrow peninsula was once home to Meigs Field, a tiny airport that opened on December 10, 1948 and by 1955 was the busiest single-strip airfield in the country. In its latter years, the airfield served mostly private planes, but I have a vivid recollection of landing at Meigs in a prop engine puddle-jumper many years ago, so commercial airlines must have used the field at one time. Landing and taking off from Meigs Field was a scary proposition. The runway was short and dead-ended into Lake Michigan; my first landing was my last – purposely. I was certain my plane was going into the drink.
In 1994, Chicago's Mayor Daley announced plans to close the airport and build a park in its place. Nine years of legal battles ensued until, in a controversial move on March 30, 2003, the Mayor ordered private crews to destroy the runway in the middle of the night, bulldozing large X-shaped gouges into the runway surface. Daley subsequently excused his actions, insisting that post-9/11 risks of terrorist-controlled aircraft attacking the downtown waterfront necessitated the closing of Meigs Field.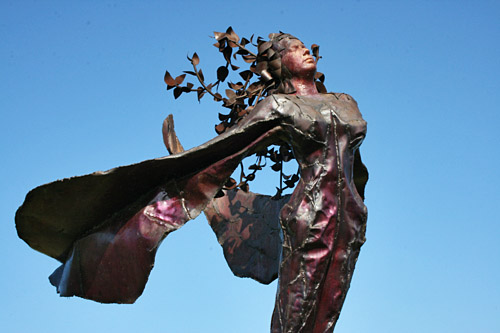 These days, Northerly Island is strewn with wildflowers. Metallic angel sculptures rise amidst blossoms, pointing the way down narrow asphalt paths winding between the Adler Planetarium and the old air tower. Butterflies drift from bloom to bloom and songbirds warble melodies from nests secreted in tall grasses. Eerily, concrete runway markers – the only remnant of the once busy airfield – poke their heads above thick vegetation growing on the old landing strip. Walking through this idyllic park, it is hard to imagine that it may soon undergo yet another radical transformation.
If the City of Chicago is successful in its bid for the 2016 Olympics, beach volleyball and sailing would take place at Northerly Island and a new permanent facility would be built for the canoe and kayak slalom. Just across Burnham Harbor, Soldier Field would be altered in order to host soccer games while McCormick Place, located a bit further south on Chicago's lakefront, would be transformed into a sports complex to host 11 Olympic and Paralympic sports. Planners propose locating the structures for 22 sports in five historic parks: Grant, Douglas, Jackson, Washington, and Lincoln, four of which are located on Chicago's south side. Making way for an Olympic Village which would accommodate 16,000 athletes and officials, Michael Reese Hospital on the near south side is slated to be torn down and replaced with a group of high rises that would be converted into affordable housing after the Olympics.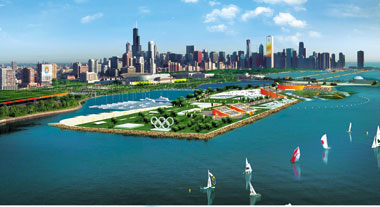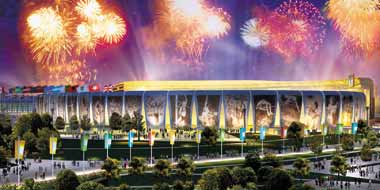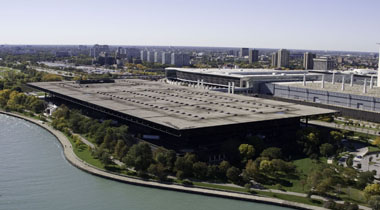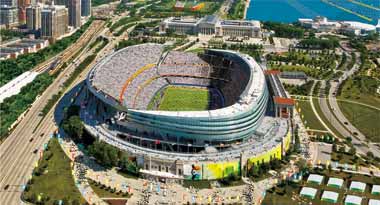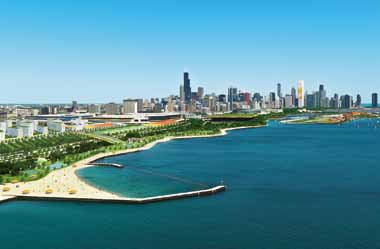 Supporters believe the Olympics would leave the parks in better shape than they are now, and that the Games would bring long-term benefits to Chicago, such as improvement of transportation infrastructure and revitalization of struggling neighborhoods, like the one surrounding Michael Reese. Opponents worry that the proposed venues would damage parks, displace residents, and be a financial drain on the city.
If Chicago is selected to be the host city, its Olympic plans will likely renew a 100-year old debate about the best future for the city that began when urban planner Daniel Burnham developed the Plan of Chicago. Burnham envisioned swaths of interconnected greenways and beautiful parks running along the lakefront to the southern border of the city. Only a small portion of these public spaces were ever built but if the Olympics are awarded to Chicago, a huge chunk of Burnam's vision will become reality. While the winner of a heated debate can never be forecast with certainty, I'm betting that the city fathers (read Mayor Daley) will prevail. After all, anyone who has the audacity to tear up an airfield in the middle of the night can certainly get an Olympic Village built.
NOTE: The Olympic Committee is scheduled to announce their chosen city in 21 days. Monitor the process and announcements at Chicago2016.org. I'm rooting for Chicago.
All Olympic venue photos courtesy of Chicago2016.org