From the moment I began my six hour walking tour of downtown Chicago last Saturday, I had dinner on my mind. I planned to end my day at the Italian Village Restaurant on Monroe Street between State and Dearborn where, in 1927, Alfredo Capitanini, an Italian immigrant who never worked in any restaurant before coming to the United States, began serving up spaghetti and meatballs for 40 cents.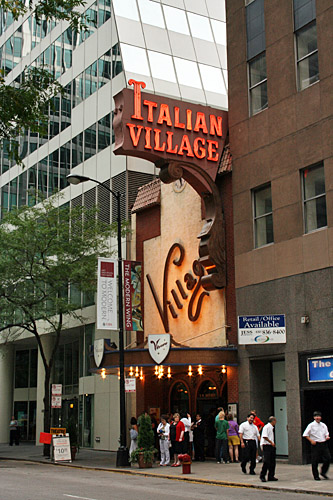 Capitanini's philosophy was uncomplicated: make good, simple food, serve it in ample portions, and offer it with warm Italian courtesy. A few things have changed over the years. Although the Italian Village is still located in the same place, it now houses three different dining venues: The Village occupies the entire second floor, while La Cantina and Vivere share the ground floor. Vivere boasts the most celebrated wine list in the Midwest and the restaurants have collected numerous awards and accolades over the years. In addition to being included on Wine Spectator's list of "America's 10 Best Italian Restaurants," the restaurant earns the City Search designation of "Most Romantic" and "Best Italian Food" restaurant.
My meal was excellent, the service was impeccable, and the price was reasonable, but none of these were my reasons for choosing to dine at the Italian Village. My reasons were purely sentimental. You see, my father proposed to my mother in this restaurant, back in 1947 or '48. I looked around the dimly lit dining room, noting the twinkling lights strung across the ceiling and the rotating water wheel. My father chose well, this was certainly a romantic setting. I wondered how he popped the question; did he blurt it out or put the ring in a glass of champagne? Was he nervous? Did my mother answer him right away or ask for time to think about his proposal?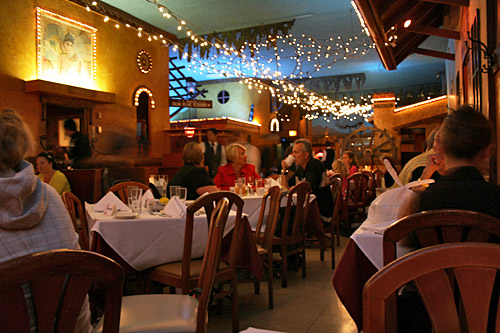 I would ask Dad for answers to these questions, but I'm sure he wouldn't remember. Trying to figure out what year he had proposed, I asked him how many months elapsed between the proposal and the wedding. He had no idea. Time has a way or erasing these tiny details. I understand. I also have an excellent forgetter. But it was enough to sit in that darkened restaurant, watching other couples holding hands across crisp white linen tablecloths, and imagine my parents, young and in starry-eye, pledging to love one another till death do they part.
My mother and father were married in 1948. They had celebrated 53 years together when Mom passed in July of 2001. Her presence was so strong in that restaurant that I simply had to share it with someone. When the waiter returned to my table I reached out and touched the cuff of his starched white dress shirt.
"My father proposed to my mother in this restaurant," I said quietly. "How long has the restaurant been here?"
"We opened 82 years ago today," he replied proudly."
It seems we both had something to celebrate.
Miss you Mom. Love you Dad.