I'm a Chicago girl, born and bred. There – I've said it! It would seem like an easy thing to admit, but for the past 40 years, whenever anyone asked me where I was from I'd reply with some vague comment like: "Oh, I've lived all over the place." Which is true. But it begs the question of why I have always been reticent about admitting my Chicago roots. Perhaps I thought some of the places I've lived (Puerto Rico, the U.S. Virgin Islands) sounded more exotic, more impressive.
To be honest, I couldn't wait to get away from the city when I was younger. I yearned for wide open spaces, for remote places. I lived in the north woods of Wisconsin, in a log cabin with an outhouse, an outdoor hand pump for water, and a tiny oil heater for heat. During the winter I traveled to work on a snowmobile; in the summer I rode a bike. Eventually, I moved back to Illinois, but to a smaller town 60 miles southwest of Chicago. Back-to-back brutal winters in 1978 and 1979 drove me to the warmth of Phoenix for the next 11 years. It is said that people either love or hate the desert; I loved it. The endless, uninhabited spaces soothed my soul. Where others saw only a vast kitty litter box, I was fascinated by this complex ecosystem that hoarded energy through the searing summer heat, waited patiently through the cold desert nights, and burst into lush greenery and riotous wildflowers when the spring rains came.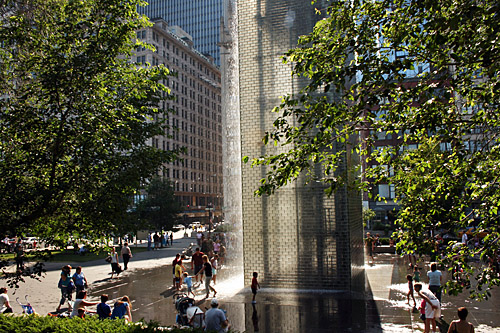 From Phoenix, to central Illinois, Indiana, the Caribbean, the Outer Banks of North Carolina, I searched for my paradise, but all of these places fell short of the perfection I sought. Even Sarasota, Florida, where I now reside, is somehow lacking, though it offers an uncommonly large number of amenities for a city of its size. Gradually, I began sampling larger cities. Business trips to New York and the occasional visit to Chicago for family reunions left me energized and longing for the culture that only a large city affords. And then fate intervened…I decided to attend two blogging conferences, both of which were held in downtown Chicago last week.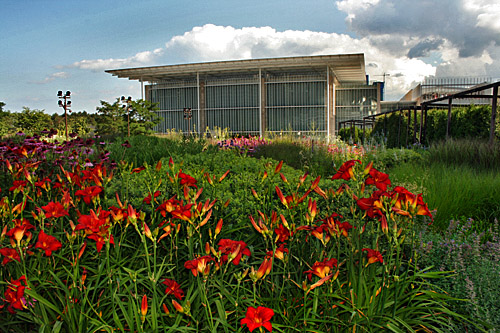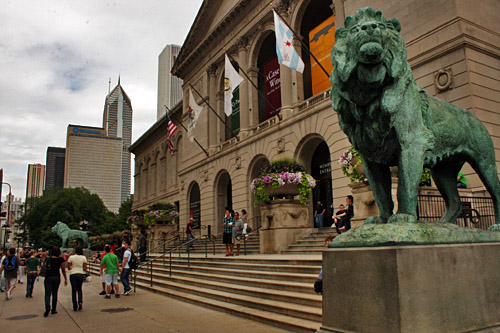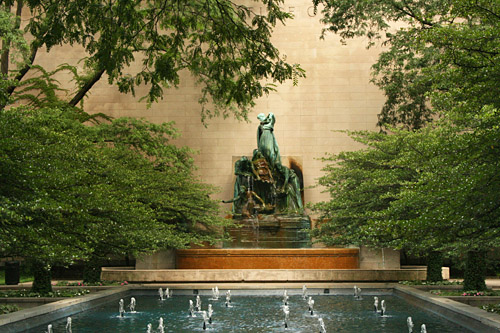 Following the conferences, I slung my camera over my shoulder and headed across Michigan Avenue to Millennium Park. Dodging hand-holding families and romantic young couples, I threaded my way past Wrigley Square to Cloud Gate, the behemoth silver sculpture that all Chicagoans insist upon calling "The Bean," a reference to it's coffee bean shape. At its base, tourists leaned on the highly polished skin, attempting to create pretzel mirrored images, while Chicago's magnificent downtown skyline, topped by fluffy clouds, reflected from its upper surfaces.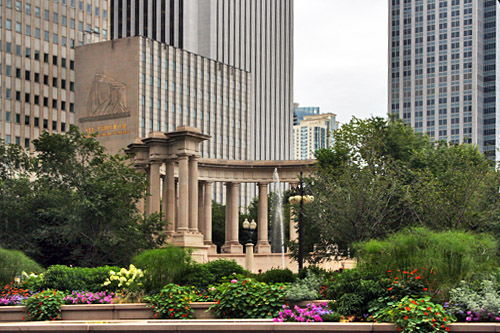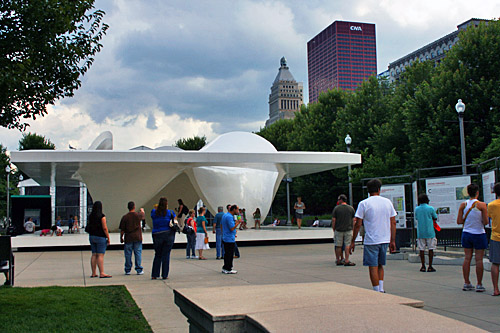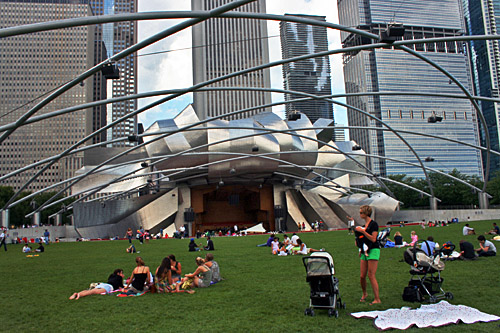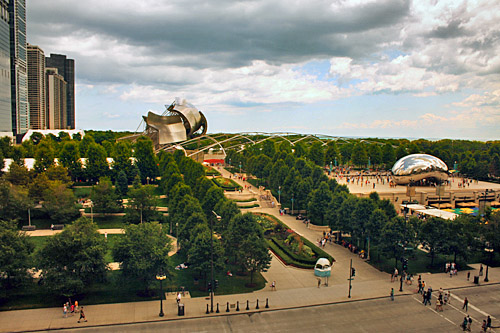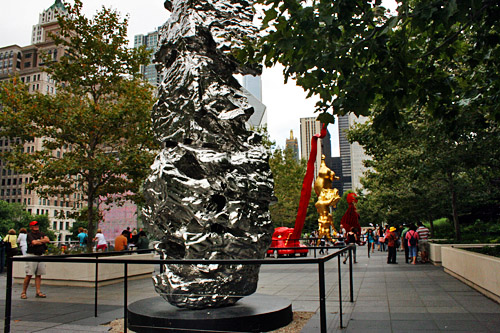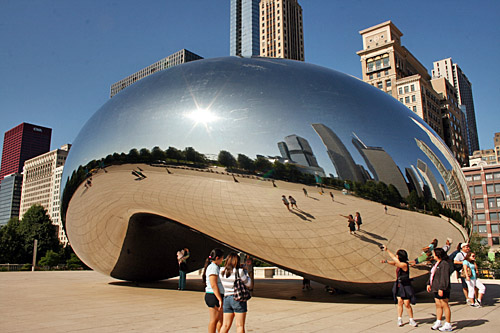 Sounds of falling water lured me further into the park. At the Crown Fountain, children gleefully romped under waterfalls cascading from the backside of twin glass towers. From the front of the towers, 50-foot computer generated images of the faces of Chicago residents stared back at the crowd. I grabbed my iPhone to video the scene and began to pan from one tower to the next when the enormous eyes blinked. Wait, did I really see that? Fascinated, I watched the faces morph from deadpan to smiling to pursed lips, and then almost dropped my phone in astonishment when a stream of water spouted from the mouths of the faces onto the squealing children below.
Growing up, I worked downtown in the "Loop" and spent many lunch hours strolling Michigan Avenue and the lakefront, but I never really appreciated the magnificence of Chicago. It didn't really dawn on me until I moved away, grew older, and made this return visit to Chicago. Of course, Millennium Park didn't exist in those days. Grant Park had been built along the shores of Lake Michigan in the mid-1800's in response to lobbying by citizens who feared commercial development along the lakefront, but the land between Grant Park and the rest of downtown was occupied by a wide swath of Illinois Central railroad tracks that remained a blight on an otherwise attractive landscape. It wasn't until 1997, when Mayor Richard M. Daley directed his staff to develop plans for a new music venue to be built over the tracks, that the idea for the new park was conceived.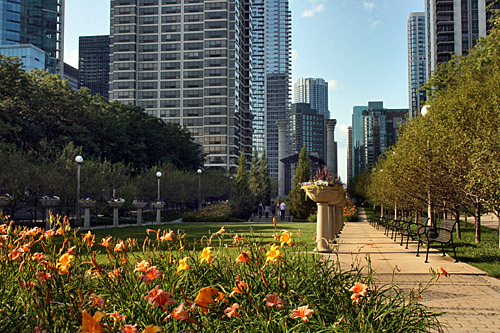 Today, a gleaming stainless steel bridge serpents over Columbus Drive, connecting Millennium Park to Grant Park and providing access to a miles-long greenway beginning on the north at Randolph Avenue and stretching south for miles, past the new Modern Wing of the Art Institute to Soldier Field, the Shedd Aquarium, Adler Planetarium, Field Museum, and North Jetty Park.
Day after day I returned to the city center to visit dozens of attractions. Across the street from Millennium Park, the Chicago Cultural Center, which had been the public library when I was a child, featured an intriguing photo tour of the city's diverse architecture. I strolled down State Street, pressing my nose to the display windows of major department stores, before diverting to Dearborn Street to view the towering red metal sculpture in front of the Federal Building and, just a block north, Picasso's famous and still controversial steel sculpture at Daley Plaza. Although many speculate that the design is a cubist rendition of a woman, Picasso himself never explained what the sculpture was intended to represent.
As the sun drifted lower I strolled along the banks of the Chicago River and retraced my steps to Pritzger Pavilion in Millennium Park. Exhausted from my six-hour walking tour, I sprawled on the great lawn to await the evening's free concert. Beyond the sweeping steel facade of this state-of-the-art facility, lights in the city's skyscrapers competed with a canvas of stars painted on an inky sky. Suddenly the music swelled – the symphony orchestra and accompanying choral group performing The Dream of Gerontius, a gripping yet seldom-heard English-language choral work that tells the story of Elgar's voyage through life's end and into the unknown. Practically floating back to my car, I looped through Lurie Gardens, an astonishing lavender-scented oasis of blooming flowers and bushes that framed the nearby high-rises.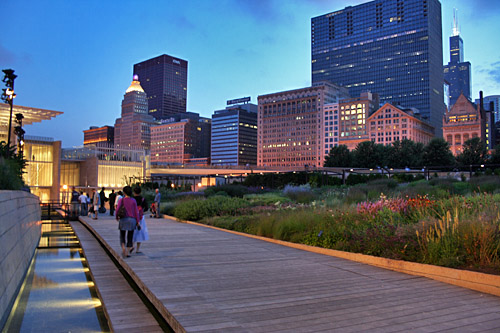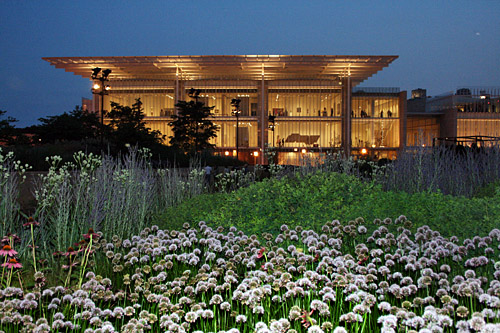 There is much more I hope to explore during this visit: Chinatown; Italian Village; the Gold Coast, with its old Water Tower and pumping station; the Chicago Mercantile Exchange, where traders daily battle to buy and sell commodities; Oak Street Beach; Lincoln Park Zoo, multiple museums and music clubs…. I am getting exhausted just thinking of it all. But one thing is sure, this girl will never again hesitate to admit her Chicago roots, because I finally realize that Chicago is an absolutely awesome city!
Author's note: A visit to Chicago could easily fill up two weeks seeing the major sights, but those have less time will find this itinerary for a 3-day visit to Chicago, to be immensely helpful. It's written by Patti Reddi at Savvy Globetrotter, another local Chicagoan.