In early May I wrote about plans to scuttle the USS Gen. Hoyt S. Vandenberg, a WWII troop carrier and Cold War era spy ship, seven miles off the coast of Key West in order to create the world's second largest artificial reef for divers. The sinking, which occurred on May 27, 2009, was done by Associated Marine Salvage and was documented by several videographers. One of the best videos, produced by Fla-Keys.com, can be viewed by clicking here (scroll down to the bottom of the page and click on the link in the paragraph labeled "Vandenberg On The Bottom."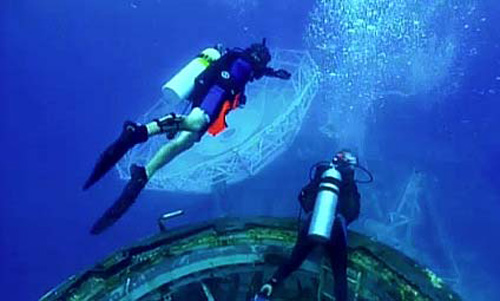 SinkTheVandenberg.com also has some fascinating, short clips, including videos from cameras mounted on the ship during the sinking. I was surprised by these views. I expected a big bang from the multiple, simultaneous detonations but it was more like a series of soft pops followed by puffs of smoke. And then, down she went – fast! Thirteen years of work to bring her to Key West ended in less than two minutes.
The Vandenberg is already attracting interest from divers all over the world and is sure to be a boon to tourism. I look forward to watching the ship morph into a living reef, and on some not-too-distant day, comparing my photo of the docked ship to one of its coral-encrusted sunken hull.