A little bit of history pulled into Key West last week. The 523-foot long USS Gen. Hoyt S. Vandenberg arrived from its previous berth in Norfolk, VA, where it had been languishing since being decommissioned in 1986, one of 25 retired ships often referred to as the "Ghost Fleet." Now, rather than rusting away or being cut up for scrap, the WWII troop carrier will serve one final mission: it will be scuttled six miles offshore, where it will become the world's second-largest artificial reef.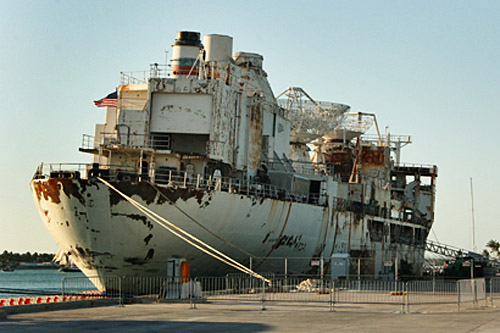 Key West boat captain Joe Weatherby conceived the idea for the project 13 years ago and began searching for a mothballed ship that would be suitable, eventually selecting the Vandenberg because of its interesting structure, military history, and massive size. For years he navigated myriad state and federal regulations in his attempt to bring the ship to Key West while the price tag grew into the millions. Prospects looked bleak until a boat yard filed a lien against the ship for unpaid cleaning and decontamination, forcing it to be sold at federal auction. First State Bank of the Florida Keys came to the rescue last December with a winning bid of $1.35 million.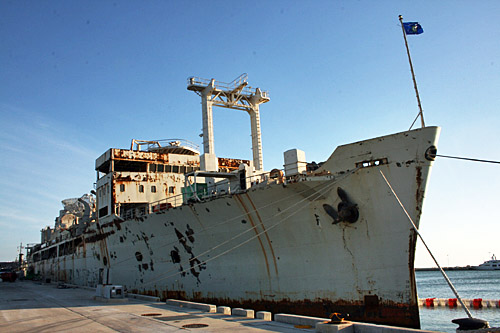 The Vandenberg was towed 1,100 miles from Norfolk to Key West, where it was tied up to Truman Annex harbor. I was among the onlookers who arrived for a final glimpse of the hulking ship before it disappears forever beneath 140 feet of water. Like me, most wanted to snap photos and hold them for posterity, awaiting a time when a ghostly underwater outline of the artificial reef can be compared to the ship prior to sinking. Others had more personal reasons to see the Vandenberg. I spoke to one man whose best friend had served on board the ship during World War II, when it was called the Gen. Henry Taylor. His friend described cramped quarters with bunk beds stacked seven high.
A crew of 60 is currently removing asbestos, paint chips, and other contaminants and placing charges to create 47 holes for water to flow in and flood the ship. Because the top of the ship will be just 40 feet beneath the surface of the water, the wreck will be ideal for diving, snorkeling and even glass-bottom boat tours. While no exact date has been set for the scuttling, it is expected to be completed prior to the start of hurricane season on June 1st.