Seems I have a hard time staying in one place for very long. I am on the road again, headed for Chicago to attend two blogging conferences: BlogHer and TravelBlogExchange. As usual, I am wandering a bit. In Smyrna, Georgia (a suburb of Atlanta) I stopped to check out the Silver Comet Trail, the longest paved trail in the U.S. and one that is extremely popular with walkers, bikers, joggers, and roller bladers.
The vision for this trail began in 1991, when a group of cycling buddies envisioned a network of off-road trails in and around Atlanta. Each of them had biked off-road trails in other cities and understood how they connected neighborhoods and encouraged healthier lifestyles. Determined to develop this same type of amenity for the Atlanta area, they convinced the Georgia Department of Transportation to purchase miles of abandoned railroad right-of-way for a potential commuter rail corridor and allow interim use as a trail. It was named the Silver Comet Trail in honor of the Silver Comet train, which had carried passengers along this route from 1947 to 1969.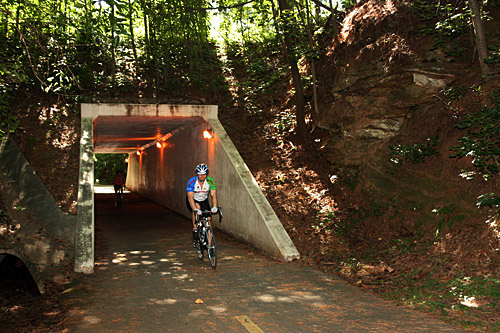 The Silver Comet provides spectacular views of river gorges and distant foothills from six trestles and bridges along its route. Bikes whizzed by as I walked a three-mile portion that runs through the western portion of Smyrna, crossing over one bridge and through an old railroad tunnel. A short detour took me to the historic one-lane Concord Covered Bridge, the only remaining covered bridge in the Atlanta area, which still carries cars over Nickajack Creek. Tomorrow I will tackle the eastern portion, which provides direct access to the 105-acre Heritage Park, from which visitors can follow a 1.7-mile walking trail to the remains of a woolen mill.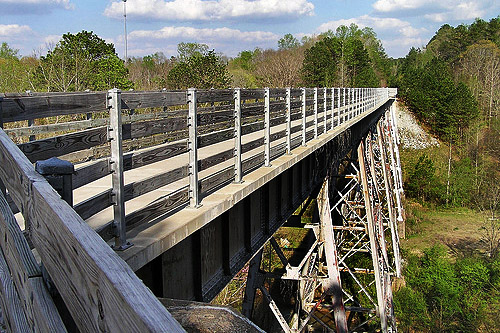 The Silver Comet Trail, which was completed in August of 2008, begins in Smyrna, runs west through Paulding and Polk counties, connects with Alabama's Chief Ladiga Trail at the Georgia-Alabama border, and continues to Anniston, Alabama. Counting its continuation with the Chief Ladiga Trail to the west, it is now the longest paved trail in the U.S. at 101 miles. The Silver Comet has become so popular that plans are underway to to link it with other trails that will provide direct access between Atlanta and Birmingham. Someday, I hope to return and bike the entire route but I suspect that I'd better do that before the trail is extended to Birmingham, because 101 miles on a bike is about my limit. I can already feel my sore butt.