In April of 1982, the United States Border Patrol set up a blockade on highway U.S.1 in Florida City, at the northern entrance to the Florida Keys, and began searching every car, supposedly looking for illegal aliens attempting to enter the mainland United States. When the checkpoint resulted in a seventeen mile long traffic jam the media began covering the story. As a result the Keys were paralyzed: visitors canceled reservations, deliveries were delayed or stopped, and attractions suffered tremendous loss of business. Something had to be done.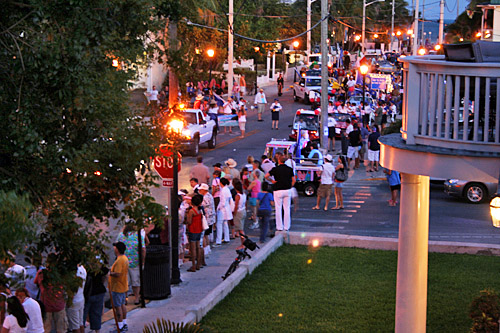 Led by Key West Mayor Dennis Wardlow and local attorney Dave Horan, community leaders flew to Miami, seeking an injunction in Federal Court that would enjoin the Border Patrol from treating the Keys like a foreign country. Unfortunately, the court refused. As the group left the courthouse, reporters screamed, "What are you going to do, Mr. Mayor?" On the spur of the moment, Wardlow replied, "We are going to go home and secede."
By the time the group returned to Key West, Federal agents had begun to arrive. No one knew what to expect. Would they be arrested? Would the Keys be put under martial law? The fear was palpable. Surrounded by his loyal followers, Mayor Wardlow climbed on the back of a flatbed truck in Mallory Square and delivered the Proclamation of Secession, naming himself Prime Minister of the new Conch Republic. He then declared war on the United States, symbolically marking the start of the rebellion by breaking a loaf of stale Cuban bread over the head of a man dressed in a U.S. Navy uniform. One minute later the Prime Minister surrendered to the Admiral in charge of the Navy Base at Key West and demanded one billion dollars in foreign aid and war relief to 'rebuild the republic after the long Federal siege.'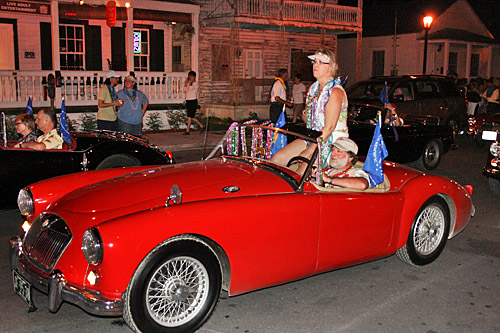 Other than immediately removing the roadblock, the U.S. government ignored the secession. But Conchers continued to fly the Conch Republic flag beneath the U.S. flag and even issued official passports. Over the years, Keys officials have successfully used the Conch Republic passports to travel to 13 Caribbean nations as well as Germany, Sweden, Havana, Mexico, France, Spain, Ireland, and Russia!
Each year on the anniversary of the secession Key West hosts the Conch Republic Independence Celebration, a week long event that includes raising of the colors at Fort Taylor, the Conch Republic military muster, sailboat races, golf tournaments, beach volleyball tournaments, pig roasts, fiddlers contests, mock battles, and the World's Longest Parade (a facetious reference to the route that runs from the Atlantic Ocean to the Gulf of Mexico), where locals dressed as pirates toss Mardi Gras beads to the crowd that line Duval Street. And although now it's all in good fun, you can bet that the local Conchers are as fiercely independent as they were 27 years ago when they seceded from the Union.
Save