Last week I was having lunch with a couple of friends when the conversation turned to repositioning cruises. Not being familiar with the term, I asked them to tell me more.
"They're the absolute best cruise travel deals available!" my one friend insisted. And she proceeded to educate me.
Some ships sail the same itinerary – or at least stay in the same region – year round. Others switch routes with the seasons, requiring them to move the ship from one home port to another, which is by necessity a one-way trip. The latter, which occur twice each year, are known as repositioning cruises. Rather than sail without passengers the cruise lines sell these cruises at a significant discount. Although they require travelers to arrange for more expensive one-way airfare, they also visit more ports of call because they are not limited by the round-trip requirement. Further research turned up some intriguing examples: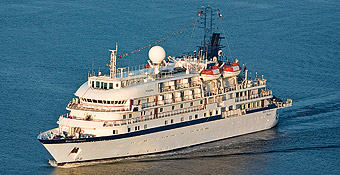 Cruise West's Spirit of Oceanus is a small, luxury ship that departs from Anchorage, Alaska for an 18-night Bering Sea crossing dubbed the Ring Of Fire. On its way to Kobe, Japan, the ship visits the Alaskan, Russian, and Japanese ports of Seward, Kodiak, Shumagin Islands, Dutch Harbor, Kiska Island, Attu Island, Petropavlovsk, Atlasova Island, Kuril Islands, Kushiro, Matushima, and Ise.
The Prinsendam, also by Holland America, offers a 24-Day European Farewell, sailing between Athens and Ft. Lauderdale. The ship visits Gabes, Valletta, Gozo, Trapani, Sardinia, St. Tropez, Toulon, Almeria, Seville, Portimao, Lanzarote, Santa Cruz, and Funchal prior to making a leisurely Transatlantic crossing.

Holland America's

Zuiderdam sails from Vancouver. This 18-day "Fall Panama Canal" itinerary includes Vancouver, Los Angeles, Cabo San Lucas, Acapulco, Huatulco, Puerto Quetzal, Corinto, Panama Canal cruising, San Blas Islands, Santa Marta, Half Moon Cay, terminating at Ft. Lauderdale, Florida.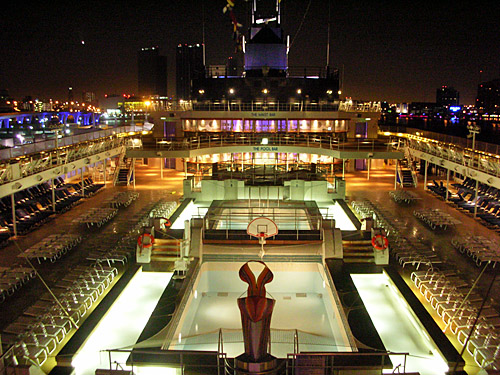 To learn more, visit TheCruiseCritic.com, who seems to be an expert on repositioning cruises. Not only do they offer great insight on the pros and cons of these unique itineraries, you can plug your requirements into their Find a Cruise search engine for more information.