After a disappointing day at the Magic Kingdom that included an amusing run-in with a phony Prince Charming, I was prepared not to like Epcot Center at Walt Disney World. To my delight, I loved absolutely everything about it.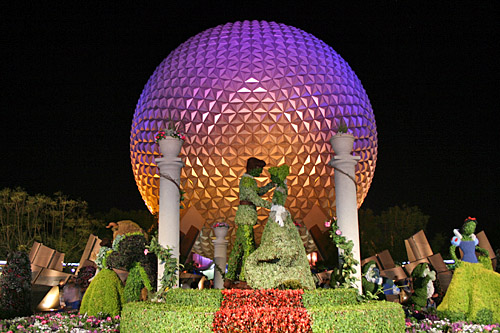 Although I wholeheartedly recommend a visit to Epcot any time of year, I was fortunate to be there during the annual International Flower and Garden Festival, which runs through May 31, 2009. This year the Festival features more topiaries than ever before. They are scattered around the park, beginning with Cinderella's grand coronation and her court, which creates a unique foreground for "Spaceship Earth," Epcot's iconic silver globe.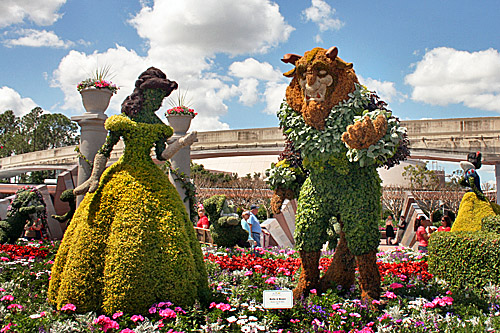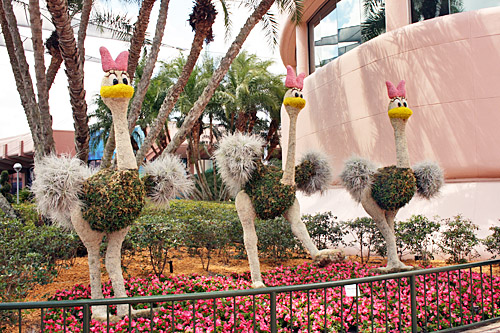 Everywhere, huge swaths of blooming flowers border lush grasses and stunning floral arrangements float peacefully in the center of lakes. A fragrance garden explores the sensual fragrances of Guerlain and the Lush Xeriscapes display provides instruction for creating beautiful gardens while minimizing water use. The art of tea blending is explored at the English Tea Garden and a lovely bonsai plant collection is showcased at the Japan Pavilion. At the China Pavilion, a topiary dragon wades among lily pads in front of the Temple of Heaven.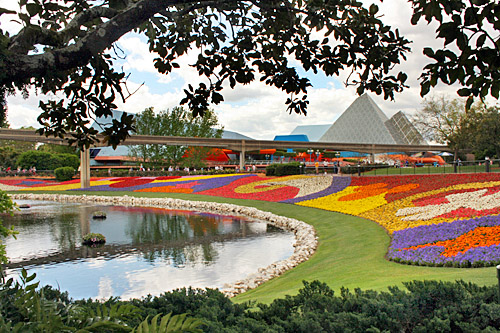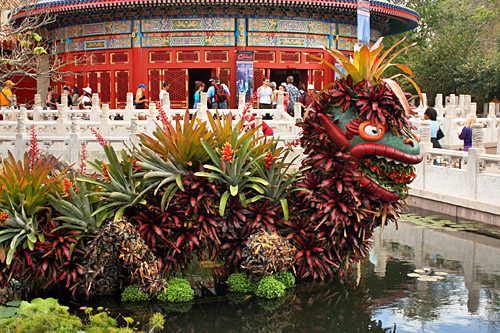 Since Epcot stands for "Experimental Prototype Community of Tomorrow," the entrance to the park is through Future World. In this area a series of attractions focus on what the world may look like in years to come. I particularly enjoyed riding through "Spaceship Earth" (the big silver globe), which began with an historical look at the ways man has communicated since walking upright and ended with an intriguing presentation of the changes that may lie ahead. Other attractions in Future World include Mission: Space, with its exciting mission to Mars; Innoventions, where visitors can play with the tools and toys of tomorrow; and The Land, which offers a boat voyage through greenhouses and a fish farm.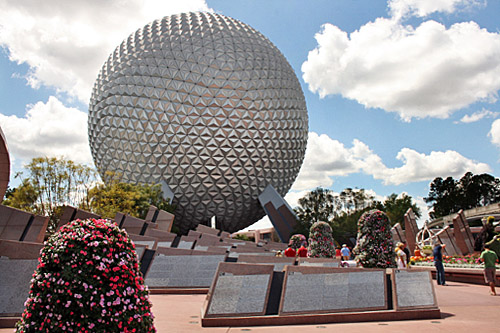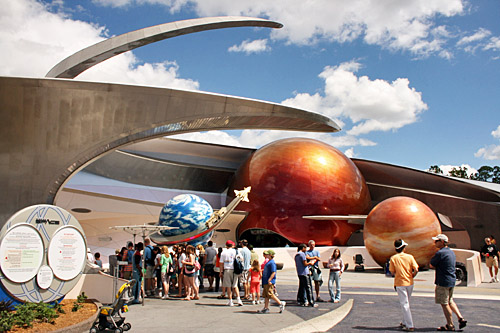 While Future World is interesting, the most fascinating part of Epcot lies in its World Showcase. Built around a circular lake, each of its eleven Pavilions showcase a different country. Walking into the Mexico Pavilion is like being transported instantly to the central plaza of a Mexican village, complete with vendors and mariachis. In Norway, visit a stave church and take a Viking boat voyage. The biergarten is the main attraction in Germany and at the United Kingdom Pavilion visitors can relax in a town square and listen to a Beatles retrospective during the British Invasion show.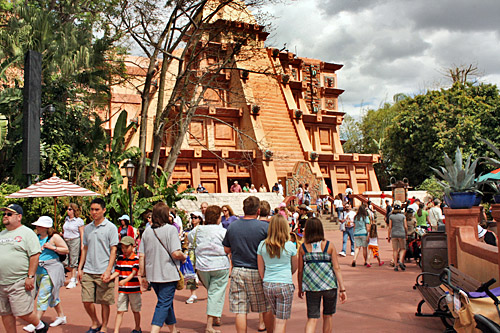 My favorite attractions at the World Showcase were the spectacular Circle-Vision travelogue films presented by China, Canada, and France. Theater-goers stand rather than sit for these films, allowing guests to rotate to see what is being displayed on the 360-degree screen. Considering the spectacular scenery available in the country it would be hard to make a bad travelogue of China, but China's film was nothing less than phenomenal.
No review of Epcot would be complete without mentioning the food. In the Japanese Pavilion I stuffed myself with sushi and seaweed salad. In Morocco I enjoyed pistachio and almond Baklava, and in the UK it was fish and chips. I'd go back just for the food. In fact, I probably will go back this fall during Epcot's annual International Food and Wine Festival. From late September through mid-November, cuisine from around the world is prepared at special food booths set up along World Showcase Promenade.  Sounds like my kind of event. I just hope they encourage sampling!