I met Prince Charming during my recent not-so-magic visit to Walt Disney World's Magic Kingdom. No, not the man of my dreams. I met the Prince Charming who appears at the side of Cinderella in every Disney parade. Or so he claimed.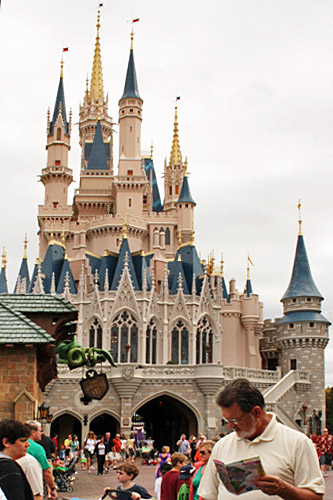 After a few hours of walking around the park, taking rides, and visiting attractions, my sister, Linda, and I sat down to rest, along with several of the other adults that were chaperoning my niece's choral group. We began discussing where to eat, checking the park map to see if any of the restaurants offered vegetarian fare.
"You can eat seafood, right?" Linda asked. "We went by a place that smelled like it had great fish and chips, but I don't remember where it was."
When I confirmed that, in a pinch, I could get by with seafood, the young man sitting next to me on the bench piped up.
"Go to Columbia Harbour House. They have great fish. I know all the best places to eat because I work here."
"Really? What do you do?" I asked.
"I'm Prince Charming."
I gave him the once-over. He certainly looked the part – tall and slim, with sandy blond hair and piercing blue eyes. He was definitely an attractive young man and he knew it.
"How did you get that job?" my sister asked.
"My mother's in politics. The only way you get a job as a cast member at Disney is to know somebody. But once you've worked here, you can get a job anywhere in the performing arts."
Linda probed further, since my niece sings and acts. "What do you do?"
"Oh, basically I appear in parades a couple of times a day and do this (raising his hand, he demonstrated the 'Miss America' wave). And for this they pay me $16 per hour. In fact, I'm getting paid for being on break right now."
An hour later, just as we were finishing up dinner at the Columbia Harbour House, the Prince walked up to our table.
"I thought you might like to see the inside of the castle," he said. He handed Linda a 3″ square piece of red paper on which the words "New Team Member" had been printed across the top in white block letters. "Just present that at the castle and they'll arrange for a private tour for up to ten people. Amazed that he had taken the time to get the pass and hunt us down but very grateful for the unique opportunity, we lavished him with thanks and gratitude.
At Cinderellas Castle we looked for an entrance to the main structure, but the only obvious entrance was through the tunnel beneath the castle, which provided access to a a couple of businesses that operate from the ground floor. First we inquired at the Bibbidi Bobbidi Boutique. The salon was filled with little girls being outfitted in Cinderella gowns and sprinkled with fairy dust, but no one knew anything about private tours of the interior of the castle.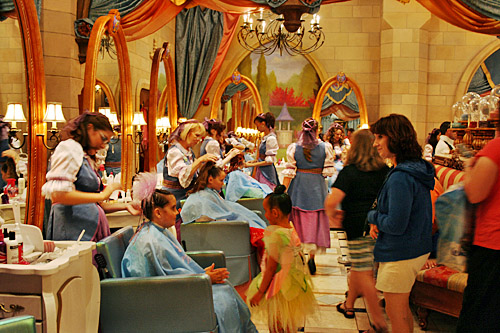 Skeptical by now, we turned to the opposite side of the tunnel and dutifully presented our dog-eared red slip at Cinderella's Royal Table, a restaurant where guests can dine with the Disney characters. "We were told to present this pass for a private tour of the castle," Linda explained. The maitre d' examined our 'pass' briefly before letting us down gently: "Well, there's nothing to see inside the castle, unless you want to have a tour of our back kitchen."
"We've been scammed," I said, laughing.
We kept our eyes peeled for the Prince the rest of the day. Had we found him, we planned to thank him profusely for being so very kind to set up the tour. We would have explained that park employees told us they don't normally do tours of the castle, but since we were acquaintances of Prince Charming, they made an exception and gave us a once-in-a-lifetime glimpse inside. It would have been fun to give him a dose of his own medicine, but alas, we never saw him again. It was, however, the most fun I had all day.