Three weeks ago, the East African country of Zimbabwe held a Presidential election. By all accounts, incumbent President Robert Mugabe was soundly defeated, however his administration has so far refused to release the official results of the election. Instead, Mugabe's corrupt government has unleashed a brutal campaign to retain power. The opposition says that ten have died, and hundreds have been injured; now, a "human wave" of refugees is fleeing to South Africa and other neighboring countries and Zimbabwe's crisis is getting worse.
I traveled to Zimbabwe last year and it is one of my all-time favorite destinations. Everyone I met was quick to smile and thrilled that I was visiting their country. By the end of my stay, I felt I had made wonderful, lifetime friends. In view of the current situation, I have been especially concerned for their safety and have tried to stay in touch. The following is an excerpt from an email I recently received from one of my Zimbabwean friends, who shall remain nameless, for obvious reasons:
"Our President has been compared to the likes of Saddam, which is scary to think we had such a man rule us for 28 years. Everyone in the country wants peace and a normal economy once again, regardless of race or social circles. At this point people are getting frustrated and a continuation of the situation, l am afraid, might leave dead bodies in the street, which most of us do not wish for. l blame (Thabo) Mbeki (South Africa's President) for not taking action to assist in this situation. (As) a SADC overseer he should have called (for) a regime change or fair play from (the) Zimbabwe Election Commission. Well let me drop this one before l get emotion."
Note: The SADC is an organization that furthers socio-economic, political, and security cooperation among the 15 southern African states. Mbeki is a powerful long-term member of SADC. Due to South Africa's proximity, strong trade links, and similar political struggles, South Africa is in a unique position to influence politics in Zimbabwe. Although both Britain and the U.S. have repeatedly tried to persuade Mbeki to take a harder line with Robert Mugabe over his violent attacks on political opponents, takeovers of white-owned farms, freedom of the press, and independence of the judiciary, to date Mbeki has never publicly criticized Mugabe's policies.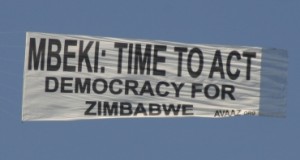 Among the many organizations working to effect a peaceful transition in Zimbabwe is Avaaz.org. Their initial efforts focused upon obtaining 150,000 signatures on a petition urging South Africa's President Mbeki to put pressure on Mugabe to step down. The petition was presented to Mbeki on April 16th, when he traveled to the United Nations to chair a special meeting of the UN Security Council. To make sure the message got through, Avaaz hired a small plane to fly a banner over the United Nations. The next day, amidst pressure from other governments and worldwide media coverage of the Avaaz event, South Africa finally shifted its position on Zimbabwe.
Today I learned of another amazing development. A Chinese ship carrying 77 tonnes of Zimbabwe-bound weapons and ammunition recently docked in Durban, South Africa but, refusing to aid Mugabe's crackdown, the dockworkers refused to unload it. The ship was forced to leave the harbor, and other ports in the region are vowing to block the weapons as well. The Chinese arms ship is now sailing up the Western coast of Africa, in search of a port where it will be allowed to offload the cargo. Union officials tell Avaaz that it could stop in Namibia to refuel, but is probably headed towards Angola. Simultaneously, Avaaz is currently seeking signatures on another petition – this one urging SADC and governments around the world to prevent any weapons shipments from reaching Zimbabwe until the crisis is resolved. Meanwhile, as public opposition builds China is wavering; it might decide to recall the ship. If you would like to sign this most recent petition, please click HERE.
Twenty years ago, those dockworkers in Durban would have unknowingly offloaded that cargo of weapons. Now, with tools like the Internet, it is ever more difficult to keep such secrets. Each of us can make a difference. The knowledge is there for us in plain view. We just have to choose to participate in the process.