I learned today of the death of my dear friend, Ron Wilcox. I met Ron last May as I was walking through the village of Pai in northern Thailand. I was standing at an intersection that didn't appear on my map, puzzling as to which way to go, when he pulled up on his little red scooter and inquired, in his delightful Welsh accent, "Are you lost, luv?" Little did I know it then, but this was Ron's modus operandi; he was always helping people. And although I wasn't lost, I took him up on his offer to give me a lift and hopped on the back of his motor scooter.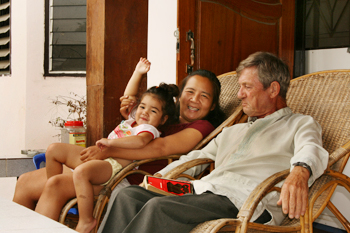 Five minutes later we were at his modest house, where I was introduced to his wife, Nicky, and his two year old daughter, Briony. As I munched on fresh-picked lychee fruit and drank steaming hot coffee, Ron regaled me with the story of how he came to live in Thailand. Upon retirement, he'd come for a short visit, met Nicky, and never left. He's been helping the local people of northern Thailand ever since (you can read about some of his good works in one of my earlier posts, here).
Over the ensuing months, Ron and I became fast friends over the Internet. He would amuse me with the small-town antics of Pai and I would tell him about my life and the ups and downs of trying to break into the freelance writing game. Then, one day in late October of last year, I received a bombshell via email; Ron told me he'd been ill and had been diagnosed with stage four colon cancer and "probably lung cancer, too," although he declined the test that would confirm the lung cancer, as he "had no need to see what was in the the second barrel of the gun."
Throughout his illness Ron's emails remained decidedly upbeat. To the end he helped others, in some cases to the detriment of his health. But he was doing what he loved, and what caused others to love him so. Ron had that unusual capacity to touch people's lives. He touched mine do deeply that it is impossible to describe. I often wonder how someone with whom I had a casual acquaintance could have become so very important to me. I felt as if I'd known him all my life.
I knew something was wrong when I stopped receiving his emails a couple of weeks ago and finally got up the courage to email his daughter, Bethany, who lives in Wales. She replied that her father had passed away on February 8th, adding, "Dad was burnt in the Buddhist tradition on Monday 11th February, and throughout the ceremony the villagers were there in their hundreds to pay their respects. This is extremely unusual for a farang (foreigner), and is testament to how well-respected and thought-of Dad was."
In her email, Bethany also said, "I don't know whether I believe in any sort of paradise, but I would like to think I'll see Dad again and get to sit with him, chatting about all the amazing things he's done and people he's known. Until then, I like to imagine him fishing on a beautiful lake with a Welsh choir singing in the distance, and a few children calling to him from the other bank. I don't know how many times I heard a delighted child shout 'sawadee kap, Loong Ron!' He was so loved."
Add me to that list of people who loved him dearly, Bethany. Goodbye, my dear friend. I will miss you so. But I am sure we will meet again, for I believe with all my heart that we have known each other in many lifetimes and we will recognize one another when our paths next cross.