Suffering from a sinus infection and a head cold, made worse by dreary, rainy weather, I'd been shut up in my hotel room in Pai, Thailand for the past few days. Finally, disgusted and bored, I decided that I had to explore the area, come rain or shine.
The hotel manager told me that a very famous temple was located just two kilometers west of town – all I had to do was turn left at the hotel entrance and follow the road until I ran into it. I walked along, enjoying the green and misty countryside around Pai, with its rice terraces and blooming purple and magenta Bougainvillea. About a kilometer beyond the hotel, the road turned to dirt and I came to a large crossroad, also dirt. The manager had made no mention of this so I pulled out my map of Pai – no crossroad was shown on the map either. I was looking quizzically from the map to the crossroad and back again, when a man pulled up beside me on a bright red motorbike. He was dressed in crisply creased dark gray trousers, a loose fitting light gray tunic top, and plastic sandals, with salt and pepper hair that was neatly cut and combed back from his forehead. He flashed me a wide smile, his brilliant white teeth a stark contrast to his deeply tanned, rugged face. I liked him instantly.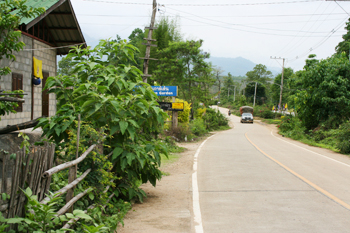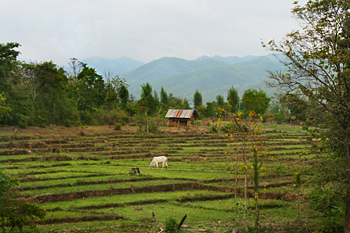 "Are you lost, luv?" he inquired in the most delightful British accent.
"Well, I wouldn't say I'm lost – I mean I know where I am – I just don't know which way to go from here to reach Wat Nam Hoo," I replied.
"Ah, well you go straight – this is the new bypass they are putting in around Pai."
We chatted briefly. He told me his name was Ron Wilcox and asked where I was from – the usual niceties. When I asked where he was from he flashed that dazzling smile again and said, "Well, where would you think, luv?"
"Obviously, you're a Brit," I laughed.
"But I'm headed that way; can I give you a lift?" he asked.
I declined, explaining that I'd rather walk because I needed the exercise. In truth, it was one of those situations where if I accepted his offer I might be putting myself in harm's way. On the other hand, if I said no, I might be missing out on a wonderful experience. My gut was telling me he was very OK, but I hadn't yet spoken to him long enough to make a decision.
Fortunately Ron was in no hurry – no one here is – and he sat astride his motorbike while we had a bit of a chat. Again that grin crept out when he said, "You know, this is a very dangerous place."
"Really? I don't get that impression at all. How so?" I asked.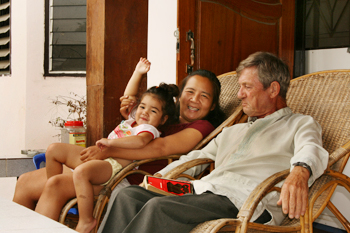 "Well, I came here four years ago for four days and never left." He's since married a local Thai girl and two years ago at the age of 68, he started a new family. That's when I decided that Ron was safe, so I took him up not only on his offer of a lift but also on his offer to come to his house, meet his family, and have coffee.
Children are second nature to Ron. Between his natural children, adopted children, stepchildren and foster children he reckons he's had about 100 kids in his life, so he never gave second though to starting a new family at his age. In fact, he and his wife, Nicky, have already added to their extended family – they have sort of adopted a Shan girl who came to their gate one evening begging for work.
The situation with the local Shan people is deplorable. The Shan are believed to have migrated from the mountains of Yunnan in China, settling in the Shan Plateau in the southern portion of what is present day Myanmar (Burma), where for centuries they operated as semi-autonomous states. Eventually, these Shan States were conquered by Burma and then subsequently subject to British rule when the Brits annexed Burma. Since Burma gained its independence from Britain, the Shan have been involved in an intermittent civil war with Burma, seeking independence or, at least, autonomy.
During conflicts, the Shan are often burned out of their villages and forced to flee. Whether or not there is an ongoing conflict, the Shan are subject to depredations by the Burmese government. Young men are impressed into the Burmese Army for indefinite periods or enslaved to do roadwork for a number of months with no wages and no food. In large part, the dispute between the Shan and the Burmese may be driven by opium. Before 1996 the Shan were responsible for up to 50% of the world's opium production. After the surrender of their leader Khun Sa to the Burmese in February of 1996, the selling and growth of illegal opium has all but stopped among the Shan, who now have an active drug eradication policy. Khun Sa is now with the corrupt Burmese government and is in charge of the opium production, which is grown by various hill tribes and is a major source of funding for the Burmese military.
The horrific conditions inside Burma have led to a massive exodus of Shan to Thailand and due to its proximity to the Burmese border, Pai is a major Shan population center. In Thailand, the Shan are not given refugee status and the men often work as undocumented laborers for daily wages of around 80 baht (slightly more than $2 US). Young Shan girls are regularly sold into prostitution, destined for the brothels of Bangkok, where they are abused until they either are too old to be attractive to a clientele seeking pre-pubescent sex, or until they are infected with AIDS, in which case they are deported to Burma, where the only fate that awaits them is a shot to the head. Ron's Shan girl was just such a case. She was homeless and an orphan – she had no other options. Ron and Nicky have taken her in and arranged for her to get local papers so she can attend school.
But that is not the extent of their charitable work. A while back Ron learned of a young village boy who was very ill with a hole in his heart. The problem could be fixed, but because the family was Shan they were not covered by Thailand's national insurance. Ron located a hospital in Chiang Mai that agreed to do the operation for $3,000 U.S., then spent seven months going around to local bars and businesses, collecting money little by little, until there was enough to pay for the operation. There was, however, one glitch. Although there was enough money for the operation, there was not enough to pay for the necessary Chiang Mai hotel room for the family. Ron is not a wealthy man – he is on a small pension – but he could afford to pay for their accommodations. The problem is that the Shan culture only allows them to take money from family members. In the case of the operation, the hospital was to be paid directly from a "fund," but the hotel was quite another matter.
Finally, the family came up with a solution. They 'sold' their son to Ron for a nominal amount (5 baht , which is about 15 cents U.S.) and handed him over to be bounced on Ron's knee for a few moments, during which time the boy honored Ron by calling him 'father.' Ron then handed the boy back to the mother, who could now accept money for the hotel. Ron compared it to becoming a godfather to the child. The operation was ultimately successful and the boy is today leading a full, active life.
I envy Ron and Nicky. They live a simple life, surrounded by lots of love. They do what they can to help others, one-on-one. God bless them for their work. I am grateful to have had an opportunity to get to know them, however briefly, because encounters like this are the truly memorable parts of any trip.