I've learned the hard way never to keep all my money in one place when traveling, not even when I have access to an in-room safe. On more than one occasion, my room safe has failed. In each instance, I was amazed how easily hotel staff could access a master key and how simply the safe was opened. So I spread the money around a little. Some stays in my wallet. Some goes in the safe, if one is available. But the rest gets stashed in strange and unusual places, like the following:
Stash some in snack-size, zip-lock baggies and sink it to the bottom of the toilet tank
Pull up a small corner of the carpet in the rear corner of the closet and slide some bills under it
Carry a small screwdriver in your luggage; when you arrive, unscrew the back of the TV and the bottom of the telephone and put some bills inside
If there is a shower curtain in the room, take down the shower rod and hide some cash inside the hollow tube
If there's an upholstered chair in the room, remove the zippered cushion cover, make a slit in the foam rubber cushion and shove some money inside
Snip a few stitches on the hem of the drapes and slide some bills in the fabric pocket
I always carry a miniature roll of duct tape when I travel, so if all else fails I can place some bills in a baggie and tape it to the underside of a dresser drawer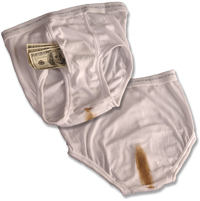 But the most creative idea I've come across may be the "Brief Safe," which is a pair of men's briefs that have a secret pocket where you can stash bills, documents, and other small valuables. To ensure that no one picks them up, the underwear has a telltale brown streak down the center. Just throw them on the top of a pile of dirty clothes in the corner of your room – no self respecting thief is going to touch them. A bargain at $11. And if you want additional assurance that the thieves will be foiled, for $9 you can add a realistic smell to the briefs with Doo Drops, a small vial of liquid that smells like real diarrhea. What will they think of next?