I've got packing down to an exact science. For this six month trip I carried only a small backpack and a carry-on size (22″) rolling suitcase. So I had to choose every article with great care. One of the most difficult decisions when traveling light is what shoes to pack, simply because they take up so much room. I opted for two pair – one a really good (and really expensive) pair of Mephisto sandals that can even be worn into the water as well as my good old reliable tennis shoes. And when I say old, I mean really decrepit. These tennis shoes have seen better days – the laces are frayed and the soles were already cracked when I started this trip. With the amount of walking I've been doing, well, you can just imagine the condition they were in. But the plain and simple fact is that they are comfortable. They are well broken-in. They fit my feet like they were molded around them. For all those reasons I have been fighting the idea of new shoes but when I got to Pisa, Italy a week ago and it started to rain, I discovered that the seams between the soles and the upper fabric had come unglued and by the end of the day, my feet were soaking wet.
Still, I figured they would last to the end of this trip. And they would have, if not for the SMELL that erupted from them after they got thoroughly soaked, inside and out.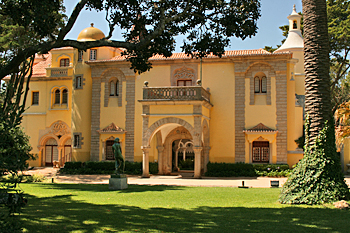 At first I figured it was more the socks than the shoes, so I washed all my socks and continued to wear the shoes. By the time I got to Portugal I could smell them when they were on my feet. I was certain that people standing near me were wrinkling up their noses in disgust and looking around, trying to identify the source of the smell, while I stood by, trying to look innocent. The odor was so rank that I couldn't leave the shoes inside the bedroom once I arrived in Cascais Portugal – I had to put them outside the door or the stink would have driven me out. Needless to say I had to buy a new pair of shoes a couple of days ago. They're nice, these new shoes. They're blue. They fit pretty well. And they're fairly comfortable. So this morning I set off on a four hour walk, destined for Guincho Beach.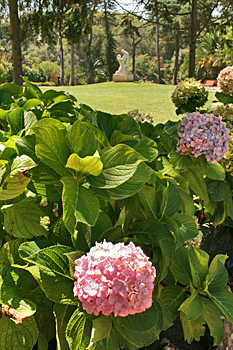 Along the way I visited some interesting old mansions, parks, lighthouses, forts, and scenic overlooks along the coast north of Cascais, beginning with the Dos Condes De Castro Guimares Museum and Library, an old mansion that was originally built by an Irishman who painted shamrocks on the ceilings and plastered interior walls with Azulejo tiles. Some years later he sold it to a Portuguese royal couple, who lived in it for years and left it to the town when they died – today it serves as a museum that faithfully represents the architecture and furnishings of those days. Behind the house, the lovely gardens incorporate jogging paths, picnic areas, playgrounds and much more, but I particularly liked the giant blue, pink, and purple hydrangeas that bordered the paths and surrounded the fountains. Best of all, entrance was free – they wouldn't even accept a donation from me.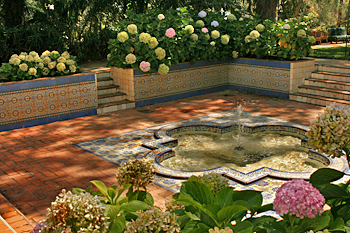 Just down the road from the mansion was the Santa Marta Lighthouse which had been closed when I came across it on a previous stroll, but this time it was open so I spent a bit of time exploring its museum, which featured a nice display of operating Fresnel lights at eye level.
These are the lights normally found at the top of lighthouses and it was fascinating to see them up close, although also blinding, as the light they put out is intense. I must say that the lighthouses in Portugal are exceptionally pretty – I can't remember ever seeing a blue one before.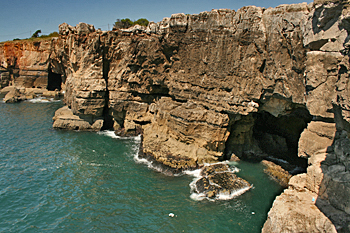 A bit further on was Boca De Inferno (Mouth of Hell), a rocky escarpment of razor sharp lava where, on days when the seas are heavy, waves crash furiously upon the rocks. Just not today – the water was placid and gently lapping at the base of the cliff.
Yet further north I discovered the Da Guia Lighthouse, with its pretty ocean view of sailboats competing in a regatta just off the coast: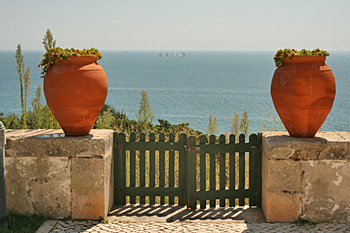 and the Jorge De Oitavos Fort, with its ancient cannons poised and ready to do battle, just as they were in times past: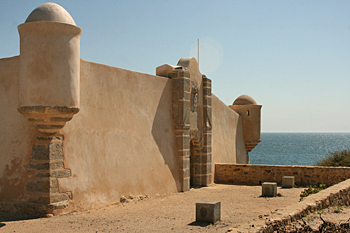 About that time my feet – especially my left big toe – started to scream at me. When I finally couldn't take another step I stopped for lunch and then caught a bus back to town. I didn't get to Guincho Beach, but I also I don't have any blisters on my feet. And that's pretty good trade-off, if you ask me.