My incredible luck has not failed me as I near the end of my six month around-the-world journey. For my last ten days I have chosen Cascais Portugal because I have long wanted to come here, and Cascais specifically for its beaches. Somehow, I just knew I would be tired at this point and badly in need of a rest. And I was. Any one of a hundred beach destinations around Portugal would have provided me with the rest I needed before plunging headlong back into life in the States, but in Cascais I was fortunate to locate a family that has a studio apartment attached to their home, which they gladly rented to me, even though the family was out-of-town when I was scheduled to arrive, had never met me, and knew next to nothing about me. On the evening of my arrival, a family friend met me at the house, handed me a key, gave me a brief tour, and told me to make myself welcome.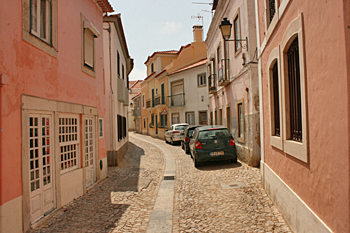 I slept until 10 AM the next morning (a luxury I have not allowed myself on this trip very often because there was always so much to see and do that I didn't want to waste even ten minutes of daylight) and woke to delicious sunlight streaming into the courtyard between the main house and my apartment. I jumped into a bathing suit, shorts, and a top and headed out to explore. The street in front of the house leading down to the town square and beach was paved in chunks of white marble about three inches square, flat on top and rough on the sides, each piece laboriously hand-placed and butted up against its neighbor to create a relatively flat road surface. Thousands of cars and pedestrians over the years have polished the marble to a high sheen and I stepped out cautiously from the threshold of the house, expecting the surface to be slippery. For about a block I walked gingerly – like a Geisha wearing a tight kimono – afraid I would lose my footing any moment and tumble down the road. But to my surprise, the stone is not at all slippery, although I wouldn't want to try negotiating it in the rain.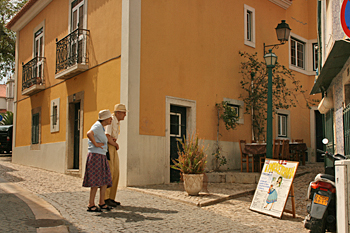 Houses line these narrow curvy streets, hugging each other like one big, happy family. Huge Bougainvillas, covered in purple, lavender and peach blossoms, overhang fences and balconies and provide some little privacy between the structures. Everything is sun-splashed and the quality of the light here gives the impression of row after row of whitewashed houses with red tile roofs, although many are actually painted in pastel hues.
At the foot of the hill, a mere three blocks from the house, the street opened out onto the main square, with its black and white marble paved surface, bronze statue, and ancient buildings. The town hall stands here, perhaps best known for the blue Azulejo tiles decorating its facade for which Portugal is so famous.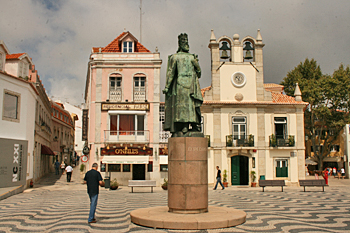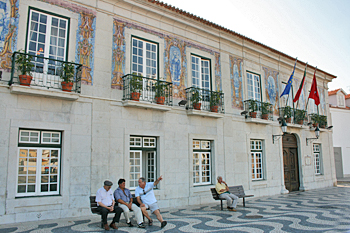 Across the main road is the old fort that guarded the harbor entrance in olden days and just beyond is the still active Santa Maria lighthouse.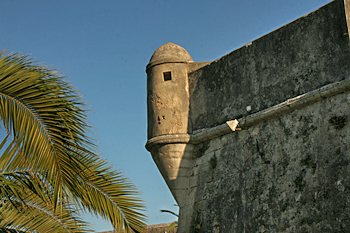 Here also lies tiny Ribeira Beach, snugged into a pocket between the main square and the Atlantic Ocean and lined on both sides by regal old mansions owned wealthy Portuguese who have been coming to Cascais for summer vacations since its inception. Ribeira Beach, more commonly known as Pescaderos (fisherman's) beach, is not considered good for swimming, as it fronts the harbor that is still actively used by fishermen. It is, however, a wonderful place to lie in the sun and watch people, which is exactly what I have been doing for the past five days.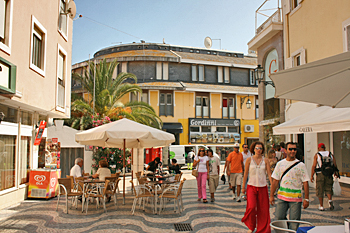 Other than being lazy and lying at the beach, I have taken a couple of walks around town, done some shopping, stuffed myself with some of the most delicious fresh seafood I have ever tasted (an entire dinner of fresh-caught sea-bass was only 15 Euros – about $20 US), checked out a couple of the other beaches scattered around the waterfront of Cascais, and delighted in discovering as many different designs of Azulejos on the buildings as possible.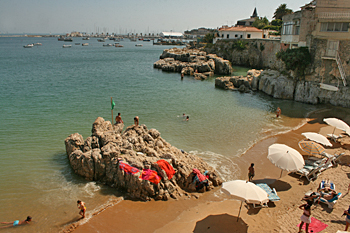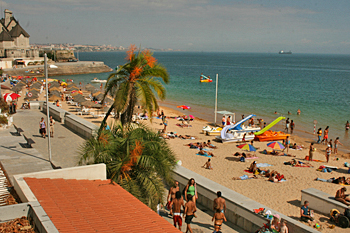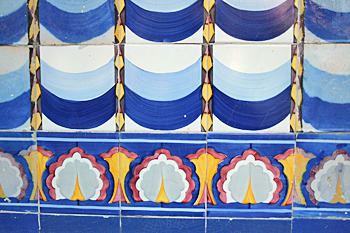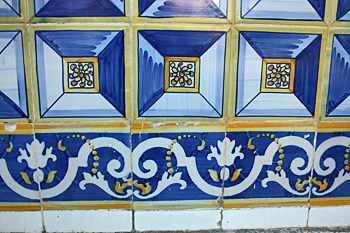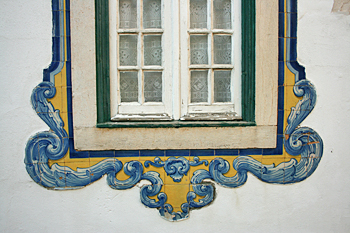 Even the street signs, which are inset into the sides of houses, are done in Azulejos: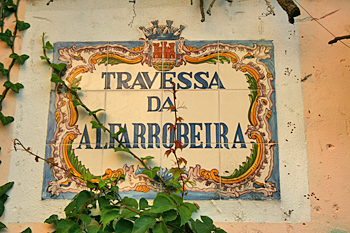 Today the plan is to walk a couple of hours to Guinchos Beach, a famous surfer and sailboard site up the coast. If my energy doesn't run out, I may make it to the historic town of Estoril as well during my remaining time here, but I'm not promising anything. I'm happy as a clam just lying on a beach – any beach – for the duration of this trip.