Yes, there's a tower. It leans. And that's the only thing of interest in the city of Pisa.
That's what I WAS going to say. Until it started raining. But I'm getting ahead of myself….
I left Florence on the train early this morning, bound for Cinque Terre, and stopped in Pisa for a few hours before taking another train to my final destination. Italian trains, like the buses, allow you to hop on and hop off, as long as you reach your final destination within six hours of validating your ticket when you board the train (with the buses you can hop on and off all day long). Since I wasn't staying in Pisa I stored my suitcase at the train station and set off on the 20-minute walk to the famous Leaning Tower. Normally, a 20-minute walk is a piece of cake for me. However I just couldn't bring myself to leave the computer at the train station with my luggage, so on this occasion my backpack was fully loaded with my laptop, computer equipment, camera, camera equipment, and the paperback book I'm reading – I carried all 25 pounds of it during the three hours I spent in Pisa.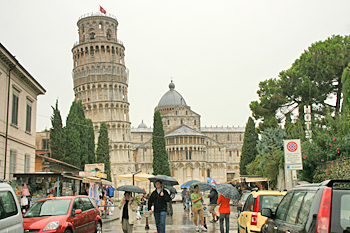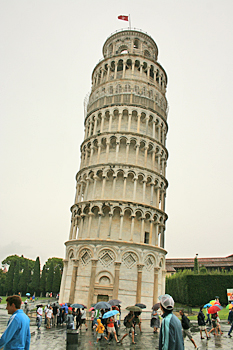 I was underwhelmed by Pisa. I could have been in any of a thousand other Italian towns. Add a canal down the middle of the street and I might have been in Venice. Add a lot more trash, graffiti, and people and it could have been Rome. Even the Arno River in Pisa looks exactly like it does in Florence, unless you happen to be looking at Florence's lovely Ponte Vecchio bridge. Quite soon I was at the tower, snapping a few photos to try to capture its real essence, which is surprisingly difficult. For some reason, photos don't really show the extent to which the tower is leaning. No matter how hard I tried, I couldn't get a shot of the entire tower that accurately depicted its bizarre angle, so I resorted to a photo showing just the base of the tower in it location next to St. Mary's Cathedral as a comparison with a structure that is level: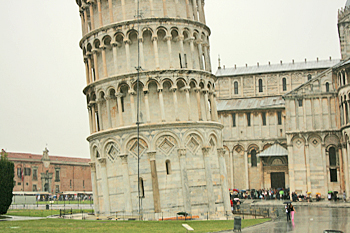 About that time it started to rain. Too late, I realized I'd left my poncho in the suitcase back at the railway station, so I ducked under a tree, hoping to wait it out. No such luck – this was going to be a persistent rain. Normally even this wouldn't be a problem; I don't melt. But this time I had to worry about the laptop getting wet. On the other hand, it gave me a convenient excuse NOT to climb to the top of the tower with a 25 pound load on my back. When the rain let up some I headed back to the station, scurrying from awning to canopy along the street, trying to stay as dry as possible. Several vendors offered to sell me an umbrella but I've traveled for five and a half months without one and I wasn't going to break down now – me macho woman – me not need umbrella!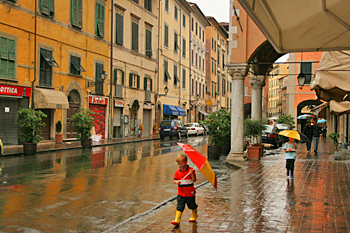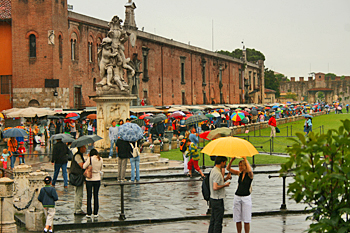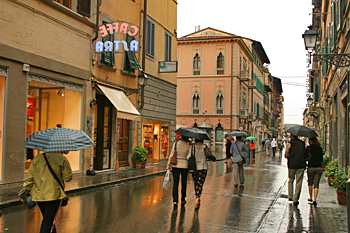 When the rain again started coming down harder I ducked into the entrance of a hotel. As I stood there, glassy-eyed and bored, I suddenly SAW the city. The slicked streets. The rich hues emerging from muted colors as the rain soaked everything. The vivid reflections on the wet streets. The myriad multicolored umbrellas bouncing down the sidewalks. I grabbed the camera and began shooting until I got so worried about my equipment getting wet that I finally relented and bought a collapsible umbrella. So, picture this. I am standing in the pouring rain, heavy pack on my back, camera in one hand, and umbrella in the other, simultaneously trying to protect the camera in front of me and the pack on my back. Whenever I want to take a photo I need both hands, so I balance the umbrella between my shoulder and the crook of my neck. Since I waited so long to buy an umbrella my hair is soaking wet and dripping down the back of my shirt and my pants are wet from the knees down. And of course, on separate occasions both the battery and the camera's storage card had to be replaced, requiring me to put everything down, remove the pack, and find he necessary equipment.
So now I'm back where I started with this post. Had it not been for the rain, Pisa would have been a most disappointing destination and I really wouldn't suggest anyone waste time seeing it unless, like me, they happen to be on the way to somewhere else. But because of the rain and the awesome photos that resulted from it, for me, Pisa was worth the time and effort.