For years I've been hearing about all the lovely little medieval towns perched on hilltops throughout Tuscany. Some years back I read the book Under The Tuscan Sun and that probably added to my already significant interest. So I made it a point to visit San Gimignano, perhaps the most popular village on the Tuscan tour route.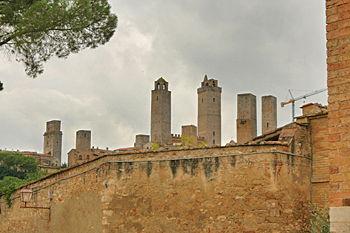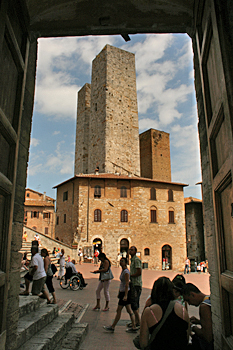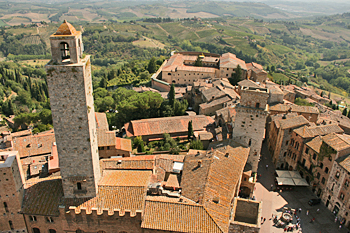 San Gimignano was at one time a thriving town – in fact the village became such a successful center of trade that it was able to operate independent of powerful Florence, to which most small villages in the area turned for government and protection. In its heyday this enclave boasted more than 40 brick towers that covered the hilltop and dominated the surrounding landscape. Then the Black Plague descended and so thoroughly decimated San Gimignano that it never fully recovered – never, that is, until it was "discovered" by tourists.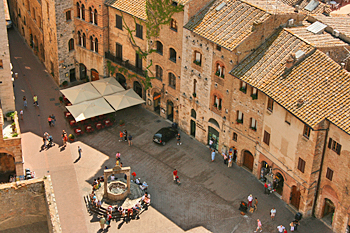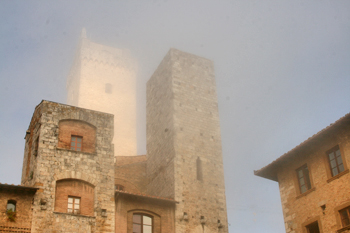 Today only 14 of the original towers remain, but that is enough to draw crowds of day trippers from all corners of Tuscany. The problem is, that's just about ALL there is. The one tower that is open to climb provides a stunning view of this gold and red brick town, surrounded by undulating green hills that are planted in curvaceous rows of vineyards. The main piazza, with it's old cistern, is quite nice. Having climbed the tower, seen the view, and thrown a penny into the cistern, there wasn't much more to do. I could have attended any number of wine tastings but since I've been sober nearly 12 years I figured that wasn't an option. I could have shopped till my heart's content, since there were tacky gift shops every few feet. I could have visited museums (two for the price of one!) that featured torture instruments, wine making equipment, or reproductions of Leonardo da Vinci's inventions (I've seen this last "museum" in every Italian town I've visited). Or I could have eaten myself into oblivion at any one of fifty high-priced eateries. The most interesting thing that happened for me was watching the towers reveal themselves as the early morning fog burned off.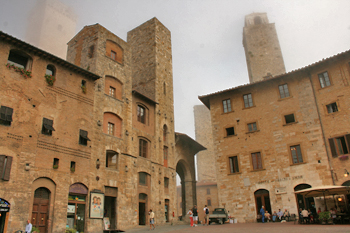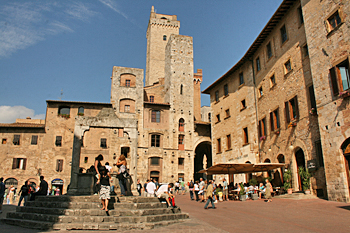 Even the locals are so bored that they sit around all day long on plastic chairs in the main square, watching the tourists make idiots of themselves.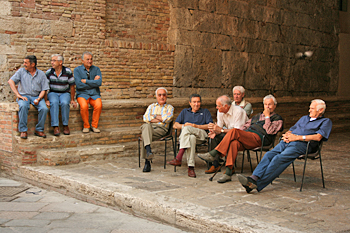 Don't get me wrong – it IS a cute little town. I just don't think it deserves anywhere near all the hype it's been getting.