What a birthday I had this year! First, I was tickled that my family and so many of my friends wished me happy birthday by email or comments on the blog. Then, I arranged to spend the day of my birthday with my friend Monika, who lives in the south of Bali. I met Monika several years ago at a Yoga retreat in Thailand. At the time she was living on Ibiza, one of Spain's Balearic Islands in the Mediterranean. Although we were occasionally in touch by email, I was unaware she had moved to Bali, so I was surprised when she offered to put me up while I was in Bali. Although I was scheduled to travel throughout other parts of Bali for the majority of my trip, I took her up on her offer on my birthday – it's always nice to share special days with friends. Not only did Monika treat me to an incredible massage that afternoon, but she and her boyfriend, John, and John's lovely daughter, Jacqueline, took me out to dinner that evening at a popular local restaurant, where I indulged in a "half-and-half" – half Gado-Gado and half Nasi Campur. Delicious stuff!
I thought this was probably the nicest birthday I'd ever had. Little did I know there was more to come. I arrived in Bangkok the following day (April 7th). I have another good friend here – Leticia – and I recently emailed her that I was coming to Thailand. I didn't think about the fact that all my emails have a signature line on them, which contains my blog address. Leticia clicked on the link to the blog and read my post about my birthday, then emailed me and suggested we get together the day after I arrived. She, her son, Ron, and Ron's girlfriend, Bee, picked me up at the hotel. After lots of hugs and squeals, we headed for the car, where Leticia presented me with a homemade cinnamon apple birthday cake.
We spent the afternoon wandering the MBK Shopping Center like true Thais, for whom shopping is a national sport. This enclosed mall has 7 floors and thousands of stores. It took us 20 minutes just to wind our way to the top of the parking garage, unsuccessfully looking for a parking space. Finally, we just double-parked, leaving the car locked but in neutral, so that it could be pushed out of the way if someone we were blocking wanted to leave. This is common practice in Bangkok and it never ceases to amaze me. The shopping center even employs garage attendants to perform this task.
Unlike shopping centers in the US, Thai malls make use of every inch of space. Not only are permanent stores located on both sides of the aisle, the center of the aisle is also filled with kiosk after kiosk. Walking space is kept to a minimum – perhaps eight feet of width – so if anyone stops to look or talk, the crowd backs up. In the Thai culture, it is common to show true affection: girlfriends commonly walk around hand-in-hand and men stroll along with their arms around each others' shoulders. Leticia and I – thrilled to be reunited – were no different. We wandered floor after floor of this monstrous center, hand-in-hand, unwilling to let go of one another, even when it seemed we must if we were to navigate the crush of shoppers.
After shopping and cappuccino at Dunkin' Donuts, it was off to the river, where we boarded a boat for a dinner cruise in Bangkok down the Chao Phrya River. Leticia and Ron ordered for us and frankly, I wondered if the food was ever going to stop coming. First came a huge platter of rice and another of stir-fried vegetables. Then it was crab appetizers with coconut sauce and fish cakes with a sweet and sour sauce. Along came another platter of squid and octopus with three types of dipping sauce. Then a whole fried fresh-water Snakehead fish in a semi-spicy red sauce. Just when I thought we were done, another whole fried fish arrived, this time covered in chutney that was beyond delicious. We ended the meal with me blowing out the candles on Leticia's cake (thankfully, only 6 candles) and devouring huge slices as we cruised the river.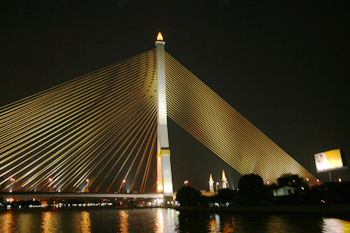 The two hour cruise began in the north of the city and wound its way down the Chao Phrya River toward the downtown area, motoring past brand new high rise condos built next to ancient temples. We turned around at the Rama VIII Bridge, providing us with a fabulous view of this modern suspension bridge, with its illuminated cables above and its riverside amusement park under the bridge. At the end of the evening I climbed off the boat, completely contented and stuffed from dinner – thinking that I couldn't have eaten another bite. But, teeny-tiny Bee was hungry, so we stopped at the ice cream counter and walked away with three scoops of tropical fruit sherbet which (of course) I had to sample. It's a good thing birthdays only come once a year – especially since this one lasted three days! I am so lucky to be loved by so many people.