Yesterday morning dawned clear and the sites outside my hotel beckoned, but I have been without a good Internet connection for days, so I just had to catch up on email and blog posting before hitting the pavement. It was noon before I finished. I grabbed my backpack and headed out the front door of the hotel, surprised to discover that the weather had tuned grey and drizzly. The tuk-tuk drivers and taxis love this weather – they figure no one wants to walk in the rain. But I was determined and shook my head "no" to their advances. I noticed a bookstore just down the street and I needed something to read, so I headed in that direction.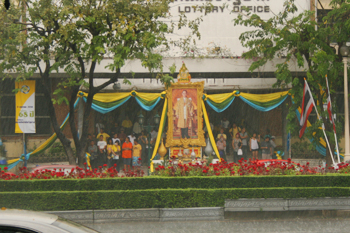 I hadn't gone two blocks when the rain began in earnest – and I mean it was a deluge! I ducked under an overhang to wait it out. At first I was standing there, shifting my weight from one foot to the other and not really thinking or paying much attention to what was going on around me. Suddenly I noticed the Thai Lottery building directly across the highway from where I was standing. A set of cavernous covered steps led into the building and as the rain continued unabated, more and more people collected on the protected stairway. There were shirts and umbrellas of all colors, softly muted by the falling rain as in a watercolor painting.
Watching this moving canvas of color brought me into the moment and I started noticing all the little details around me.
A tourist bus sped by, casting an enormous shield of water from its windshield that formed an arc around the front of the bus, as if shielding it from harm.
An open-air tuk-tuk putted along, the driver and passenger both hunched under the vehicle's narrow metal roof.
A motorbike carrying two people raced by, both driver and passenger devoid of rain gear. The passenger balanced a red and white umbrella over the driver with one hand while holding the edge of the umbrella with his other and to keep the wind from turning it inside out. How he stayed on the motorbike with both hands thus occupied I have no idea.
I glanced at the sidewalk. Water had collected in glistening pools on the concrete tiles in front of me. Where I had planted my feet it was dry, but to my right water gushed out onto the sidewalk. Tracing the water back to its source I discovered a length of blue pipe behind my feet, which I can only assume was a drain from a roof somewhere. Mingled in the water gushing from the pipe were fallen leaves, cigarette butts, and various and sundry other types of trash. I watched, fascinated, as each piece of trash inexorably made its way to the curb, where it was washed into the gutters. I suddenly realized that the city smelled better after a hard rain.
Still focused on the sidewalk, I watched a parade of feet pass by. Many Thais wear flip-flops (thongs) instead of shoes, which are extremely slippery on wet surfaces. I watched two girls in flip-flops gingerly pick their way arm-in-arm along the sidewalk. One was pigeon toed, the other toed out – it was like watching an old Laurel and Hardy comedy. Delivery boys from the nearby restaurant dashed in and out of doorways, bringing hot meals to employees who had ordered in rather than brave the rain. Other boys escorted customers from the restaurant to their offices, using a kaleidoscope of multi-colored umbrellas. One man, apparently resigned to getting wet in the downpour, slowly shuffled past me. I watched as, drenched from head to foot, he grabbed one tiny corner of his shirt and wrung it out.
Just before the rain let up, a monk in orange robes wandered by with the most placid expression. Also drenched from head to foot, he walked serenely down the sidewalk, swinging his plastic grocery sack of groceries, oblivious to his soaked robes.
In my former life I never would have noticed these details. I wonder how much I have missed over the years.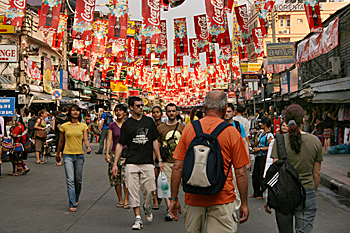 When the rain finally stopped I continued to the bookstore. Finding it closed I decided to go back to Khao San Road, where I knew I could find any number of bookstores. I wandered the streets for several hours, snapping photos of the district. As I have previously explained, the Khao San area is an assault on the senses.
Overhead the street is strung with Coca Cola banners as far as the eye can see. It is crammed with people every hour of the night and day – backpackers searching for cheap hotels, tourist police monitoring the traffic, hill tribe people in their ethnic costumes walking along the street hawking their wares, old burned-out hippies that came here years ago and just never left, storekeepers shouting from their shop doorways in an attempt to lure customers inside, and dance troupes and musicians performing for one of the myriad festivals on the Thai calendar.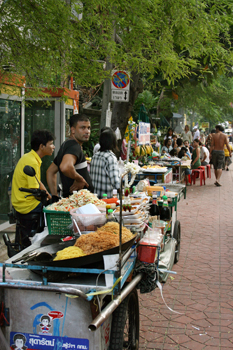 Hundreds of stray cats and dogs loiter around the rows of food carts that line the edge of the streets in hopes of finding a stray morsel. At one point I watched a dog squat and take a dump a few feet from a food cart and my stomach did a flip-flop. I will eat almost anywhere, but I'm not brave enough to try street food on Khao San Road. Add to this the smell of Khao San Road, which I described in an earlier post (but suffice it to say that it is redolent) and you have a pretty good image of the backpacker district. Everyone should visit at least once, just to see it.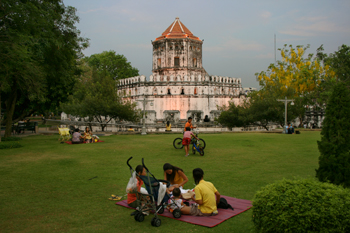 Having my fill of Khao San I headed for the Chao Phraya River, which forms one boundary of the Old City. At its northern edge I found the Phra Sumane Fort and Park, built on a point where the River intersects with a man-made canal, or Luang. These canals are still widely used for transport around the city as they provide a means of avoiding Bangkok's gridlocked traffic.I arrived near sunset to find the fort bathed in a golden glow and the park full of people. At the entry a group of youths had set up a boom box and were taking turns break-dancing on the cement. Just beyond, in a grassy courtyard, people practiced juggling and threw batons back and forth. One young man practiced rolling a crystal ball along his arm from neck to elbow. In the center of the park, mothers and infants enjoyed the evening breeze from blankets spread out on the grass. On the riverfront pavilion a teacher led an aerobics class to stepping music that blared from giant speakers as the sun set. With a start, I realized that the bridge in the background was the same one where the boat had turned around following my birthday dinner cruise the night before. Things do always come full circle.
I headed back to the hotel, winding my way along streets and parks filled with people enjoying early festivities for Songkran, or Thai New Year. Officially, Songkran begins on April 13th, but they start celebrating days ahead of time and stretch it out until the 16th. Songkran is also known as the Water Festival, because Thais carry around squirt guns, water cannons and even buckets of water, dumping water on unsuspecting tourists – especially those with cameras. Needless to say, I am concerned about protecting my camera, so I have decided to go to Cambodia during Songkran. I leave tomorrow morning and return on the 16th. I understand they celebrate Songkran in Cambodia as well, but I am visiting the Angkor Wat ruins in Siem Reap, which is a small village, so it is likely to be less crazy than in Bangkok. At least I hope it is.