Recently, the Prime Minister of Thailand imposed a curfew from 10 p.m. to 4 a.m. throughout the country. He added that a 24-hour curfew was under consideration if the number of infected cases didn't begin to drop below 100 per day. No one knew what that meant. Would we be required to stay inside our homes 24 hours per day? Could we still go for a walk if we practiced physical distancing? Even more importantly, could we still pick up groceries? With rumors flying and no concrete information available, I decided to play it safe. I raced to the grocery store the very next morning to stock up.
I wasn't the only one who was alarmed. The store was crammed with shoppers, all of whom had the same idea. I raced around, filling my cart with fresh-baked bread for the freezer, pasta, more rice (I probably now have a two-year supply), and most importantly, stacks of packs of sliced cheese. Though I don't often use paper towels, I threw in a double-roll pack, just in case, and then eyeballed the toilet paper. I'm down to a roll and a half at home, but in three years, I've only bought one package of toilet paper. The only reason I ever use toilet paper is to blow my nose. And as you can see by the above photo, there's no lack of toilet paper on our shelves.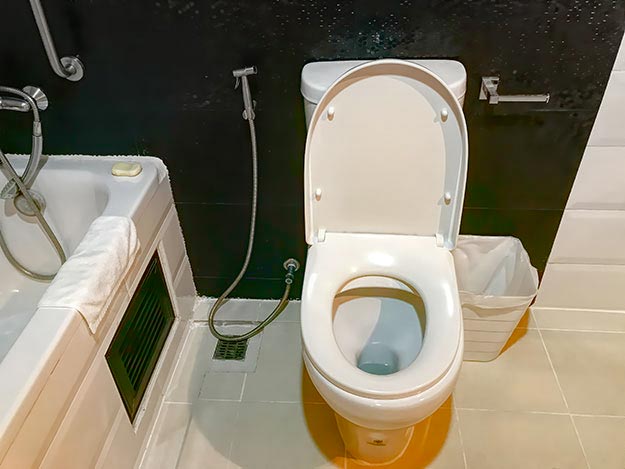 Now you might ask yourself, why is there no shortage of toilet paper in Thailand? Some of you may even be wondering why I've only used four and a half rolls of TP in the last three years. The answer to this mystery is what we expats affectionately call the "bum gun." Every toilet in Thailand has a flexible hose mounted on the wall next to the toilet (see the photo of my home bathroom above). You see, we don't wipe, we spray and drip dry. It's oh so much more sanitary, and no one ever has to deal with bits of toilet paper stuck to their arse. If I ever leave Thailand – perish the thought – I'll have to install one of these beauties wherever in the world I land.
If you enjoyed this amusing anecdote, you may also enjoy reading my more in-depth story about living in Thailand during the COVID-19 outbreak.