For the past 13+ years I've traveled the world to bring my readers stories about far-flung places. Eight of those years were spent traveling with no home base, just me and my suitcase, going from country to country and city to city. As many of my readers know, about three years ago I decided I wanted a permanent home base again. Frankly, I was tired of lugging around everything I owned. I settled down in Chiang Mai, Thailand, which is located in the north of the country. Since then, I've continued to travel 4-5 months per year and returned home to rest whenever I'm not traveling. A month ago, that came to a crashing halt. Overnight, I was faced with the prospect of living overseas during the COVID-19 outbreak.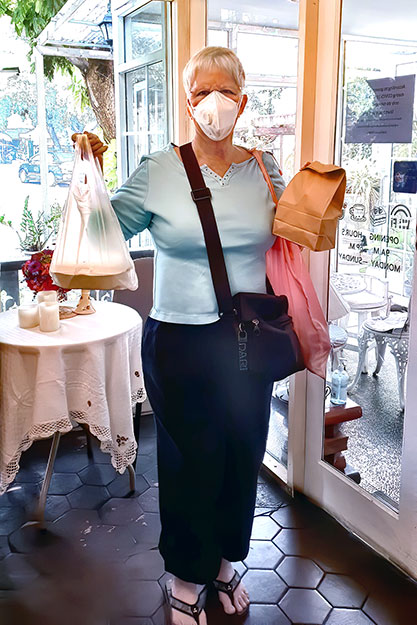 My travel plan for this spring was to spend April in Spain, then go on to Switzerland and perhaps to the island of Crete before returning to Thailand for the rest of the summer. This fall I was thinking about a trip to Mongolia and Bhutan, and a return visit to Nepal to visit my adopted family there. Obviously, none of that is going to happen. Due to the COVID-19 outbreak, I've cancelled my spring travels and realize I may also not be able to travel this fall either. Americans residing or traveling overseas were faced with a decision: "do I stay or do I go?" A couple of weeks ago the State Department issued an alert, advising all Americans to return home or risk staying overseas indefinitely. Since my only home is in Thailand the decision was quite easy for me. This is as good a place as any to hunker down.
For the longest time, the number of reported cases in Thailand remained static at 50. However, the numbers began to climb about ten days ago. As of today there are 1,045 reported cases in all of Thailand. There have been rumors that the count is not accurate, that many people have died and their deaths were recorded as pneumonia, especially before people started to grasp what was really happening with the Coronavirus. Here in Chiang Mai they claim there are only five documented cases, but 274 suspected cases. No one seems to know for sure what that 274 number represents. As a result, most people are being very cautious.
The central government has been slow to take measures, instead leaving the decisions to regional Governors. In Chiang Mai province, the Governor ordered the closure of all gyms, spas, massage businesses, playgrounds, entertainment venues, bars, cock fights, boxing arenas, and tourist street markets about a week ago. At that point, I could still go out and walk around, as long as I practiced social distancing and wore a mask, but I had already decided to stay in my apartment as much as possible. I left only twice, one day to get cash at the ATM and go to the grocery store, the second time to pick up produce at the market.
Yesterday morning, the Prime Minister finally declared a national state of emergency. That meant all retail stores, malls, most service entities, and many other things were required to close. Restaurants were closed except for carry-out and delivery. Hotels remained open, but restaurants within hotels were only authorized to serve their guests. Grocery stores, fresh markets, banks, pharmacies, medical offices, hospitals, and gas stations remain open, as they are considered vital. People have now been ordered to stay in their homes except for picking up food or groceries, going to the bank or pharmacy, getting medical treatment, or helping family members.
I have to say that I'm going a little stir crazy, which has surprised me. As a writer, I spend loads of time alone and it's never bothered me before. But I usually went out once a day, if only to have a cup of coffee in my favorite coffee shop. I think it's more the idea that I can't go out to a restaurant or meet my friends that bothers me. It's a little like losing my freedom. It's made me think about the conditions under which prisoners live, cooped up in cells…but at least they have daily human contact. Intellectually, though, I know it's the right thing to do and that we'll all get through this if we just hunker down.
So far, it's the little kindnesses that have surprised me most. For example:
Although the World Health Organization says not to wear a mask unless you are sick, in Asia masks are commonly worn. While I'm not worried about catching the virus without a face mask, I do worry that Thais will look on me with alarm or even anger if I go around without a mask. Unfortunately, there were no masks to be had. I spent one entire day searching for one but they were completely sold out in every store I checked. I told one of my Thai friends about my predicament and the next day she handed me two high-grade N-95 masks.
I live in a serviced residence that provides cleaning and linens twice a week, and almost all of the year-round residents are over 60. Our housekeepers are all sweet young girls from Burma but I didn't know if they had been briefed on what was happening and the extra precautions they should be taking. Were wearing masks and gloves? Were they using new cleaning rags for each apartment and using disinfectant cleaning products? If not, they could easily carry virus from an apartment where someone was infected into mine. Our management made all the requested changes within two hours. They really take care of us here.
No one knows how long this lockdown will last, but I'm prepared for the long run. I have enough rice to last me at least six months, so I'm definitely not going to starve! But I also have the option to order home delivery from my favorite coffee shop, Cozy Cafe, and their Thai food is scrumptious. I'm in touch with my expat and Thai friends via messenger, Line, and WeChat. My Thai friends message me whenever there's new news about closures because they know I can't read Thai, so I'm always kept abreast of the current situation. My expat friends, who are from all over the world, chat with me throughout the day. Every other day or so I'll get a message to retrieve a bag that's been left hanging on my front doorknob. Inevitably these little surprise packages contain slices of homemade cake, fruit, the other day it was a package of stone ground oats. I never know what it's going to be. We keep each other informed and amused.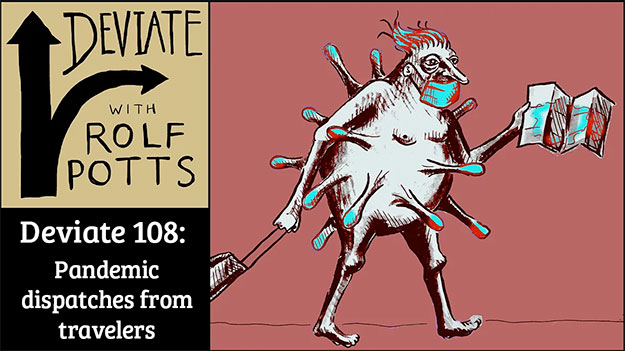 I agonized over whether or not to continue to publish travel stories on my blog and finally decided to stop for the moment. It just feels trite. No one wants to read about travel right now. But I do think that people might like to read what it's like to be living overseas during the COVID-19 outbreak, so I'll be your foreign correspondent from Thailand as we all move through this pandemic. And if you are interested in hearing more from other intrepid travelers who were on the road when the lockdowns began, you will be fascinated by the latest Deviate podcast by Rolf Potts, titled "What it's like to travel during COVID-19: Reports from around the world." Potts interviews a dozen or so travel writers/bloggers, digital nomads, and expats (including me) about our experiences in a variety of countries and the different reasons we chose to stay or go.
I have always believed that everything happens for a reason and I'm looking at this order to stay at home as an opportunity. It means I will have time to study and learn more about Buddhism, something I've always wanted to do. And more time to meditate and do Yoga. I hate to cook but I've be forced to do it, and as a result I'm learning that it's not as hard as I thought it was.
My enduring hope is that all of us will emerge from this situation with a better sense of what's truly valuable in life, and an understanding that caring for each other is the most important thing in life. Not material possessions. Not political differences. Not ethnicity or religion. Just the fact that we're all one human family.
If you have any questions about the situation in Thailand or what it's like to live here during the national emergency lockdown, leave me a comment below and I'll try hard to answer your questions. Until then, stay safe and healthy by obeying physical distancing recommendations, wearing a mask, avoiding touching hard surfaces outside your home, and washing your hands obsessively.