Torres del Paine National Park in Chile is one of the world's beautiful places. The centerpiece of the park is a branch of the Andes mountain range known as the Cordillera del Paine. Located in the southern Patagonian region of the country, the park's magnificent scenery includes lakes ranging from ultramarine blue to brilliant turquoise, raging waterfalls, deep green valleys, and vast glaciers that cascade down mountainsides.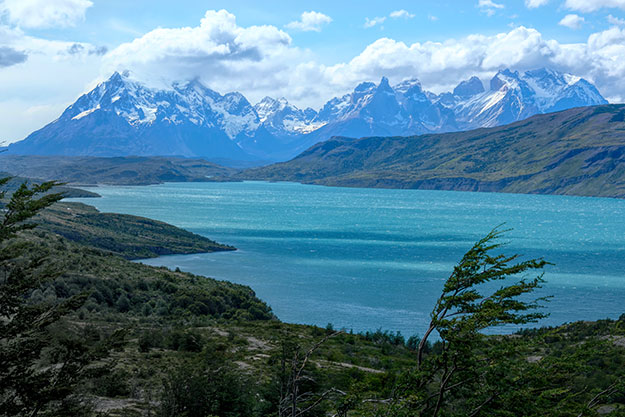 Most awe inspiring are mountains themselves. In geological terms, the Cordillera Massif emerged relatively recently. Thus, rather than being eroded and rounded like much of the Andes, these mountains are jagged and rugged. They began life as underwater sediments that were deposited in layers. Over eons, volcanic activity compressed these sediments into rock and thrust them up, tilting and folding them into bizarre shapes. The lava that welled up from deep within the earth cooled into a grey granitic platform for the multicolored sedimentary bands. The result is a kaleidoscope of colors that changes throughout the day, depending on the angle and direction of the sun.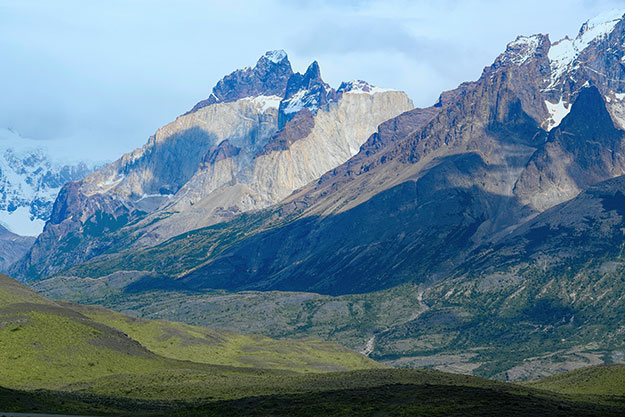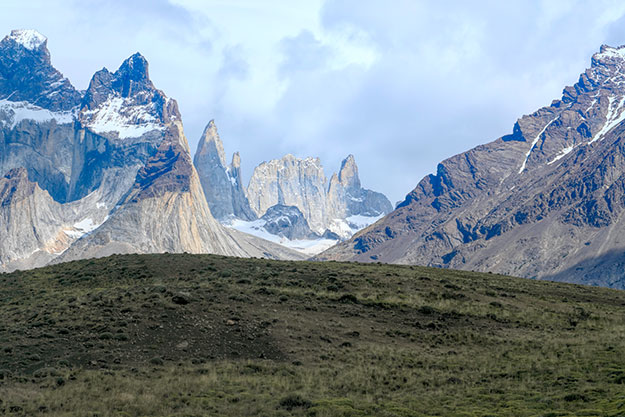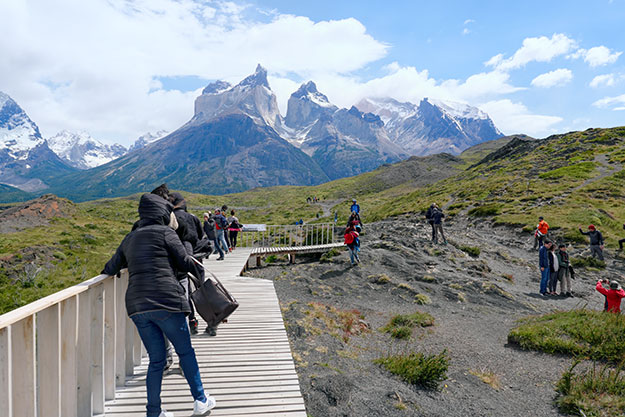 I'd long wanted to visit Torres del Paine, but I knew that doing so would present some challenges. Many insist the ideal way to see Torres del Paine is to hike the "W" route, which takes about three to five days, or the longer "O" route, which takes between seven and nine days to complete. However, my days of long rugged treks are over. I could have opted to stay at one of a handful of accommodations located inside the park, but they are all exceptionally expensive. Instead, I decided to stay in Puerto Natales, the gateway to Torres del Paine, which offers much more affordable lodging options.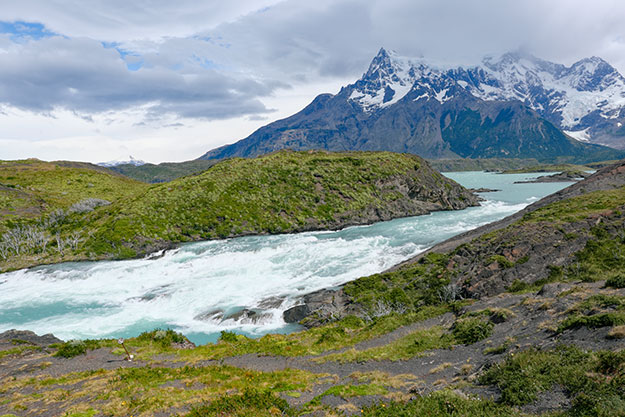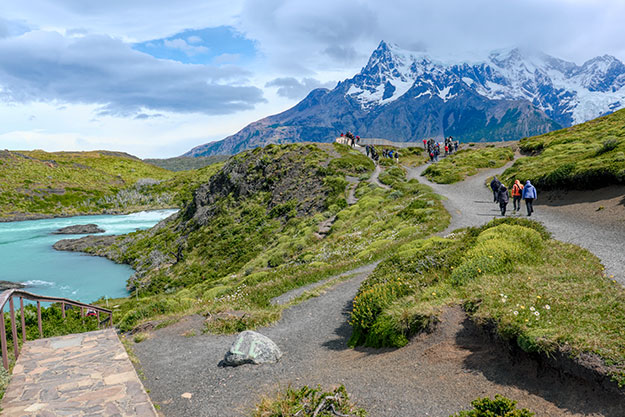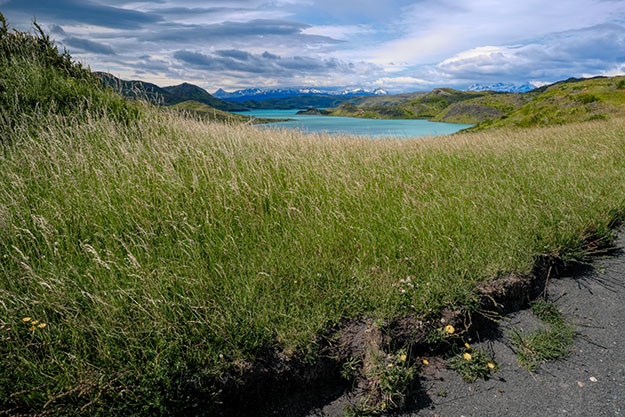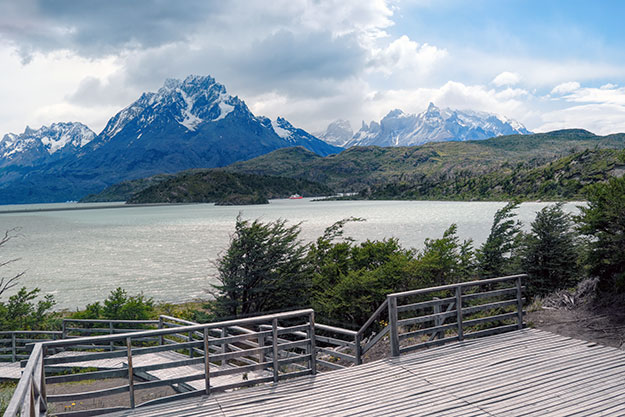 Since Puerto Natales is located more than two hours away from the park entrance, it presented yet another set of challenges. I could have taken the early morning public bus to the park but once there, I still would have been on foot. The park is vast; it encompasses more than 700 square miles. This didn't seem like a good option, especially when I considered the implications of missing the last bus back to town in the late afternoon. I also considered renting a car and driving the well-marked circuit myself. But without a guide, I never would have spotted a Patagonian grey fox, learned about the indigenous Guanaco, watched Andean Condors soaring on mountain updrafts, or seen Porcelain Orchids at the Salto Grande Waterfall.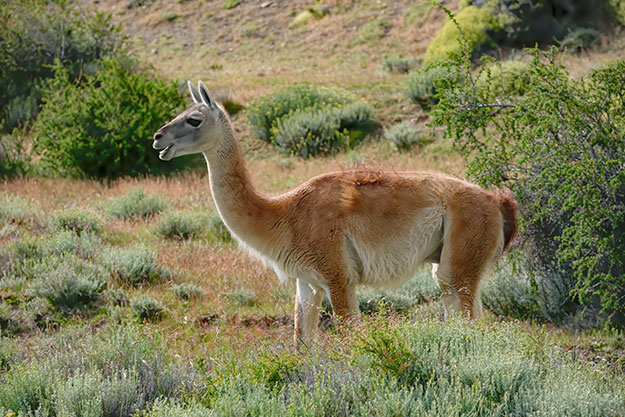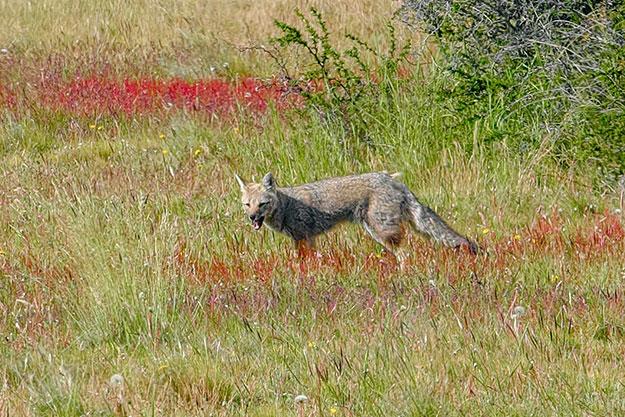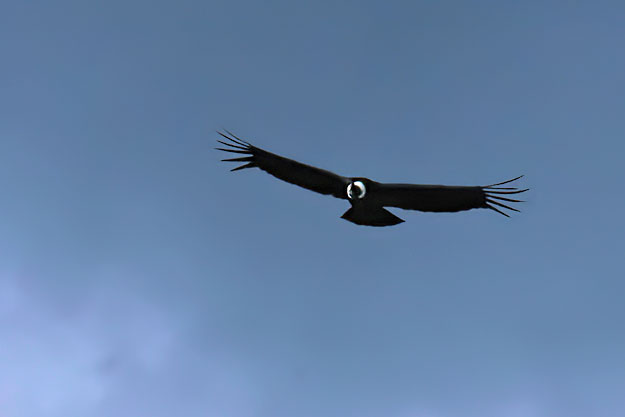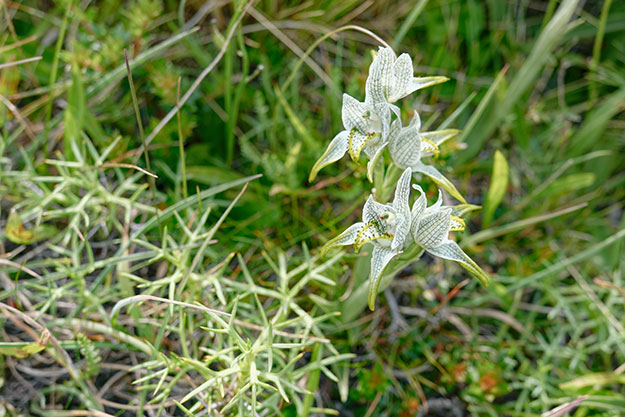 Fortunately, a number of companies in Puerto Natales provide an excellent way to tour Torres del Paine National Park in a day. Initially I worried that a day tour would consist of a series of quick stops where we were ushered off and on the bus with little time to absorb the beauty of the landscape. But to my surprise (and delight), it was not the cattle drive that I had feared. The tour was well organized and informative, and we were given sufficient time to enjoy each of the stops.
For first-time visitors who are wondering about the best way to tour Torres del Paine without hiking or breaking the bank, I highly recommend taking a day tour from a local operator. But if I ever return to Torres del Paine, I will rent a car. Not only will that allow me to explore deeper into the park, I a rental car will allow me to access off-the-beaten-track day hikes, camping, other glaciers not on the tour circuit, and even Chile's famous fly fishing operations on its many rivers.