I sometimes wonder what makes a trip memorable. I've traveled around 97 countries and six territories and, honestly, there are times when I can't remember what country I am in, much less which city. My memories of destinations are sometimes indistinct. I can see the houses, the streets, the people, and even recall specific situations, but for the life of me, I can't remember where they occurred. On the other hand, some places are indelibly etched into my psyche. The ancient Incan city of Machu Picchu blazing gold under a setting sun. Holding hands with the Dalai Lama in Washington D.C. My very first sighting of wild elephants, zebras, and giraffes on safari in Tanzania. But most often, it's a simple act of kindness or generosity that makes a place memorable. This is precisely what happened in the Marquesas Islands.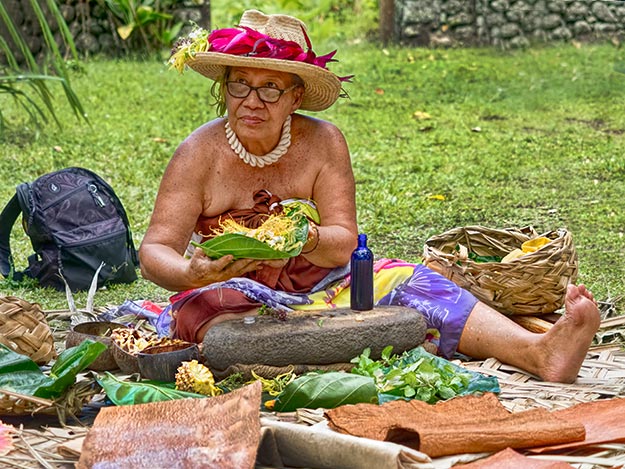 Flowers are an important part of the culture and history of French Polynesia. Passengers arriving in Tahiti are presented with handmade floral leis as they disembark planes. The air is heavily scented by trees and bushes that bloom year-round. However, it is in the remote Marquesas Islands where flowers are inextricably woven into the fabric of everyday life. Here the women wear elaborate handmade floral headdresses. Though often referred to as simply "hei," the formal name for these headdresses is "umu hei." A contraction of two Polynesian words, "umu" means aphrodisiac or inflamed, and "hei" is the Polynesian word for wreath. Women believe that wearing a crown of flowers heightens their sensuality and makes them more attractive to the opposite sex.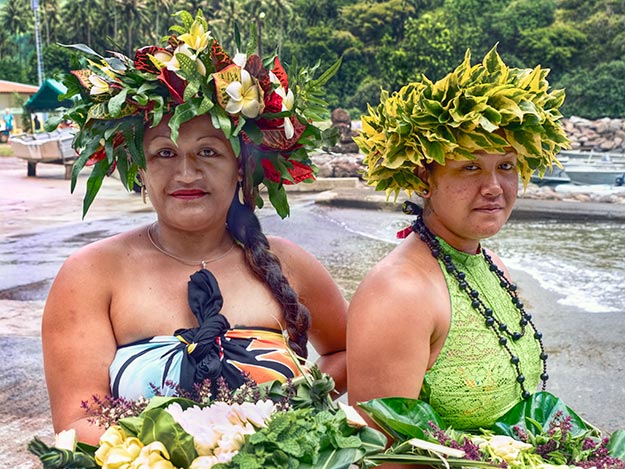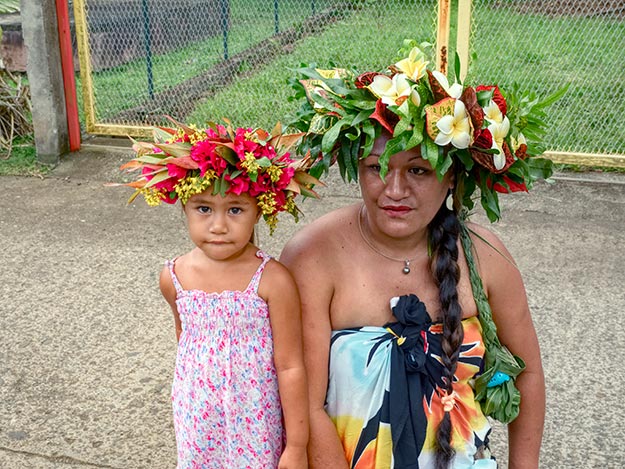 Nowhere is the tradition of wearing umu hei more prevalent than on the island of Fatu Hiva, and it was here I watched Mama Sara, the island's head crafter, demonstrate how to make them. She wove broad, sturdy Pandanus leaves together with indigenous blossoms such as Ylang-Ylang, Blue Ageratum, Miri, Tiare, Plumeria, and Jasmine. The crown was finished off with fresh chunks of pineapple rolled in powdered Sandalwood, an aphrodisiac said to be irresistible to Polynesian men. We passed the finished garland around, inhaling deeply of the aromatic fragrance. It was heavenly!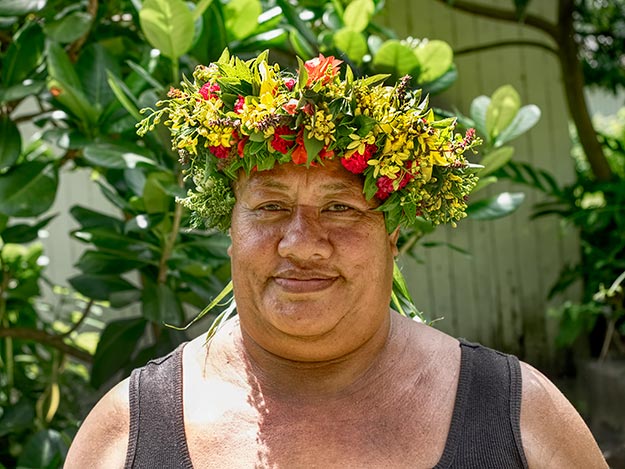 As passengers began heading back to the cruise ship I held back, hoping to snap a few photos of mamas wearing their umu hei. One woman graciously allowed me to take her portrait. Her face broke into a huge smile when I turned the camera around to show her my photo. Before I could even lower the camera, she removed her umu hei and placed it on my head. I was touched and humbled that she chose to honor me with such a heartfelt gift. The following evening, I wore my umu hei to the Polynesian Feast on board the Aranui 5, where I was the envy of my table.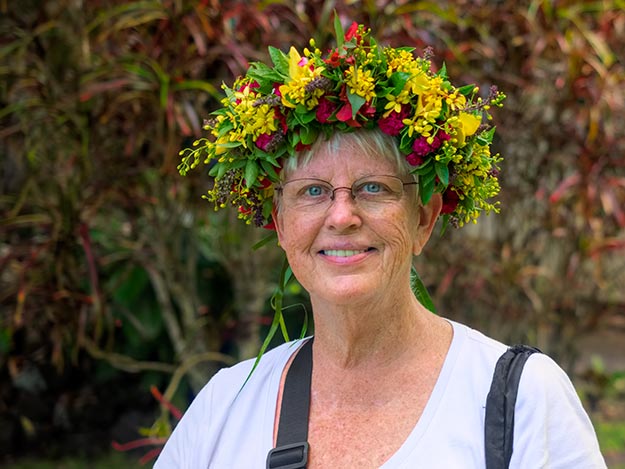 The stunning scenery, the traditional dinners, and the dance performances I witnessed in the Marquesas Islands were all remarkable. But French Polynesia will always rank among my most memorable trips because of this simple act of kindness from a total stranger.
Disclosure: I was a guest of Aranui during my French Polynesia cruise. However, the receipt and acceptance of complimentary items or services will never influence the content, topics, or posts in this blog. I write the truth, the whole truth, and nothing but the truth.