Perhaps the best way to see French Polynesia is to take a cruise on the Aranui 5, a combination cruise ship and freighter. The ship visits three of the island groups in the French territory and delivers freight to all six of the inhabited islands in the Marquesas Archipelago. In this video, I interview Tino, head of freight operations for Aranui, who has been with the company for 35 years. He reminisces about the early days aboard Aranui 1 and 2, when many of the islands did not have docks and everything – sacks of cement, bags of flour, and even vehicles – had to offloaded by hand.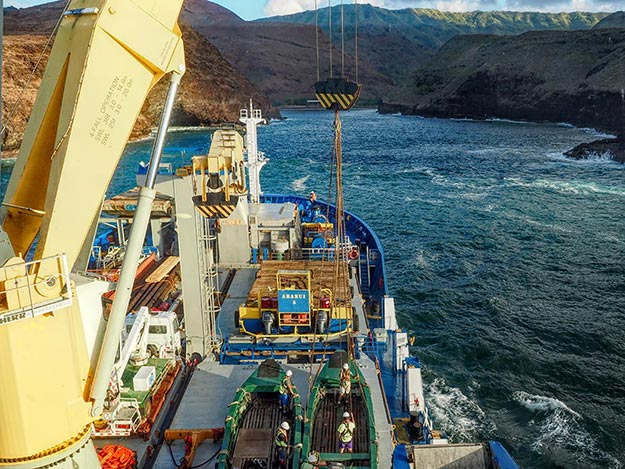 Not only do most of the villages now have dock facilities, the Aranui 5 is equipped with two massive cranes that makes this vital lifeline to the remote Marquesas much easier. One afternoon, rather than go ashore, I stayed behind and watched the entire freight operation from the Sky Lounge. From telephone poles to frozen foods to boats and ships, there seemed to be no limits to what the ship could carry. The biggest surprise? When they loaded a horse onboard! Watch the video below to see it all.
If you enjoyed my video about freight operations onboard the Aranui 5 and would like more information, read my full review of this fascinating cruise around the islands of French Polynesia here.
Disclosure: I was a guest of Aranui during my French Polynesia cruise. However, the receipt and acceptance of complimentary items or services will never influence the content, topics, or posts in this blog. I write the truth, the whole truth, and nothing but the truth. The Aranui 5 cruise is undoubtedly the best way to see French Polynesia and experience the culture of this remarkable part of the world.