Ask any Frenchman to name his favorite cheeses and Comte will undoubtedly be at the top of his list. To a large degree, however, the rest of the world doesn't yet know about this delicious, semi-hard, nutty-flavored cheese. I was one of the lucky ones. Several years ago, during one of my many wanders around France I discovered Fromagerie Deruelle gourmet cheese shop in Bordeaux. Recognizing a fellow cheese aficionado, the owner patiently let me sample scores of cheeses. I carried two or three selections back to my rental apartment that first day, returning each day to broaden my palette. On the third day, she pulled out a long wedge of mild yellow, semi-hard Comte cheese and shaved off a slice for me to try. From the moment I tasted its creamy, nutty flavor, Comte became my favorite cheese.
Since that first taste more than four years ago, my palette has become more sophisticated. I began to notice that no two varieties of Comté tasted exactly the same. When I asked for it in fromageries, the clerks would inquire whether I wanted a summer or a winter cheese. Did I want an eco-product? And did I prefer a cheese that had been aged for 12-14 months or was I looking for something a bit older and stronger? I had no idea. So a few months ago I contacted the Comté Cheese Producers Association and told them I had a burning question: How is Comte cheese made? The gods must have been smiling on me, because they were in the process of putting together a press trip and I was promptly added to the small group.
The production of Comte cheese began more than ten centuries ago on farms in the Jura Mountains in Eastern France. The population of the region was very small at the time, so they could not use all the milk produced. Farmers soon discovered that the best way to preserve milk was to pull the water out of it. The more water they removed, the longer the end product lasted. Extracting a little water made yogurt, which lasted a few days. Extracting a little more water produced a cheese that would provide much needed fat and protein through the brutal winters.
The concept of co-ops developed in the 13th century out of necessity. Five hundred liters of milk were needed to make a wheel of Comte. Since no single farmer had enough cows to produce that much milk, they began cooperating. Farmers took turns overseeing the collection of milk and production process. When the cheese was sold, the milk producers were paid out equitably according to their contribution. In the 15th century, hoping to improve the quality and consistency of their product, farmers brought in cheese makers from Switzerland. Each cheese maker traveled between several farms, carrying his equipment with him. In the 17th century, farmers decided this was not the most efficient system either, so they built a central facility where all farmers would deliver their milk. This became the fruitière – literally a place that worked with the "fruit" of the cow.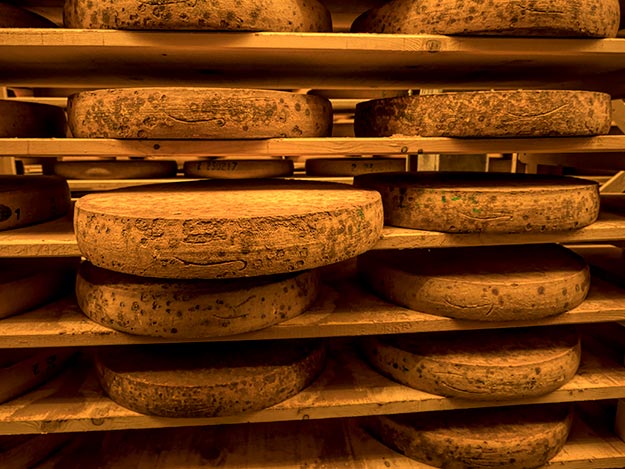 Today, the production of Comte is still based on the original cooperative approach upon which it was founded. Each day, milk is delivered to 153 small fruitières, many of which are situated in the heart of villages scattered throughout the Jura Mountains. Each fruitière receives milk from dairy farms situated within an eight mile radius to guarantee its absolute freshness. But…I'm getting ahead of myself here. Everything about Comté begins with the cows.
At Le GAEC des Saugets dairy farm in Vevy, France, we met with Marie Roy, one of the co-owners of the farm. Marie's father was the developer of the co-op regulations that emerged in late 90's and early 2000's. "Everyone laughed at us in those days and asked why we bothered. We were paid very little for our Comte. But the rules and regulations made Comte a value added product and today our farm supports three families."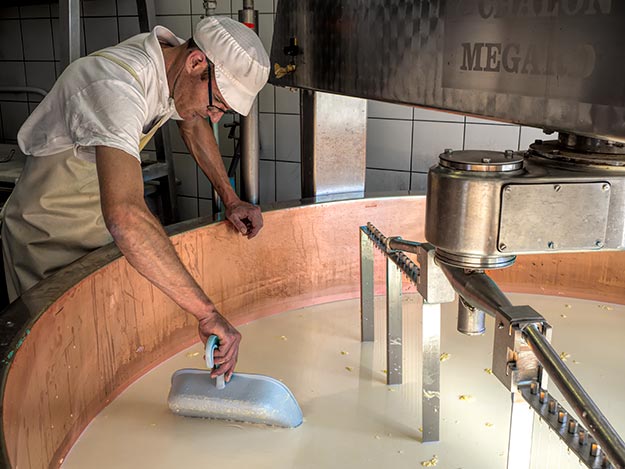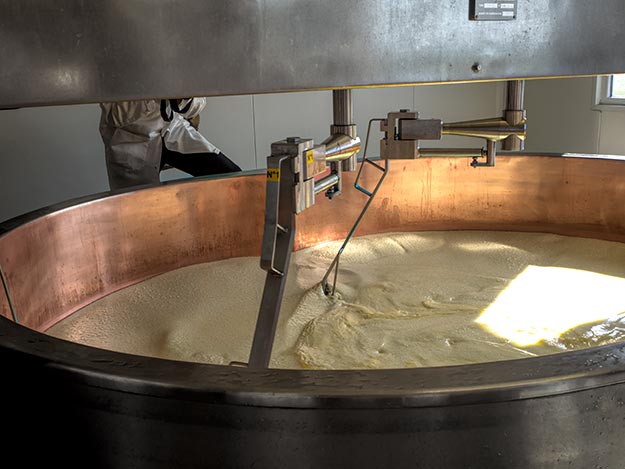 Perhaps the most important regulation has to do with which breeds are allowed to provide milk for Comte. Only Montbéliarde cows and Simmental Francesa cows are allowed, as their milk contains levels of fat and protein that make the cheese rich and flavorful. The herd returns to the barn every morning and evening for milking, with each cow giving an average of 20 liters of milk per day. All milking is done by hand. Rules also require that the majority of the hay used to feed the cows be grown on their own farm. Hay is harvested in May/June and again in July/August, and stored for winter feeding. Any supplemental hay must come from Comté Region, and use of GMO feeds are strictly prohibited.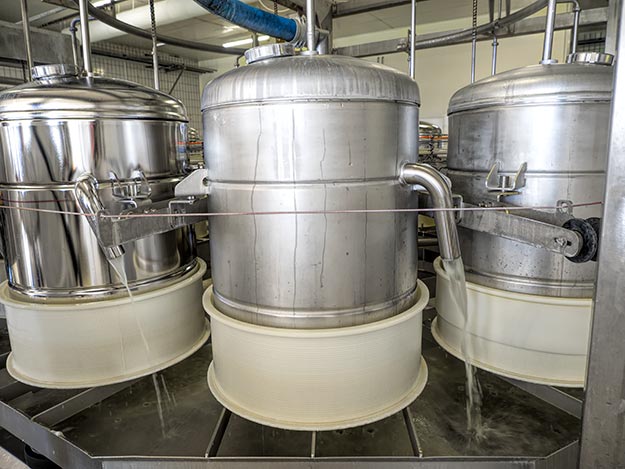 Even with such stringent regulations, every wheel of Comte is unique. In the summer, the cows are left out to pasture. The hay and wildflowers they graze on are so full of carotene that cheese produced from summer milk has a stronger yellow color. Winter hay makes milk that produces a white Comte. But even more important than season is the terroir, a French word that is difficult to translate into English. Loosely, it refers to the natural environment, and includes factors such as soil, topography, and climate. The Jura is divided into three elevations of 500, 1,000, and 1,500 feet. The grasses and flowers that grow at the lowest elevation are different from those found in the mid or upper elevations, so cows who graze at various levels produce different tasting milk. And each of those milks will result in a cheese with a slightly different taste.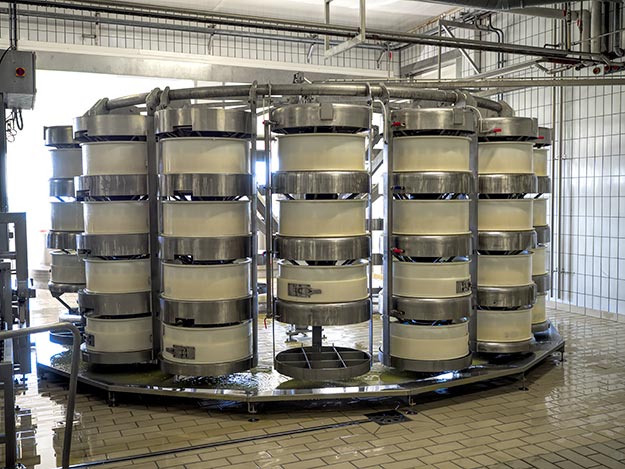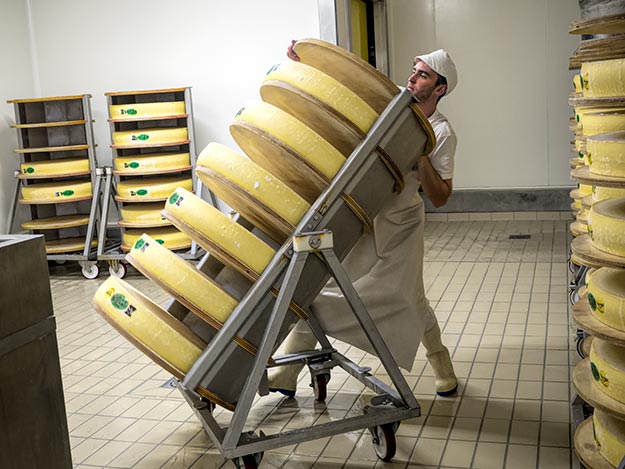 The farm delivers milk to the local fruitière each day, where it is warmed by adding lacto-serum (whey). At that point, cream is skimmed from the top to make butter, some of the whey is drained off, and the remaining milk is transferred to big vats. The temperature is raised again and flora and just a few drops of natural rennet are added to make the milk curdle. Twenty-eight minutes later the milk turns into yogurt. Using very fine wires that rotate around the vat, the yogurt is cut into very small beads, which allows even more whey to be separated and drained off. With the last bit of whey extracted, the yogurt transforms into a curd that is pumped into giant into Comte cheese molds. Once they have set up, the wheels are removed from the molds and transferred to a cold chamber.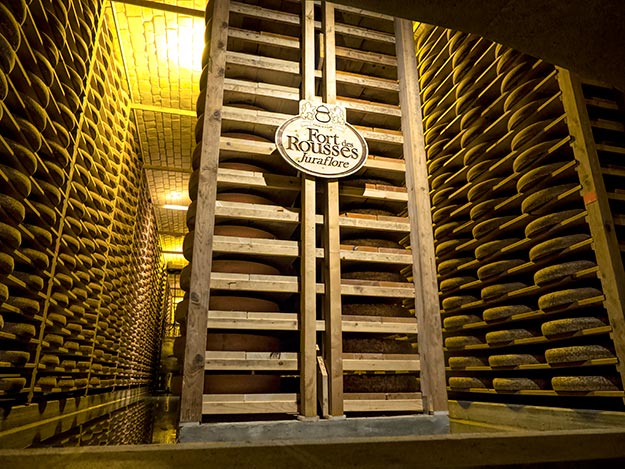 In the cold chamber, the wheels are turned and salted repeatedly or the first 24-hours, at which point they are moved to the fruitière's aging cellar. After 30 days the curd has transformed into cheese, but it is still bland and tasteless. To acquire its famous Comte flavor, the wheels must be aged by a specialist known as an affineur. We visited a number of affineurs in the area, but the most impressive was at Fort des Roussee, an old fortress that has been converted to a maturing cellar. This second largest fort in France is surrounded by a 1.5 mile wall and descends seven levels below the ground. Construction on it began in 1848 at the direction of Napoleon. It took 70 years to complete and when finished it could hold 3,500 soldiers and 2,000 horses. Today it holds more than 100,000 wheels of Comte cheese in various stages of aging.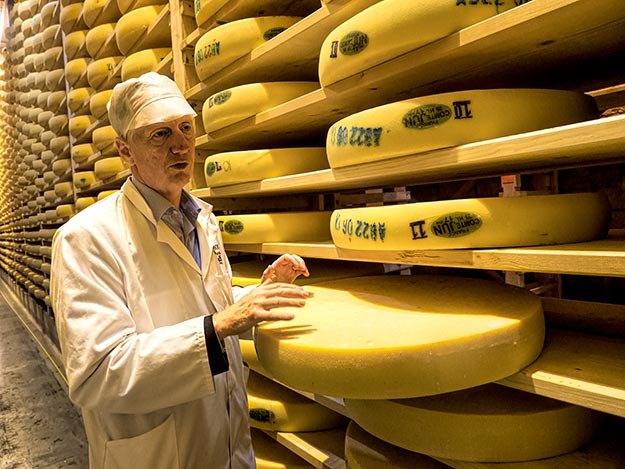 We donned sanitary coats, caps and boots and followed owner Bertrand Henrio into the bowels of the old fort. The acrid smell of ammonia, which is emitted by the cheese as it ages, assaulted my eyes and nose the moment he yanked open the door to one of the cellars. Blinking away tears brought on by the smarting fumes, I perused thousands of wheels of cheese sitting on spruce wood planks. I craned my neck back, but couldn't see the top. Ahead of me, the aisle seemed to stretch to infinity. So much cheese! "Each wheel of Comte reveals its own personality as it ages," explained Henrio. "Different flavors are caused by the movement of microflora thru the cheese toward the skin, thus every single wheel must be turned, washed, rubbed, and salted three times a week. The salt is crucial, as it helps the cheese form the crusty brown outer skin that seals in the flavor."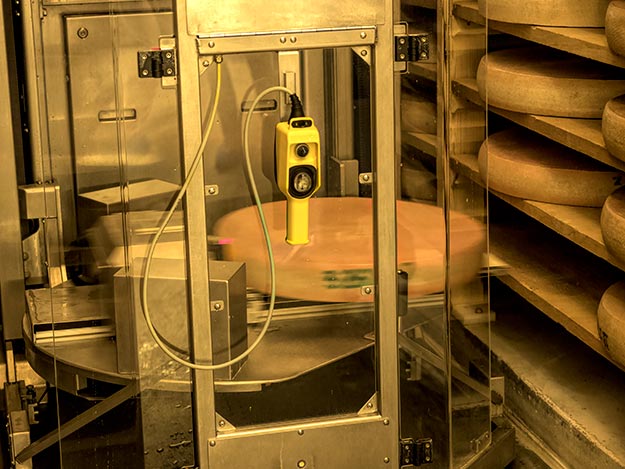 Each day, master cheese makers roam the cellars in search of wheels that have reached their perfect level of maturity. Riding pneumatic ladders, they move from stack to stack, tapping the wheels with a special metal hammer. Their finely trained ears are listening for a specific sound. When they hear it, they plunge a thin metal tube into the wheel and extract a core sample. One taste will tell them if the cheese is ready to be sent to market.
We surrounded one master as he identified a 36-month old wheel that he deemed ready to be shipped. He pulled out a core sample and offered us each a taste. Unlike the younger, creamy cheeses I had previously sampled, this one was harder, sharper, and filled with tiny flavor-filled crystals that exploded on my tongue. I was confused. Earlier, we had learned that for a cheese to be designated a Comte it must be aged at least four months, that the average aging time is eight months, and the maximum aging is 24 months. Yet here we were, sampling a three-year old cheese.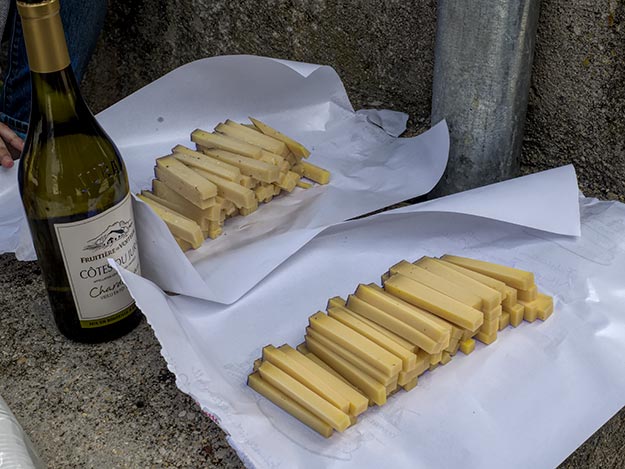 I turned to our host, Jean-Louis Carbonnier, for an explanation. "Well, you can have ages older than 24-months, but then it becomes something else. Sometimes I go to a fine restaurant and they proudly say they have a three-year old Comte. I just roll my eyes, because at that age it loses its creaminess  its no longer Comte." Henrio, however, seemed to disagree. I asked if any of the wheels in the cellars are older than 36-months. At first he said it was a secret, but when pressed he admitted they have some wheels from 2011 and 2012, and that they are doing research on these.
Yet despite its broad range of flavors, colors, and textures, every Comte cheese I have ever sampled has been surprisingly recognizable. No matter how mild or strong, how smooth or crystallized, Comte has an indescribable quality that makes it impossible to mistake for any other type of cheese. By the end of my tour, I understood that while commercial producers aim to achieve the exact same product/taste every single time, artisanal producers embrace seasonal and regional differences. Gradually I came to understand that the true beauty of Comte is in its diversity.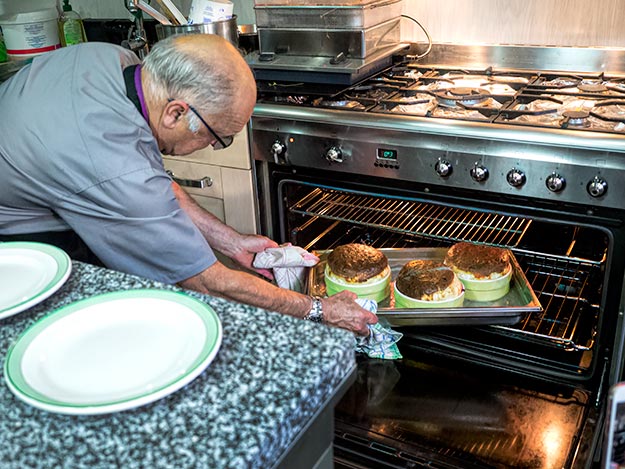 Experts who regularly sample Comte from different fruitière are so adept at recognizing the various aromatic characteristics of this cheese that they can even name the fruitière where it was produced. By the end of the week even I could identify whether the aroma of a sample was vegetal, animal, roasted, spice, lactic, or fruity. I was also able to recognize some of the stronger flavors within those categories: butter (lactic), mushroom (vegetal), grilled onions (roasted), and nuts (fruity). My palette may never be sophisticated enough recognize hints of grapefruit, tobacco, caramel, or beef in Comte cheeses, but I no longer need to be embarrassed in fromageries. I now know that I prefer a summer Comte to a winter one. I understand that it is better to choose a younger, milder Comte, aged between 10-12 months, for breakfast. For hors d'euvres or after dinner cheese plates, varieties that have been aged 14-18 months are best. And once in a while, when I want to be indulgent, I will choose a Comte that has been aged 24-36 months.
By now I had the answer to my question, how is Comte cheese made? But I still wondered how to spread the message about this marvelous French cheese. The United States produces more than 11 billion tons of cheese every year, but with the exception of small artisanal producers, varieties are limited to less than 30. As might be expected, given the popularity of pizza in the U.S., mozzarella and cheddar top the list of most popular cheeses. The French, on the other hand, brag that they produce between 350 and 450 distinct types of cheese – one for every day of the year.
There is, however, reason to believe that Americans will soon become more familiar with Comte cheese. One of the members of our tour was a cheesemonger (a person who specializes in selling cheese) who works for Whole Foods. He told us that Comte is now being sold in Whole Food stores across the U.S. Apparently, even Costco is getting on board. They have identified a group of fruitière that have similar aromatic characteristics and can provide volume, so that the product is consistent enough for their customers. With backing from two such powerful grocery entities, hope springs eternal.
Routes du Comté
Visitors to the Jura can discover the making of Comte cheese first-hand via the Routes du Comté, which offers visits to pastures, dairy farms, fruitières and aging cellars. The Comté Cheese Association has also created a series of eight Savoureux Circuits, or one- to two-day regional travel itineraries with accompanying maps and videos.
Author's note: I was a guest of the Comté Cheese Association during travels through the Franche-Comté region in France. However, the receipt and acceptance of complimentary items or services will never influence the content, topics, or posts in this blog. I write the truth, the whole truth, and nothing but the truth. This article contains affiliate links to hotel booking sites. If you click on any of the links and make a booking, I may earn a small commission, which keeps this blog free to read.