When I checked in to my holiday rental apartment in Bordeaux, France, one of the things I was looking forward to was being able to make my own meals. I didn't require much: some fresh vegetables and pasta would suffice for dinner, while a hunk of fresh baked bread topped with cheese and drizzled in rich green olive oil was my idea of a perfect breakfast. The property manager, Charlotte, met me upon arrival and circled a couple of local grocers and a good bakery on a map for me.
"Will I be able to buy good quality cheese at any of these places? I asked.
"Yes, but if you really want to sample French cheeses you must visit Fromagerie Deruelle, a gourmet cheese shop just a few blocks from here." Charlotte said.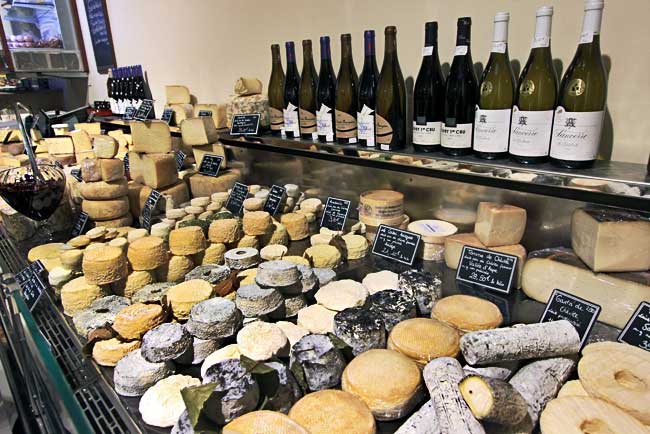 I'd been introduced to French cheeses some weeks earlier by my friends, Jean-Luc and Sabine Perrotin. We were enjoying dinner at their home near Paris one evening when Jean-Luc told me about a friend who had been visiting the department of Haute-Savoie in the Rhône-Alpes region of eastern France, where an especially stinky variety of cheese known as Reblochon is produced. Upon returning from his travels, the friend stopped by Jean-Luc's office with a gift of Reblochon. Not thinking, he dropped the package into his desk drawer. As the day progressed, the smell of the cheese penetrated it's wrapping and began to seep into the room; by the end of the day his co-workers were wrinkling up their noses and commenting on the strange smell. Guesses as to its source ranged from clogged sewers to a dead rat in the vents.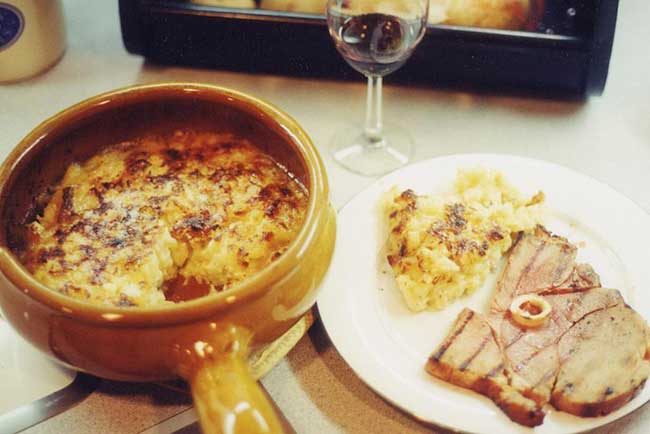 "I never told anyone about the cheese in my desk drawer – I figured it was better that way," he laughed. "It smells terrible but it tastes wonderful once it's cooked. Tomorrow night, Sabine will make a casserole for us called 'Tartiflett,' a famous dish using potatoes, onions and Reblochon cheese."
The following evening I sat down to dinner with a modicum of skepticism. Despite Jean-Luc's assurance that the cheese lost its strong odor when cooked, a pungent odor suffused the house. Cautiously, I tasted a spoonful of the creamy white casserole. It was delicious! And not the least stinky tasting.
Sabine was clearly pleased that I approved of her recipe. "You could eat a different type of cheese every day for a year and still not sample all the varieties produced in France," she said. Maybe so, but I had six weeks in France and I was going to do my level best to taste as many as possible.
By the time I arrived in Bordeaux I'd tried Brie, Comté, Emmental, Munster and several cheeses made from goat and sheep milk but I had a long way to go if I was to make a dent in the list of 365 varieties. So, first thing the next morning I hunted down Fromagerie Deruelle. More than a hundred cheeses in wheels, slabs, and wedges were displayed on tables, in coolers, and in refrigerated cases. Some were white and creamy, others were hard and bright orange; one entire shelf was devoted to different varieties of Bleu cheese. In addition to popular varieties like Comté, which are produced in large quantities, Fromagerie Deruelle also offered scores of fermier cheeses, which are produced in relatively small quantities by farmers using milk from their own farm, and artisanal cheeses, which are also produced by farmers who may supplement their own milk with milk from local farms. I perused the mind-boggling options without a clue where to start.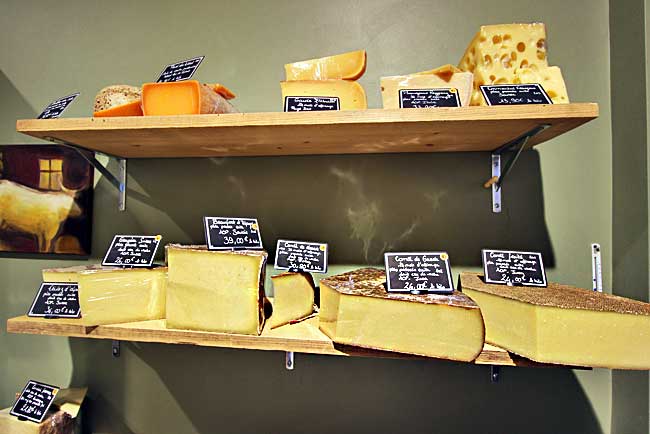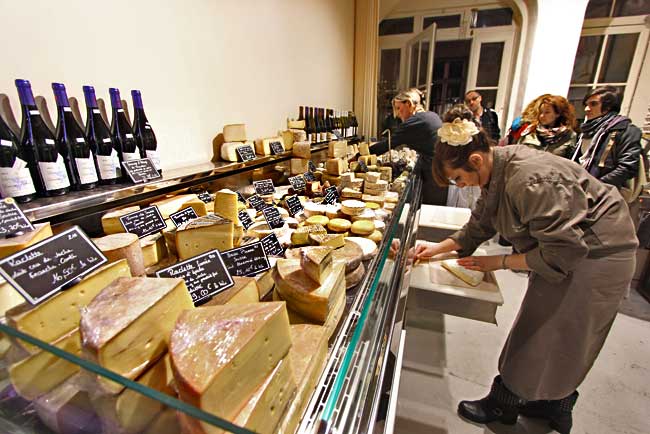 Fortunately, the young saleswoman, Paulina Traellard, spoke some English and was happy to make suggestions. I left with a soft, rustic Brie de Meaux; a Chevrotin made from goat's milk; and a robust Camembert. A quick stop at the bakery across the street to pick up a traditional French baguette, still warm from the oven, and I was all set. And so my days went. For the next week I virtually lived on cheese. I topped salads with it, made grilled cheese sandwiches, and ate it unadorned.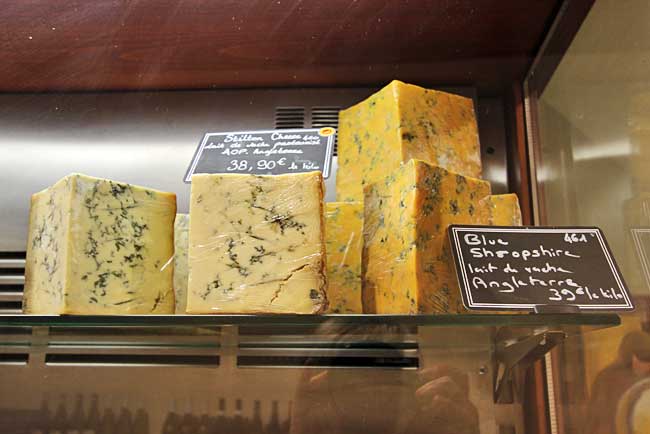 By my third visit the owner, Alodie Deruelle, was greeting me personally and I couldn't resist asking how she had come to open a gourmet cheese shop. She grew up on farms, learning the art of cheese making first hand and eventually attended university, where she studied agriculture. After graduation she worked in a big cheese shop in Lyon for a number of years. Finally, in 2011 she opened Fromagerie Deruelle, realizing her lifelong dream.
Deruelle is extremely picky about the products she chooses for the shop. She and Paulina personally visit the farms and sample each variety before agreeing to add it to the inventory, which includes a full range of cheeses produced from cow, sheep, and goat milk. Though they sell cheeses that hail from all parts of France, there is heavy emphasis on the two regions that Deruelle knows best, Bourgogne and Lyon.
I continued to sample different varieties but it wasn't long before I had favorites. My craving for Comté and Brie grew to the point of addiction. Knowing I would be returning home for Christmas, I researched the possibility of sending some of my favorites home in bulk, but the importation of French cheeses into the U.S. is a complicated issue. Customs will seize any soft French cheeses, as many are not pasteurized and the process of winning approval to export food products to the U.S. is so expensive and complex that few independent French farmers can afford to try. Unfortunately, the only way to taste real French cheeses is to go to France. And that's definitely not a bad thing, as it gives me good reason to return.
Fromagerie Deruelle is located at 66 Rue du Pas Saint Georges in Bordeaux. Their telephone is 05-57-83-04-15 (country code +33). Email them at [email protected]. In addition to cheese, the shop sells honey, butter, cream, wines, and frommage blanc.