I slipped off my shoes and stepped over the threshold of the Barbur Gallery. Tucked into the backstreets of a residential neighborhood, with a community garden at its side, it hardly seemed like a hotbed of political activity. This avant-garde gallery, the first of its kind in Jerusalem, hosts film screenings, plays, Israeli art showings, panel discussions, and art classes. Yet moments before, Caron Lipchin, our guide from Jerusalem Art Tours, had commented that the gallery is often the subject of controversy.
"The powers that be don't understand the need for an avant-garde gallery and they give them a lot of trouble, especially over the people who are allowed to speak. Jerusalem is starting to accept the gallery but occasionally officials close them down. Then there is a demonstration and they're allowed to open again."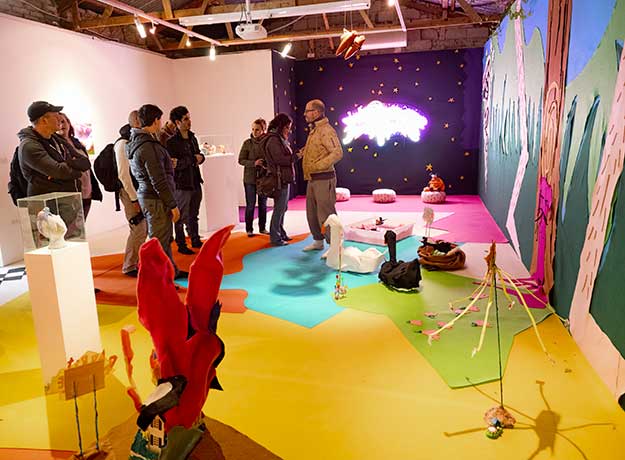 The most recent skirmish came about when the city learned about an event scheduled with Breaking the Silence. This non-profit organization records testimonies from Israeli veterans who have witnessed abuse toward Arab Palestinians during their service in the occupied territories. Since the soldiers' experiences are often at odds with the official government line that such incidents are rare, it was not surprising when the city tried to squash the event. The gallery is located in a public building and their lease prohibits any political activity. The city petitioned the courts to shut it down for breach of  lease but so far, the gallery has escaped closure by arguing they are being denied freedom of expression.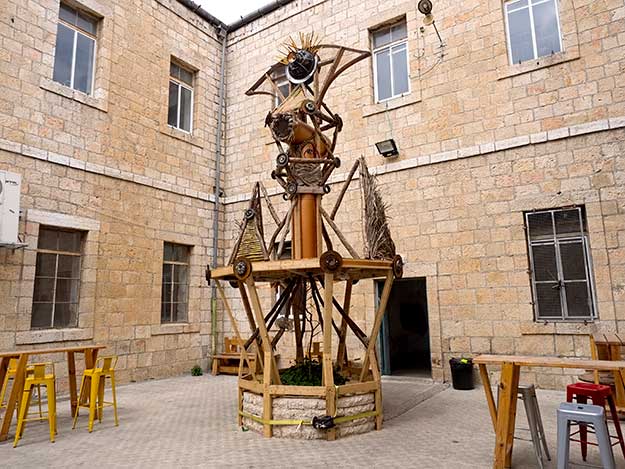 My introduction to Jerusalem's budding art scene had begun earlier that morning at Alliance House. The collaborative project opened in the spring of 2016 in a beautiful old building that had lain empty for 16 years. Often described as a "Bohemian Kibbutz in the center of the city," the facility is home for more than 200 artists, entrepreneurs, and high-tech professionals. According to director Elisheva Mazya, the facility was needed to combat the lack of mutual support for the creative community in Jerusalem. "There is a constant feeling…that we are in the midst of a zero-sum game…in which the success of one group is dependent on the failure of another."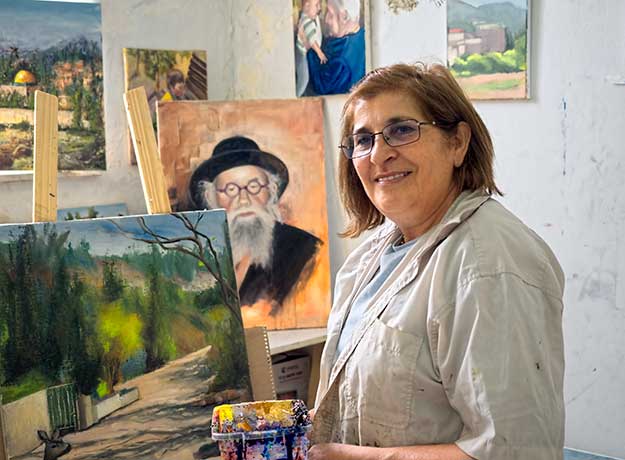 At Alliance House, we met with a group of strictly Orthodox Haredi female artists. Members of the Haredim have traditionally segregated themselves from modern society in order to strictly adhere to Jewish law and custom. Males spend their lives studying the Torah and praying, while women support the family and maintain the home. For generations, the only creative activity allowed in Orthodox homes centered around making practical items.
This began to change about a decade ago under the auspices of the Oman School of Higher Education for the Arts, which developed an art education curriculum for members of the Haredi community. A few years later, Jerusalem's famous Bezalel Academy of Arts and Design offered a bachelor's degree in art for Haredi women. By the time Alliance House opened its doors, more than 100 Orthodox female artists had applied to be part of the program.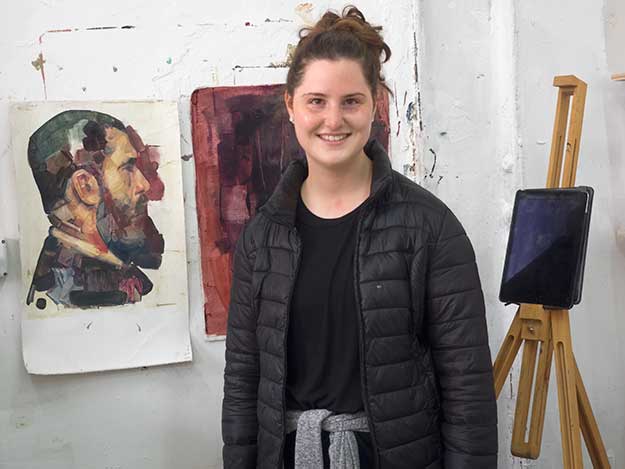 I met three of the eight who were subsequently awarded studio space. Though their media ranged from oils to watercolors to collage, their reasons for being at the center were almost identical. Alliance provides an opportunity to build bridges between disparate Jewish communities. Sara Cutler, a young woman who moved to Jerusalem from London about a year ago, perhaps expressed it best. "When I was in London, even though I'm Orthodox, I had friends from all walks of life. But here in Jerusalem, the groups are more separate." At Alliance House, she once again is able to interact with people from different walks of life.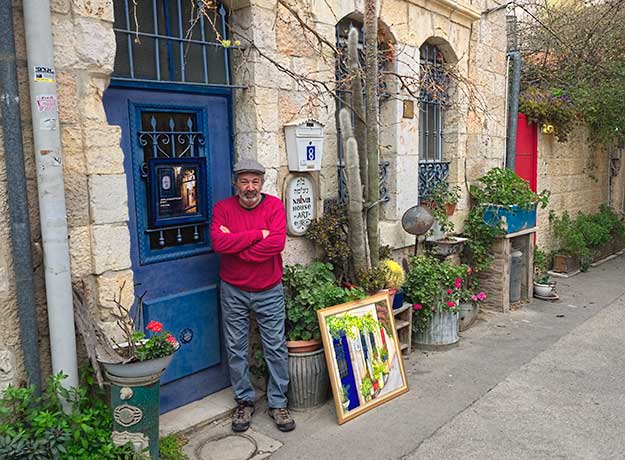 We continued our tour with a short stroll through Nachlaot, an early 20th century collection of neighborhoods built just outside the walls of the Old City. Rami Wagner welcomed us into his 134-year old house, the ground floor of which has been converted into the Beyt Naima Art Gallery. Their collection of artifacts hearken back to the British Mandate period, prior to the establishment of the State of Israel. Photos depicting the personal history of the Wagner family mingle with the works of several other well-known local artists.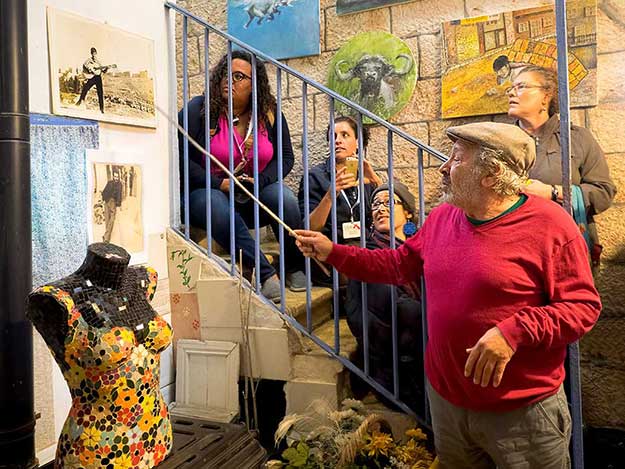 Outside Beyt Naima Art Gallery, the serpentine streets of Nachalot contained a treasure trove of street art. One mural depicted an old Jewish tailor. The Hebrew phrase for "With the Help of God" had been inscribed in the upper right-hand corner. Directly beneath it, someone had added "WTF" in large block letters. Another wall held an enormous portrait of Rabbi Levine, famous for his good deeds, especially his work with prisoners. The headless figure in the foreground seemed to mock his life-long efforts.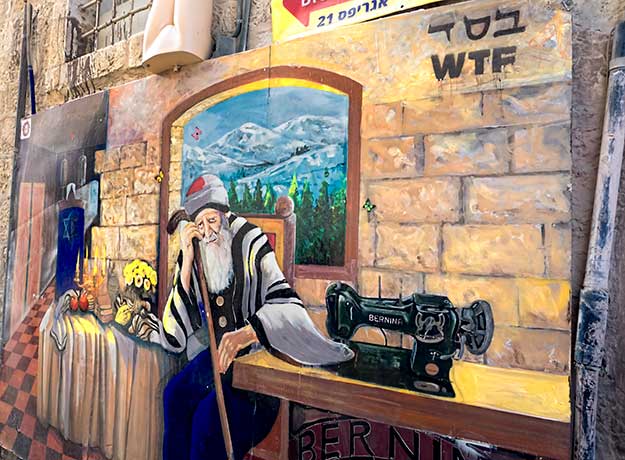 Rabbi Levine is not the only famous personage to be splashed across the walls of Jerusalem. Inspired by the mysterious British artist Banksy, 23-year old Solomon Souza began painting portraits of prominent people on the metal roll-down doors at Machane Yehuda Shuk. With the market open from early morning to late at night, Souza is limited to working for a few short hours during the middle of the night. So far, he has completed 140 of the 360 doors, but like the walls in older neighborhoods, he often arrives to find that someone has painted over one of his portraits.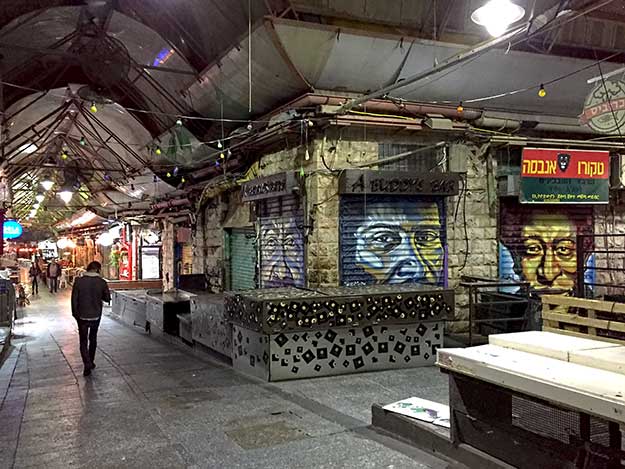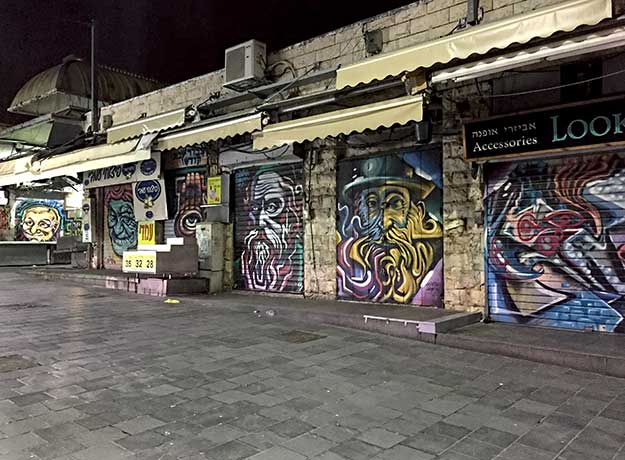 Other graffiti art in Jerusalem is more abstract. The walls leading to the Even-Israel neighborhood are splashed with giant murals of psychedelic flowers and sea monsters. My favorite was a giant pastel cat head with glowing yellow eyes. Beneath the portrait, a striped brown tabby was curled in a ball, fast asleep.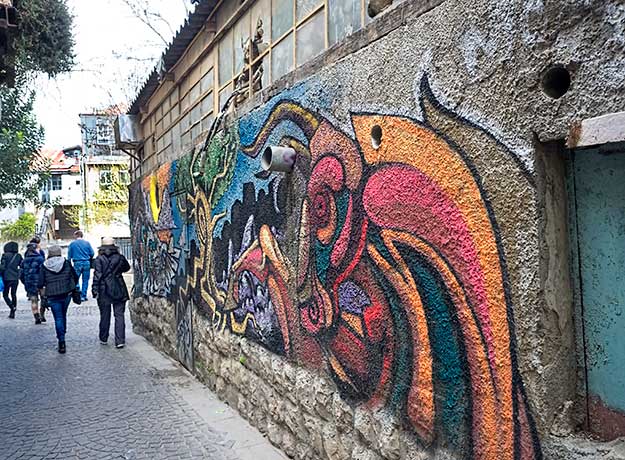 My final exposure to Israeli art was in the Jerusalem suburb of Ein-Kerem. The village was reduced to rubble in the 1948 war of independence and subsequently abandoned. Many years later, starving artists bought the ruined properties for a pittance and gradually restored them. Today, Ein-Kerem is a popular art colony, with shops offering everything from hand-thrown pottery to enameled jewelry. With limited time at our disposal, our guide chose two workshops to visit: Ruth Havilio, showed us her gorgeous hand-painted ceramic tiles, while Adina Solomonovich posed with her clay sculptures.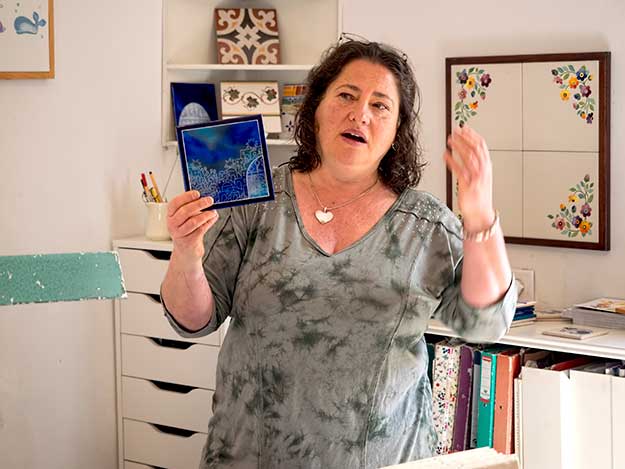 Ein-Kerem is also one of the few places in the greater Jerusalem area that does not shut down on Shabbat. In the Jewish religion, conducting any activity that "creates" is prohibited on Shabbat. Jews cannot drive cars, use the stove, or even turn on a light during the holy day that begins at sunset on Friday and ends at sunset on Saturday. Yet every weekend, Ein-Karem is packed with Jews who flee the shuttered city.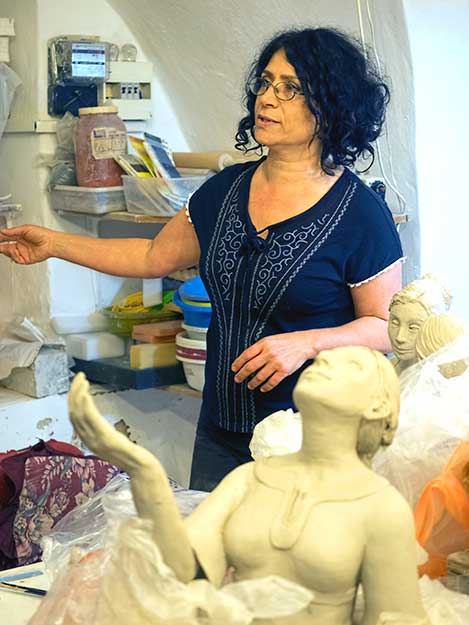 Israeli art seemed to me a perfect metaphor for a society that often appears chaotic and conflicted. More than 75 percent of the residents of Israel are Jewish, yet 65 percent of this majority insists they are either atheist or non-religious. Ultra-Orthodox Jews, who make up only two percent of the population, are the most outspoken. They refuse to go to war or do compulsory military service, and their abhorrence to change creates constant tension with those who believe that Israel should be part of the modern world.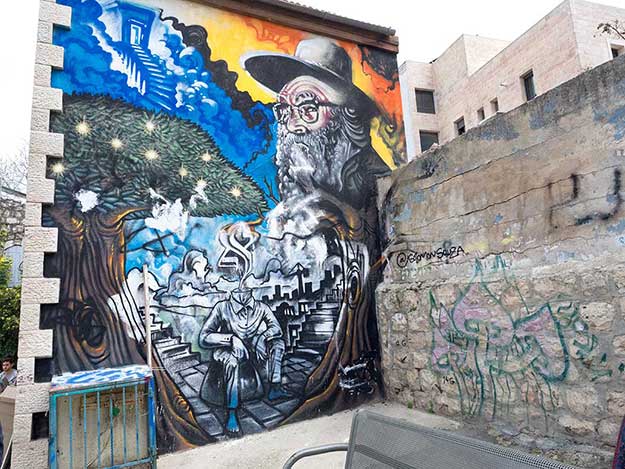 Sabras (people born in Israel) always identify themselves as Israelis, while immigrants usually refer to themselves as Jews. To this day, the country has not officially recognized an Israeli nationality. On the national population registry, any Jew, regardless of his or her his country of origin, is listed as a Jew. Arabs and other minorities, on the other hand, are listed by ethnicity. Even Israeli courts can't agree on the definition of a Jewish national identity. In 2013, the Supreme Court ruled that establishing an Israeli identity could "pose a danger to Israel's founding principle: to be a Jewish state for the Jewish people."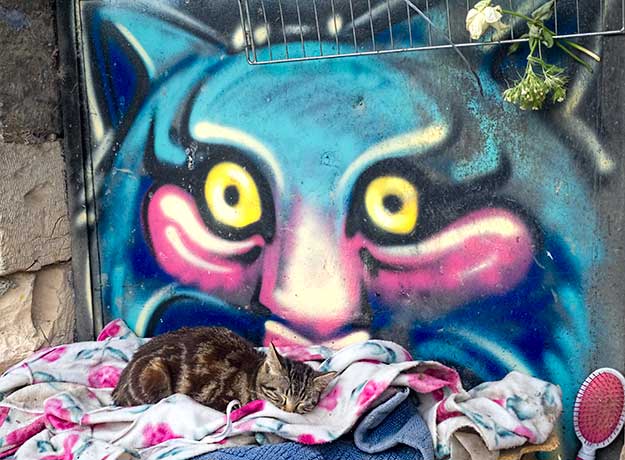 I came away from my experience wondering how there can ever be a lasting peace between Arabs and Jews, when even members of different Jewish sects are at odds with one another. Yet in the midst of all this discord there was one ray of hope. Where diplomacy and development have failed, art could succeed. Art creates tension and disrupts the status quo, but it also acts as a catalyst and encourages communication. If the creative community continues to grow and flourish, artists may hold the greatest promise for bridging Israel's fragmented national identity.
Check prices for Dead Sea hotels on Booking.com, Hotels.com, or HotelsCombined.com
Read reviews about Dead Sea hotels, restaurants, and attractions on TripAdvisor
Disclosure: The above article contains affiliate links. If you click on any of these links and subsequently make a purchase, I may earn a small commission, which helps keep this blog free for you to use. I also wish to thank Jerusalem Tourism, which provided my excellent outing with Jerusalem Art Tours.