From atop the Mount of Olives I surveyed the Holy city of Jerusalem in all its glory. Directly below me, white marble caskets in the Jewish cemetery tumbled down the hillside like giant rows of dominoes. We picked our way through the graveyard as our tour guide explained that a spot in this cemetery may be the most expensive real estate in the world. "Tradition holds that those who are buried here will be the first to be resurrected when the Messiah appears, so Jews from all over the world pay thousands of dollars for one of these tiny plots." The price of eternity, however, is escalating. The Mount of Olives cemetery is fast running out of space. There are 122,000 known graves and the cemetery is 83% full. Today burial site costs a minimum of $20,000, and some sell for more than $50,000.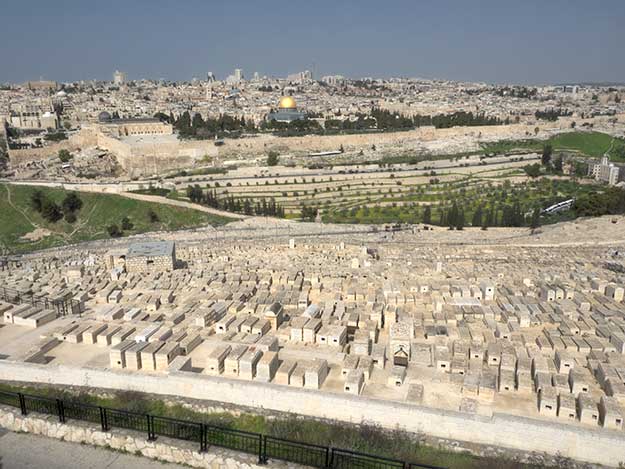 At the bottom of the hill our guide led us to the Garden of Gethsemane, a grove of olive trees which Jesus was said to frequent. "This is believed to be the place where Jesus prayed the night before his crucifixion," he explained. Catholics consider it the first Station of the Cross. However, like much of the narrative surrounding the historic sites of Jerusalem, there is no consensus. Among other places, the Church of All Nations, located next to the Garden of Gethsemane, and the Tomb of the Virgin Mary both claim to be the locations where Jesus prayed on the night he was betrayed.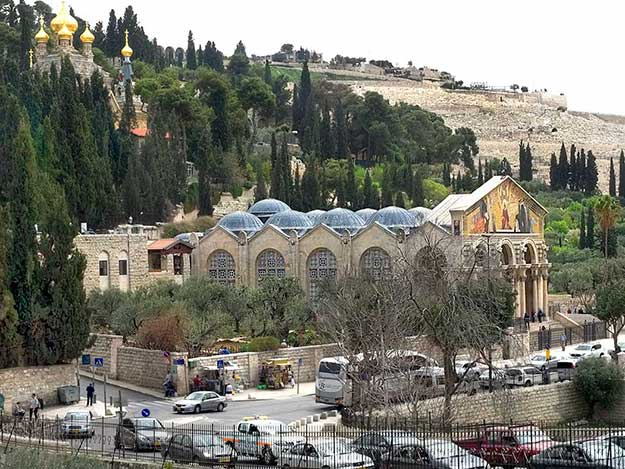 A short distance away we stopped briefly in front of Mary's Tomb. Our guide waffled less about this site than others. "Most believe that this is where Mary was buried." Yet even this is disputed. Some legends claim she was buried in Mary, Turkmenistan, while still others insist she was entombed in Ephesus, Turkey. By the time we walked through Lion's Gate into the original, walled city of Old Jerusalem, my head was spinning from the ambiguities. But I would soon learn they were just the tip of the iceberg.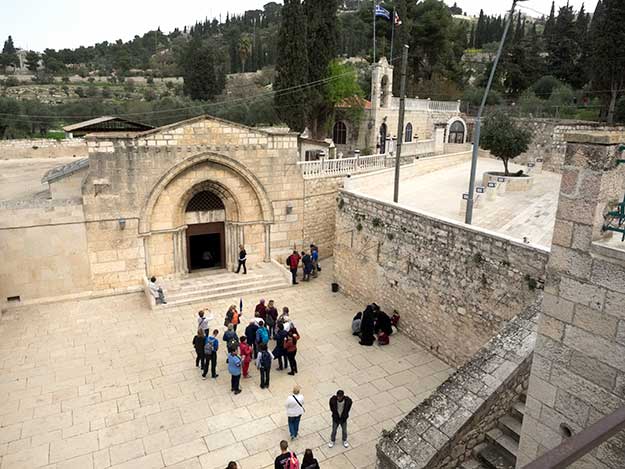 We made our way down the Via Dolorosa, said to be the street down which Christ carried the cross on his way to be crucified. Our guide stopped in front of an elementary school. "This building is believed to be the court house where Jesus was tried and sentenced by Pontius Pilate." Soon we ducked into a narrow, dark alley, where our guide pointed to a wall-mounted plaque that displayed the Roman numeral seven. "This is thought to be the place where Jesus fell for the second time as he made his way toward Golgotha Hill, the place where he was crucified."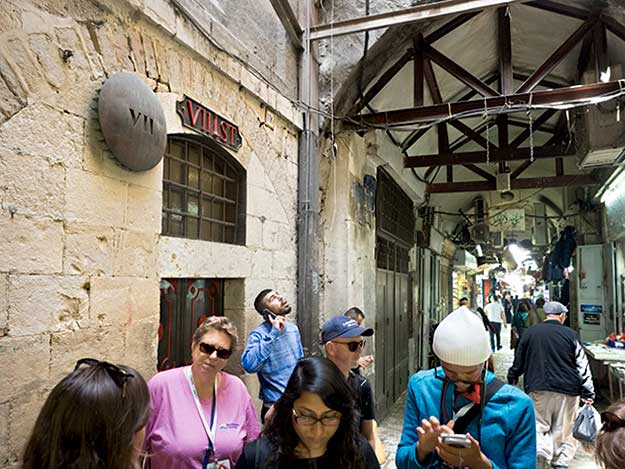 Golgotha was nearby, but it certainly wasn't what I expected. The hill, which in most biblical scenes is depicted as a barren mound with crosses scattered across its summit, was nowhere to be seen. In its place stood the Church of the Holy Sepulchre. In AD 325, the first Christian emperor, Constantine the Great, ordered the church built. Today it is largely accepted that it was constructed around Golgotha hill and over the tomb where Jesus was buried and resurrected.
More than any other place I've visited, the commentary of Jerusalem was awash with disclaimers. Again and again, I heard statements like, "In Jerusalem, it is said that…legend has it that…people believe that…and, many say that." Information is provided in terms of probabilities and possibilities, rather than facts. I was intrigued. Like a curious adolescent, I wanted to know why.
Prior to arriving in Jerusalem, my knowledge about Israel was limited. I knew that in 1947, the United Nations voted to approve Resolution 181, which partitioned Palestine and created the Jewish state of Israel. I was slightly more informed about the decades since partition, but even this knowledge was riddled with gaps. As for the ancient history of the region, I knew virtually nothing. And so I began to educate myself. I picked the brain of the owners of my guest house, Avital Hotel, and had deep discussions with Jews and Palestinians in cafes. I read everything I could get my hands on regarding the history of this region of the Middle East.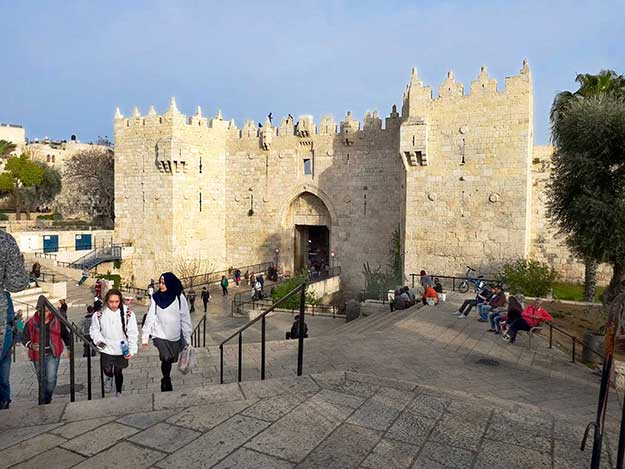 History provided my answer. In AD 132, Jews became incensed when the occupying Roman Emperor Hadrian prohibited the practice of circumcision. Having fought and lost a devastating war against the Romans in AD 70, Jews might have buckled to this decree. But in a move that could only be seen as a desecration, Hadrian reneged on his promise to rebuild the destroyed Temple Mount and instead replaced it with a shrine to the Roman god Jupiter.
The resulting war, known as the Second Jewish Revolt, lasted four years and killed more than a half-million Jews. Though victorious, Hadrian had suffered immense losses as well. Furious, he was determined to wipe any memory of the area known as Judea from the Jewish consciousness. He renamed the entire region Syria Palaestina, a name which has come down to us as Palestine. He also renamed the city of Jerusalem to Aelia Capitolina, then banned all Jews from Jerusalem under penalty of death.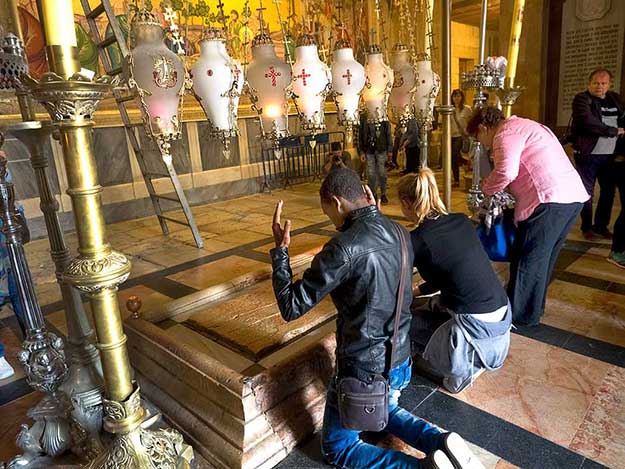 During the ensuing 200+ years, with no Jewish presence to preserve history, the precise locations of historic places and events were forgotten. Today, they are guesses at best. Take the case of the Church of the Holy Sepulchre. Constantine ordered it to be built nearly 300 years after Jesus' crucifixion. Constantine's mother, Helena, is said to have rediscovered the tomb of Jesus during its construction. According to the following passage in Eusebius Pamphilus: Church History, Life of Constantine, she also discovered the crosses upon which Jesus and the two thieves who flanked him were crucified:
"It is said…that Constantine sent his mother Helena to Jerusalem to try to find the cross on which our Lord was crucified. When she arrived, she bade all the Jewish Rabbis of the whole land gather to meet her. Great was their fear. They suspected that she sought the wood of the cross, a secret which they had promised not to reveal even under torture, because it would mean the end of Jewish supremacy. When they met her, sure enough, she asked for the place of the crucifixion. When they would not tell, she ordered them all to be burned. Frightened, they delivered up Judas, their leader and instigator, saying that he could tell. She gave him his choice of telling or dying by starvation. At first he was obstinate, but six days of total abstinence from food brought him to terms, and on the seventh he promised. He was conducted to the place indicated, and in response to prayer, there was a sort of earthquake, and a perfume filled the air which converted Judas. There was a temple of Venus on the spot. This the queen had destroyed. Then Judas set to digging vigorously, and at the depth of twenty feet, found three crosses, which he brought to Helena. The true cross was tested by its causing a man to rise from the dead, or according to others, by healing a woman, or according to others, by finding the inscription of Pilate."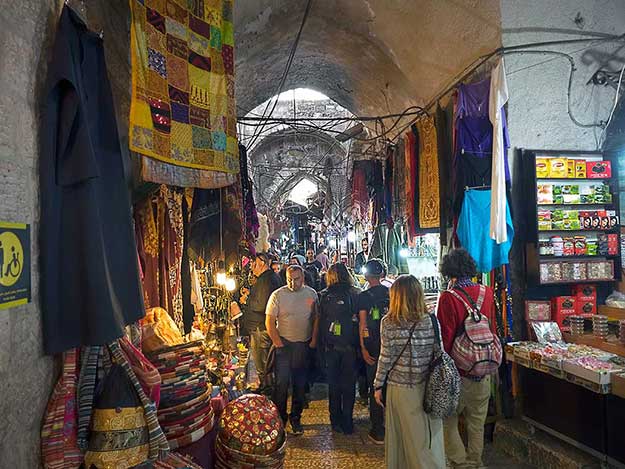 And so, as I continued my exploration of the Holy City of Jerusalem, I began to take things on faith. If you are a Muslim, you believe that the Prophet Muhammad ascended to heaven from Temple Mount, conversed with God, and returned to inspire his followers. If you are Christian or Jewish, you believe that the stone inside the Dome of the Rock is the place where Abraham was ordered by God to sacrifice his son Isaac. Druze, Samaritans, Bahá'í, Coptic Christians, Ethiopian Christians, and Armenians all believe that miracles of faith occurred in this ancient city. And almost everyone chooses to believe that if you write a prayer on a slip of paper and shove it into a crack in the Western Wall, your prayer will be granted (though there is no guarantee when it will be granted). Like everyone else, I descended to the wall and left my note.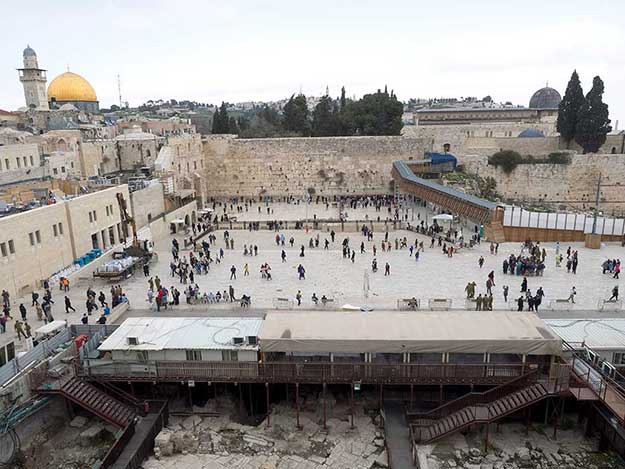 After spending two weeks in Jerusalem and a month in research, I was better informed but far from an expert. We may never know the exact spot where Jesus suffered on the cross, or where the Virgin Mary was born, raised, and died. Until the end of days, we can't know for certain if the souls buried in the Jewish cemetery on the slopes of the Mount of Olives have ensured their resurrection. However, I do know one thing for certain. Visiting the Holy City of Jerusalem is all about faith.
Check prices for accommodations in Jerusalem at Booking.com, Hotels.com, or HotelsCombined.com. Read reviews about hotels and guest houses in Jerusalem, Israel at TripAdvisor.
Disclosure: The above article contains affiliate links. If you click on any of these links and subsequently make a purchase, I may earn a small commission, which helps keep this blog free for you to use. I also wish to thank Sandeman's New Europe, which provided my excellent walking tour of the Mount of Olives and the Old City of Jerusalem.
Save
Save