I was completely and utterly exhausted. A couple of months earlier, my right hip and knee had begun to ache constantly and walking long distances was becoming increasingly difficult. I booted up the laptop, opened my calendar, and began counting. It was mid-October, 2016, and I'd visited 23 countries so far that year, some of them more than once. No wonder I was tired. I needed to slow down and rest.
My friend Dorothy, whom I'd met years ago during a Yoga Retreat in India, came to my rescue. "I know the perfect place," she said. "We'll go to EcoYoga Scotland." Since Dorothy lives in Edinburgh, I didn't doubt her recommendation for a second. A few days later, we were headed into the highlands on the west coast of Scotland.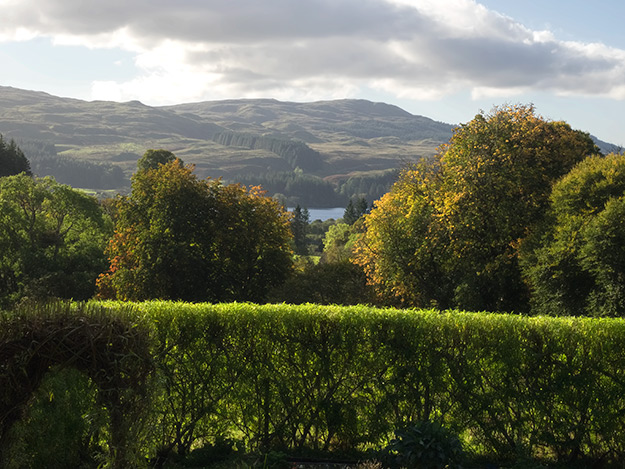 Happy to have someone else handling the travel arrangements for once, I relaxed and enjoyed the drive through through luxuriant green hills splotched with crimson and gold foliage. At Loch Awe, the paved road ended. We rolled our windows all the way down and followed the narrow, one-lane dirt road along the cobalt lake for the next two hours, breathing in the pure air. I thought it couldn't get any better, until we arrived at EcoYoga Scotland.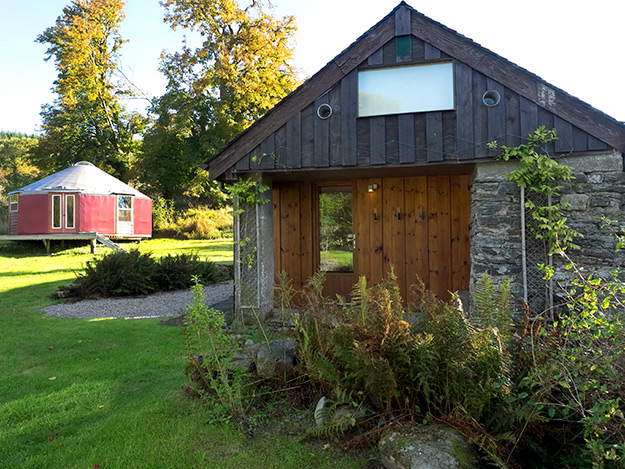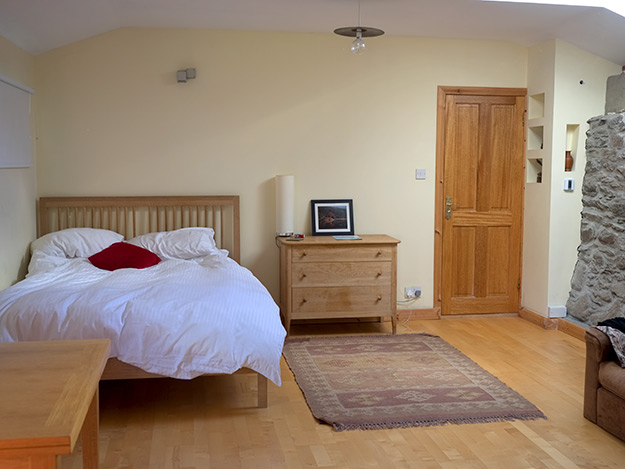 Our rooms were in a restored Bothy. These old stone cottages, scattered around the Scottish countryside, are usually bare-bones affairs. Bothies provide the most basic shelter for hunters, hikers, and the occasional lost camper. They have no electricity, no running water, and no furniture. Our three-bedroom Bothy, however, had been luxuriously retrofitted with a sink, toilet, wood floors, and cloud-soft beds.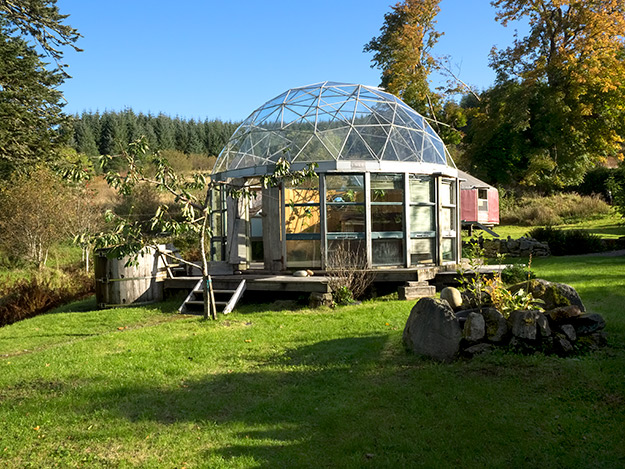 The center overlooks the River Liever, where a delightful waterfall plunges into a deep gorge accessed by a rope ladder. A giant white porcelain tub – one of the fun bathing options at EcoYoga – sits regally on a wooden deck overlooking the falls. Thankfully, it wasn't the only option, as my knee and hip would never have allowed the climb. Instead, I stood beneath rainforest showers inside the geodesic glass dome that covers a giant wooden hot tub. Once squeaky clean, I sank up to my chin in the steaming hot tub and relaxed under sunlight filtering through the glass panes. The heated water soaked into my sore muscles, relieving tension in my knee and hip. Just a few hours after arriving at EcoYoga, I felt better than I had in months.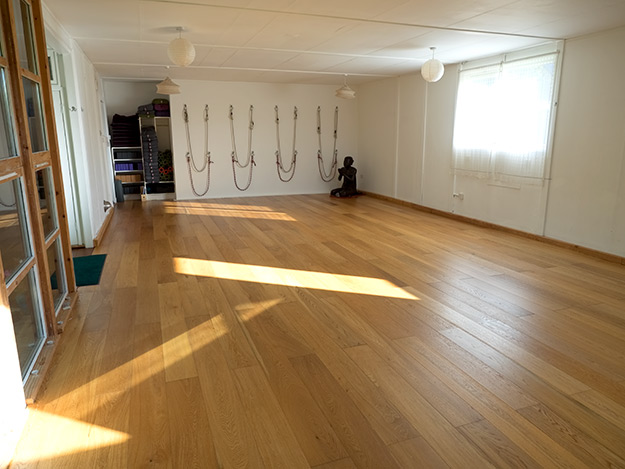 Chattering birds woke me the next morning and I hurriedly donned Yoga pants and T-shirt for a morning practice. Dorothy had checked before arriving; there were no retreats scheduled during our stay, so we had the Yoga studio all to ourselves. I was kind to myself, focusing mostly on floor poses and restorative work. I'd practiced very little over the previous year and a half, but the muscles have memory. I was amazed at just how flexible I still was. After our practice, we beat a quick path for the common kitchen and prepared a heaping breakfast.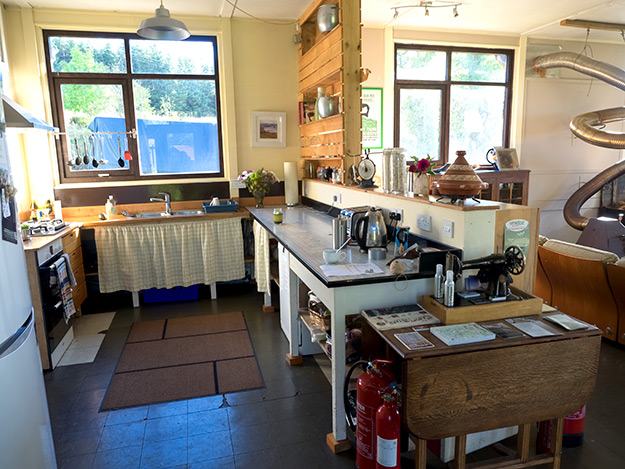 Between spoonfuls of fruit, yogurt, and fresh-baked bread we'd purchased on the trip up, center manager Laura Ford explained that the owners of the retreat created it as "an expression of their belief in a healthy, happy, carbon free and sustainable lifestyle." EcoYoga Scotland is totally off-grid. A 550Kw hydro turbine, driven by the fast-running river water, supplies all the power required by the center. Excess power is sold back to the local utility; it supplies up to 300 additional homes with all their electricity needs.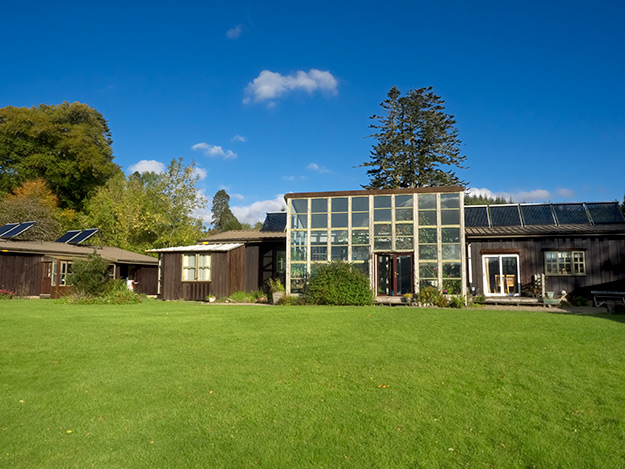 A large bank of solar panels supplements the need for electricity and powers the water heaters. The main dining hall is heated by a biomass pellet boiler and a combination of double glazed windows and Warmcell (recycled newspaper) insulation ensures the main hall is warm and cozy, no matter how cold it gets outside. All the water is sourced from on-site springs, and an organic garden supplies most of their vegetarian food. They even have an electric car that charges directly from the hydro system!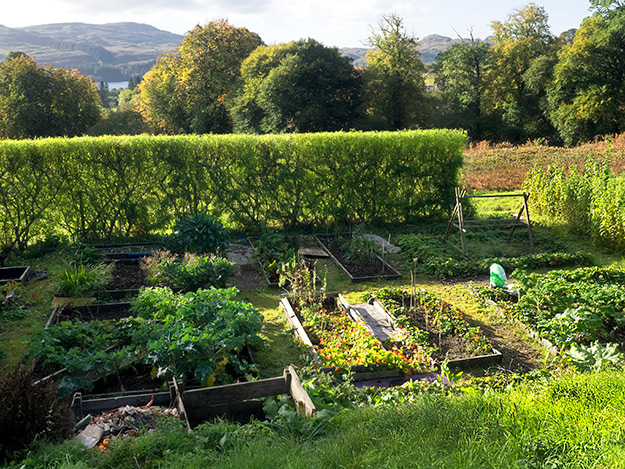 It was hard to tear ourselves away from the sunny common living area, but a series of historic sites nearby beckoned. Half an hour away, we found the 3,200-year old Nether Largie Standing Stones. Alexander Thom, a controversial advocate of archeoastronomy, claimed that this was one of the most important lunar observatories in Britain. Recent analysis supports the theory that the X-shaped monument of five tall standing stones marks where the moon rises and sets at key points in its 18.6-year cycle.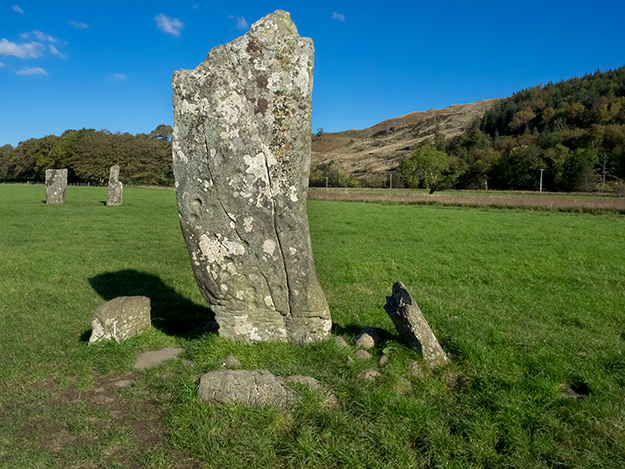 Across the field, two circles marked by more standing slabs were covered with tons of smooth rounded stones. No one know for sure what they were used for, though spiral drawings carved into the standing stones suggest these sites may also have had a celestial purpose.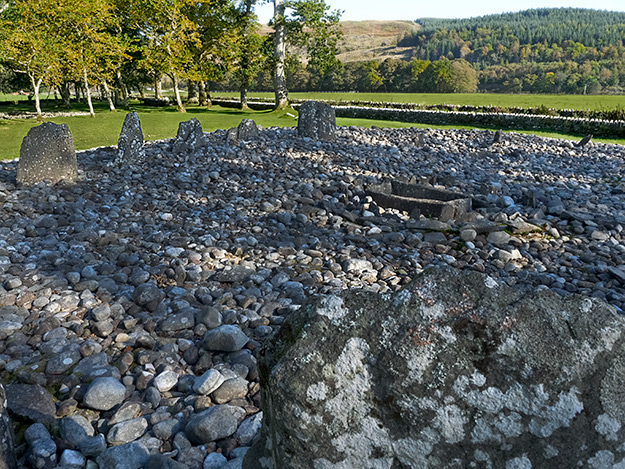 We continued toward the coast, following the Crinan Canal to the sea. Often called "Britain's most beautiful shortcut," when it opened in 1801 the nine-mile long canal allowed commercial sailing and fishing vessels to access the North Atlantic without having to sail around the long Kintyre Peninsula. Today the canal is used each year by more than 2,000 yachts and pleasure boats making their way between the Firth of Clyde and the west coast of Scotland. It has also become a popular destination for canoeing, kayaking, cycling, walking, running, and fishing. Located at the terminus of the canal is the quaint hamlet of Crinan, where sailboats waited for locks to fill and visitors lingered over coffee and pastries in local cafes.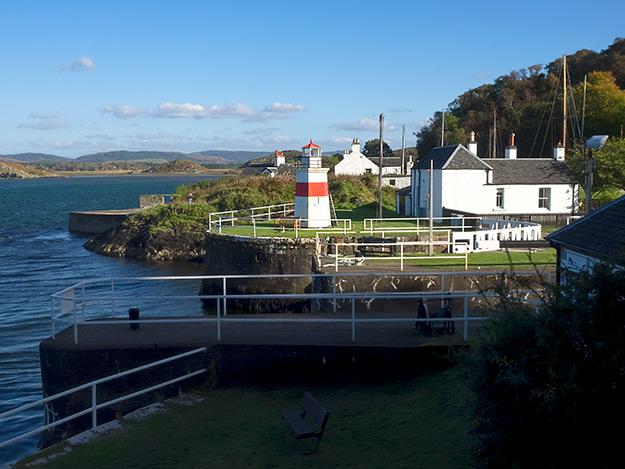 We returned to EcoYoga in time to watch the sky morph from gold to orange to purple, then hopped in the hot tub for one last soak. I flexed my knee in the hot water and tested my hip. In just two days, my pain had nearly disappeared. As the last glimmer of light faded to inky black and the billion glittering stars of the Milky Way appeared, I knew morning, and our departure, would come too soon.