Have you ever been stuck with a long layover in an airport and been forced to pay for wifi access? Even worse are the schemes that tease you with 30 minutes of free wifi access and then rudely shut you off. If, like me, you believe that wifi should be a right rather than a privilege, you'll be delighted to know about the new WiFox app for your smart phone. WiFox provides wifi passwords for more than 70 airports and airport lounges around the world, providing you with unlimited free wifi access.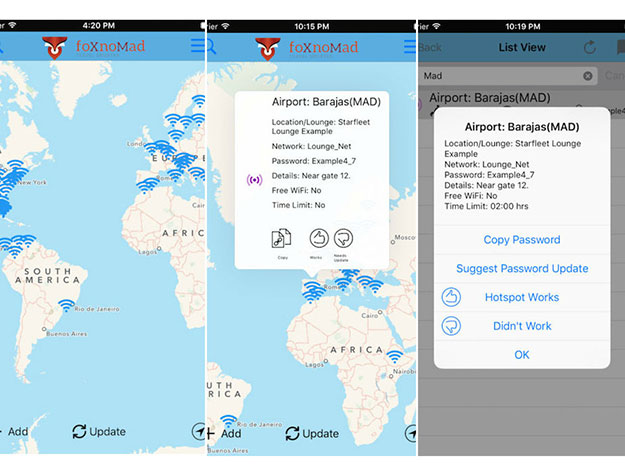 The above photo shows the various screens in the app. In map view, you can tap any wifi icon where wireless information is available. Simply use the button to copy the password to the clipboard and paste into the airport network's login screen. The map is available offline, so you don't need an internet connection to use WiFox app when traveling.
The app is brand new and works through "crowdsourcing," which means passwords are supplied by travelers and pilots as they discover them. Those passwords are then verified by the developer before being added to the map. As a user, you too will be able to add new passwords to WiFox. That means the list of passwords and airports, which is somewhat limited at the moment, will continue to grow over time. Users can also rate the wireless hotspot to let the developer know whether or not the connection worked. Learn more about the iOS app on the iTunes page for WiFox and the Android app on the Google Play page for WiFox.
The developer of the app (friend and fellow travel blogger, Anil Polat of Foxnomad.com) has provided me with 20 free promo codes to give away to my readers (ten iOS and ten Android). The giveaway begins upon publication of this post and ends at midnight, Sunday, October 16, 2016.
To enter for your chance to win one of the 20 free codes, follow the instructions below:
The giveaway has now ended and winners have been notified. A big thank you to everyone who participated, and I do hope the winners will find the app to be useful.
Terms and conditions for the giveaway, aka "the fine print"
The giveaway is open to all except employees and families of  Foxnomad.com, WiFox, or Holeinthedonut.com
The prize will consist of one of 20 voucher codes for the WiFox mobile app (ten for iOS operating systems and ten for Android systems)
The giveaway closing date is midnight on Sat October 15, 2016 and any entries received after this cannot be accepted
The winning entries will be selected at random after the closing date and the winner will be notified by email within three days
If you are notified of a winning entry, you must confirm acceptance by email to claim your prize. If you do not reply to confirm acceptance within three days of being notified as a winner, we may offer your prize to someone else.
By entering to the giveaway you agree that you may be added to the mailing lists of Hole in the Donut Cultural Travel, but you may unsubscribe at any time
The prize is non-transferable, non-refundable and no cash equivalent may be offered