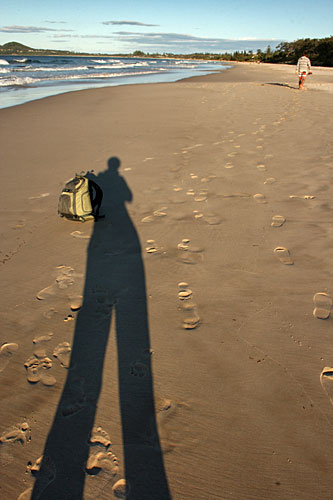 Some people have itchy fingers. I have itchy travel feet. Since returning from my six-month round-the-world (RTW) trip in 2007 I've continued to travel in the U.S., staying on the road more than 50% of the time. I've been longing to strap on my backpack and head back out for another round of international travel but the timing just didn't seem right. Last year was especially difficult; I finally had to tell the bank to take back a property I still owned in North Carolina, because I could no longer pay the mortgage. It was a gut-wrenching decision, fraught with irrational fears. After a lifetime of building up sterling credit, how would I live once it was ruined? Could I ever obtain another credit card or qualify for a car loan? Would bad credit keep a potential employer from hiring me? What if I settled down in one place – would I be able to rent an apartment? Even worse, I felt like a bad person, a lowlife, a loser. I had never even paid a bill late, much less default on a loan contract.
Things got worse. The bank decided to sue me rather than foreclose on the property. I won't bore you with the gory details, other than to say my attorney is still battling this in court, but the whole experience has elicited yet another shift in my ever-evolving view of life. It all began in December of 2006, when I walked away from a successful career. For the previous ten years I had been selling real estate. I had no passion for the job, quite the opposite: even though I was a very talented Broker, I hated going to work every day. Deep down I knew I was selling my soul, yet I plodded along because it paid the bills and gave me the resources to travel a month each year. I never considered that it took every last day of those month-long vacations to regain my sanity, and that with each ensuing year my stress level ratcheted up and my ability to recover declined.
A combination of stress and illness finally brought me to my knees. For weeks I crawled between bedroom and bathroom, too exhausted to go to work and too disheartened to care. Bedridden and seriously ill, I was granted the one luxury that had eluded me over the past ten years: time to think. I realized that I could die and all the money in the world would do me no good. In that instant of crystal clarity, I knew my life had to change. I had to stop worrying about what my family would think, about letting my co-workers down, or about what society expected of me, and instead be true to myself. I decided to pursue my true passions of travel, writing and photography, regardless of the financial consequences. A year later, despite being unable to sell my house, I hit the road for my RTW trip.
By the time my trip ended, I knew that returning to corporate life was not an option. I resolved to pursue a career as a travel writer and photographer, despite being told (endlessly and insistently) that it would be an impossible undertaking at age 55, with no portfolio and not a single published clip to show. Those naysayers didn't know me very well. Looking back, they probably did me a huge favor, since my reaction to being told I can't so something is to do it, just to prove I can. Not only have I built up a substantial portfolio of published travel articles over the past three years, Hole In The Donut is now one of the top travel blogs in the world.
Challenges, however, persist. Because travel writing pays very little, I've had to make significant changes in my lifestyle. My house finally sold a couple of years ago – at a loss – and I have slowly sold or given away most of my material possessions. Letting go of my "stuff" has been a freeing experience; I now realize how much it was weighing me down. Thus unencumbered, it strikes me that there seems to be an inverse relationship between money and happiness. I have often noted that people in third-world countries, who have little in the way of wealth, seem to be blessed with an abundance of happiness. And so it is for me. I wake up each morning eager to write, to meet new people, and to learn about new cultures; for the first time in my life I am truly happy.
Occasional cryptic comments about how I am wasting my talent, or about how much money I could be making if I would just return to corporate life make it clear that not everyone approves of my choices, and it is sometimes hard to stay strong in the face of these not-so-veiled criticisms. But when I waver, I need only recall how miserable I used to be and how joyful I am today. And so, in ten days I will take another leap of faith and embark upon a four-month trip through Mexico, Ecuador, and Peru. Budget being a major consideration, much of the time I will be staying at hostels and writing extensively about this mode of travel, which is becoming quite popular with the baby boom generation (after all, we invented backpacking). However it won't all be budget; on occasion I will be hosted by upscale luxury resorts and I will be reporting on my experiences at these properties as well. I hope you will join me as I blog and tweet my way through these intriguing countries. Where, specifically, am I going? Check back on Tuesday, when I'll be divulging the specific destinations I plan to visit.