I pushed open the bathroom door in my hotel room at Paris' Charles de Gaulle Airport. A bathtub! Thank you, god. After months of living in hostels and guest houses with tiny showers, a tub was a treat beyond description. I dug into my suitcase for my essential oil of lavender and liberally shook drops into the bath water. As I sank up to my neck into the hot water, the lavender began to work its magic. Ever so slowly, my aching shoulders relaxed and my mind stopped racing.
Many years ago, a friend gave me an aromatherapy treatment using essential oils. I've been passionate about them ever since, and perhaps none more so than essential oil of lavender. I apply it topically when my muscles scream from toting twenty pounds of equipment on my back. To sleep more peacefully, I sprinkle it on my pillow. I even use it sparingly as a perfume and apply it to my temples when one of my persistent headaches becomes too painful to endure.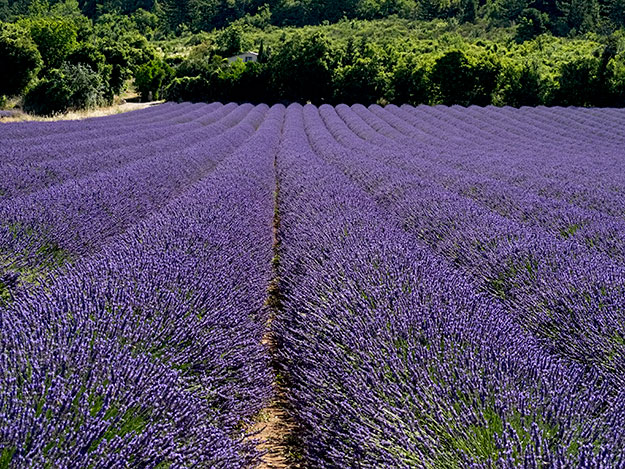 My life of perpetual travel limits what I can carry. With no home base and only a carry-on size suitcase and a small backpack at my disposal, I never buy souvenirs, but I'm a sucker for anything lavender. At Pannonhalma Archabbey in Hungary, I purchased a bottle of essential oil that the monks distill from the fields they tend. I also couldn't resist in Croatia, where the purple blossom grows profusely along the Istrian coast. And now I was about to fulfill my lifelong dream of seeing the French fields of Provence lavender in full bloom.
Lavender is grown in a number of places around the world, but it positively thrives in the south of France. In Cavaillon, I met up with my guide and we headed for the tiny village of Sault, the undisputed nexus of Procençal lavender. Beneath crystalline blue skies we skirted the foothills of the Luberon mountains, choosing narrow, sinuous roads that took us deep into lavender country. At the end of one particularly long curve we topped a crest and I gasped. Hundreds of acres of royal purple lavender bushes, planted in tidy rows, marched toward the gray-green Luberon massif. There are so many beautiful destinations in this country, but the Provence region, especially during lavender season, has to be on every list of great places to visit in France.
Grinning, my guide pulled onto a dirt lane leading into the field. I walked deep into the rows of hip-high bushes, closed my eyes, and breathed in the sweet, musky scent. I leaned over to sniff a cluster of the flowers, taking care to avoid the fat bees that buzzed between blossoms. Just to make sure I wasn't dreaming, I crushed a bud between my thumb and forefinger and rolled it under my nostrils. This was no dream. I was actually standing in a field of deep purple French lavender.
My euphoric bubble was slightly deflated a short while later when I met with Guillaume Liardet of Aroma Plantes Distillery. "Ah, but you weren't in a field of lavender," he insisted. "You were actually in a field of Lavendin. It's a hybrid, but most people confuse it with true lavender because of its color and strong fragrance."
As one of the most respected distillers in France, Liardet should know. He explained that true lavender is more gray than purple, grows at altitudes ranging from 1,600 feet to 4,500 feet, and produces a single fat flower spike at the tip of each stem. Lavendin is the deep rich color we expect to see, but its taller bushes flourish at sea level and produce up to three pointy flower spikes on each stem. The fragrance of true lavender is more muted than Lavendin, yet it is this subtle, more complex fragrance that is preferred by perfume and cosmetic producers.
I wondered aloud why, if Lavendin has a better fragrance, it is not preferred for perfumes. "Not better, stronger," Liardet corrected. He handed me a bottle of Lavendin essential oil to sniff, followed by one of lavender. "Do you smell the difference?" he asked. I did indeed. Due to the flower's higher concentration of camphor, the fragrance of Lavendine was both stronger and sharper. This excess camphor makes Lavendin ideal for relaxing stressed muscles, but for soothing the mind or ensuring peaceful sleep, lavender is best.
Liardet led us into the distillery as he explained that aromatics like Provence lavender oil have been used for thousands of years. In the beginning, they were brewed into teas. Later, they were burned or soaked in plant oil to extract the fragrance. Eventually growers began to understand that aromatic plants use photosynthesis to produce small amounts of odorous substances. In the case of lavender and lavendin, these substances are concentrated in the flowers of the plant.
The stalks are harvested at the moment when these substances are at their highest concentration and packed tightly into a distillation chamber. Steam forced through the plant material causes the glands of the flower to burst and release their essential oils. The gaseous mixture of steam and oil is then directed to a condenser, where it reverts to liquid form. The lighter-than-water essential oil rises to the top of the vessel, where it is collected. A whopping 330 pounds of lavender flowers makes only 2.2 pounds of essential oil.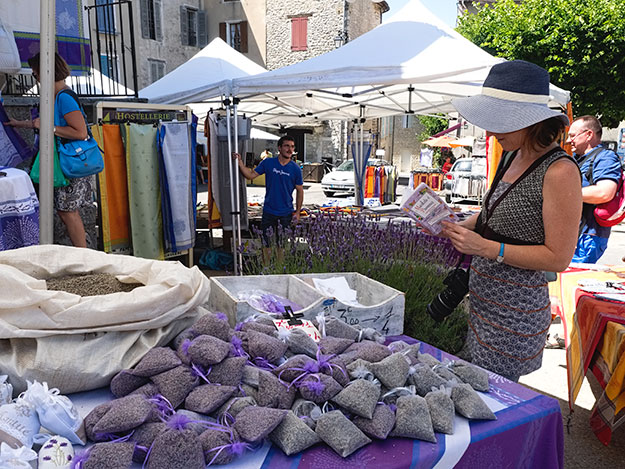 About 50 tons of the elixir is produced annually in Provence, and all that oil is used for more than just relaxing stiff muscles and reducing stress. Since ancient times, lavender oil has been used as an anti-bacterial and antiseptic. Egyptians used it in their embalming process and Roman soldiers carried lavender into battle to dress war wounds. The Greek writer, Pliny the Elder, claimed it helped with conditions ranging from jaundice to dropsy. In fact, the region has long provided inspiration for writing, becoming muse to great authors such as Frédéric Mistral, Marcel Pagnol, and more recently, Peter Mayle, who wrote the delicious novel, A Year in Provence. Today, a drop or two of Lavender oil on a sugar cube, along with a little honey, is believed to cures sore throats. It is also used as a topical for burns and scrapes, to reduce the itch and swelling from insect bites, and to relieve dry skin.
Flowers from the lavender fields of Provence, however, are used for more than essential oil. Back in the village of Sault the weekly market was in full swing. Tables were heaped with lavender sachets destined for dresser drawers and linen cabinets. More surprising was my discovery that lavender has quietly begun to infiltrate the culinary scene. Chef Yves Gattechaut welcomed me effusively to Restaurant Regain, located in the countryside just outside of Sault. We relaxed on the shady patio, enjoying views over the countryside to distant Mont Ventoux, while chef worked his magic.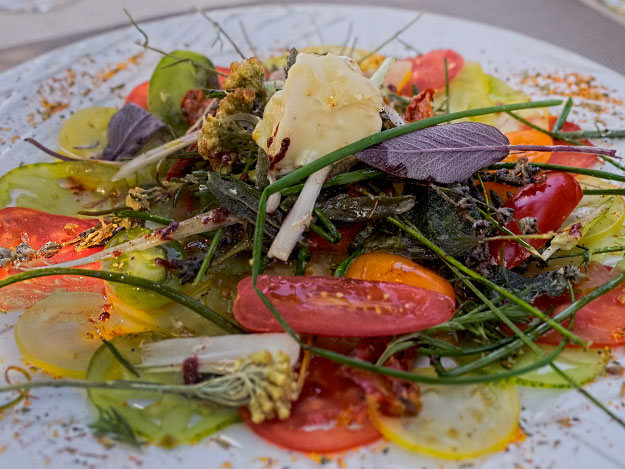 The menus at Restaurant Regain change with the seasons and whatever local produce is available. Chef Gattechaut's designs menus around Provençal truffles, lavender, spelt, and even wild game. My exquisite salad was garnished with lavender and a variety of herbs that had been coated in rice flour and tempura fried. The flavor of the herbs shone through the light-as-air batter. I was amazed that rosemary, chives, and lavender could be deep fried and still be so light and crispy. My guide, who was decidedly not vegetarian, raved about her lavender-infused lamb chop.
Later that afternoon we made one final stop at La Ferme aux Lavande, a combination lavender farm and roadside stand owned and operated by Catherine Liardet. Cathy can trace her family's involvement in Provence lavender production back at least four generations, at a time when the women gathered wild white lavender from the mountains. The tradition trickled down, until her grandfather decided to start the farm. "My grandfather always said we should grow only the best," she said. "So, we have only lavender, not lavendin."
Today, with a goal of conserving of the species and educating the public about lavender, Cathy grows more than 200 varieties. During the summer months she will happily conduct a guided tour of the farm for a nominal fee, and anyone who wishes to wander the fields on their own is welcome to do so. On the day I visited, Cathy told me about a woman who arrived one morning while her husband was climbing Mont Ventoux. "She took an armchair into the middle of the field and stayed all afternoon under the shade of a tree, reading a book." I couldn't think of a better way to spend a day. I managed to tear myself away, but not before stocking up on lavender honey, lavender-raspberry jam, and bunches of fresh cut flowers to scent my hotel room for the next week.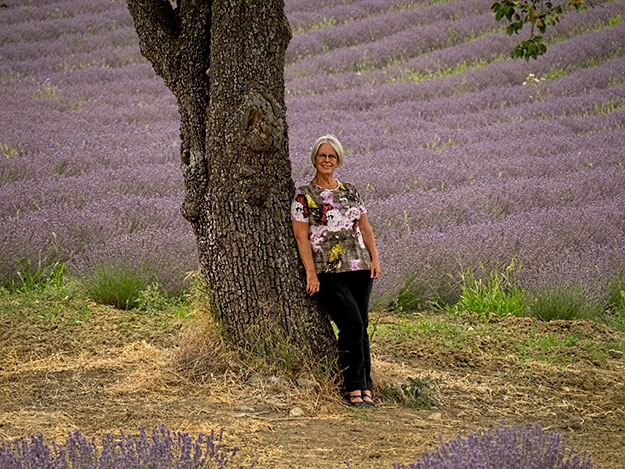 The lure of Provence lavender had completely destroyed my commitment to not buying things, but I wasn't too worried. I would eat the honey and jam during my remaining week in Provence and the housekeeper would surely appreciate the bunches of dried flowers. I easily justified the lavender soap and shampoo – after all, I have to bathe and wash my hair. As for the third bottle of essential oil added to my collection, I told myself it was just one ounce more to carry. And this time, I knew it was the good stuff.