I stood under a hot shower until I finally stopped shivering from battling Iceland's frigid winds all day. Normally, I would have felt guilty about wasting so much water, but during my Golden Circle Tour with Sterna Travel I learned that long hot showers in Iceland are guilt-free.
The Hellisheidi Geothermal Power Station produces 95% of the electricity and hot water for the capital city of Reykjavik, using a completely renewable source of energy. The plant sits atop a tectonic hot spot, beneath which lies reservoirs of molten magma that are super-heated by underlying volcanoes. This liquid, composed of water, gasses, and dissolved minerals, is tapped by wells that range from 2-3 kilometers (1.2-1.8 miles) deep. At the surface, the molten liquid is turned into steam, which powers turbines and creates electricity.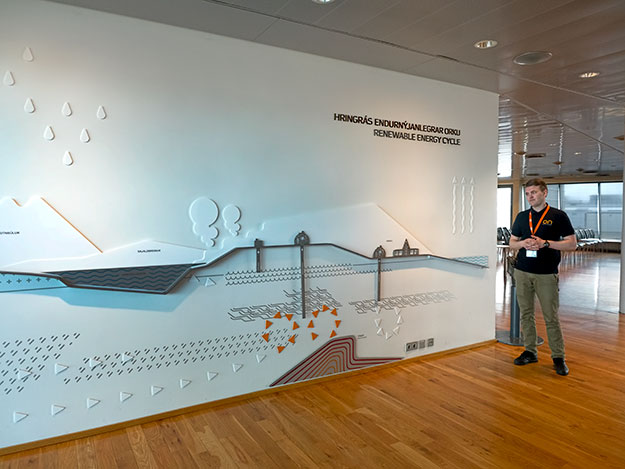 On another side of the plant, heat from the molten liquid is transferred to cold water that is pumped from shallower wells. The resultant hot water is piped into every home in Reykjavik, providing an endless renewable source of hot-water and heating. Hot water is even piped beneath the city's streets, keeping them snow and ice-free during the long winters. At the other end of the closed-loop system, recaptured water is pumped back into the ground to guard against depletion of the aquifers and ground subsidence.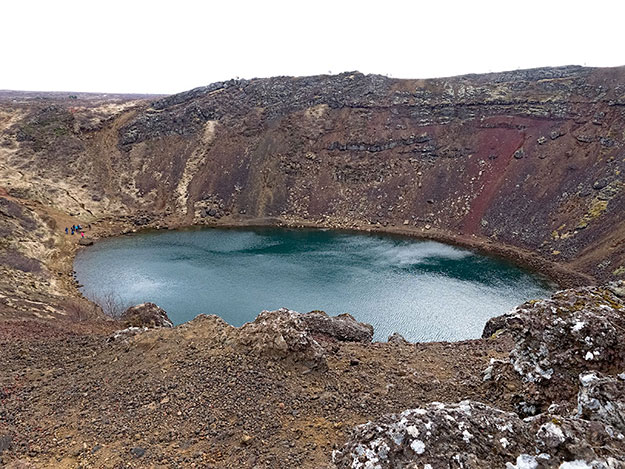 "You want to take a half-hour hot shower, feel free," our guide insisted. "If our homes get too warm, we just open a window and let it cool down, while the heat continues to pour out of our radiators. It's a very Icelandic thing to do." For all this, Icelanders pay about $90 per month. Power is so cheap that countries around the world find it more economical to ship aluminum ore to Iceland, produce aluminum products, and ship them back, than to make the end products at the source of the raw materials.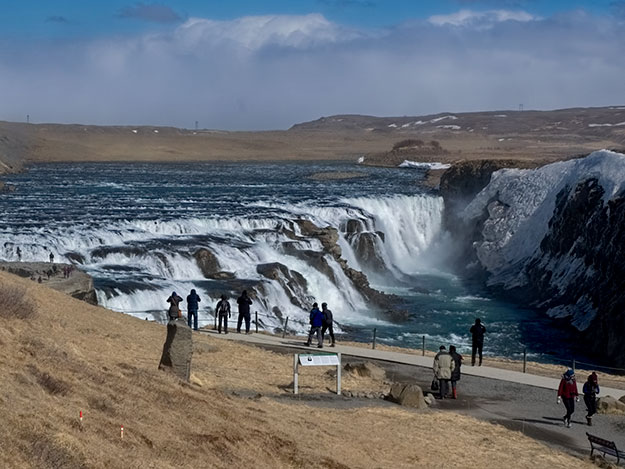 There is controversy about the country's desire to attract such heavy industry and I could understand why. Nowhere have I seen such crisp blue skies. Nowhere was the light more dazzling than in Iceland. I gulped in the air, fresh and wholesome. Even the drinking water in Iceland is so pure that it needs absolutely no treatment. More than once, guides warned us about the only known scam in Iceland: "Don't buy bottled water. Or, if you must, buy only one and then refill it at the tap."
In addition to providing geothermal energy, the volcanic origin of Iceland has blessed it with raw, stunning beauty. Black basalt mountains with snow-covered peaks frame the capital of Reykjavik like scattered Snow Caps candy. Outside the city, the landscape is moon-like. Hillsides are speckled with jagged boulders, loosed from the mountaintops during earthquakes. Perfectly symmetrical volcanic cinder cones rise from iron-rich red-tinged plains. Blinding white glaciers inch their way toward the cobalt Arctic Sea. The Icelandic flag echoes these scenes with its red and blue cross on a white background.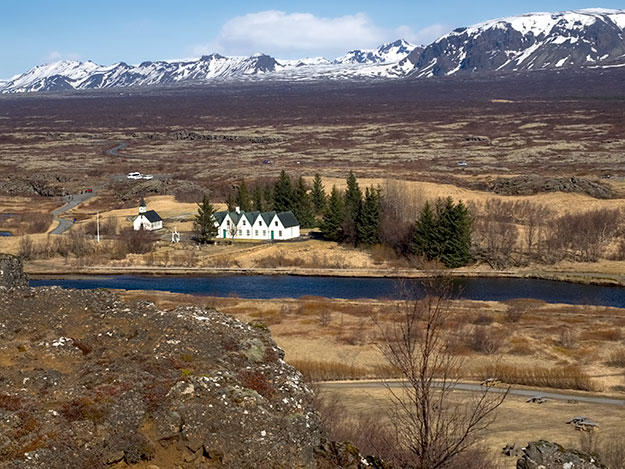 The balance of my Golden Circle Tour concentrated on this natural beauty, stopping at the Kerid cinder cone and caldera, Geysir Hot Springs, Gullfoss Waterfall, and Thingviller National Park, where the North American and Eurasian tectonic plates meet. "You are now leaving Europe," our guide exclaimed as we descended from a plateau of contorted black lava into a shallow, lake-filled valley. "This is no man's land, an area between the plates that is widening by two centimeters per year." At a dip in the road, he braked suddenly. The van leaned precariously toward a gash in the earth framed by enormous lava boulders that disappeared into a cobalt blue stream. Below, divers were descending into the 32 degree water to spread their arms and touch two continents at once. A few minutes later, we were sitting atop the opposite rim of the valley. "Welcome to America," our guide said.
Disclosure: Sterna Travel provided my Golden Circle Tour with Green Energy option, however the receipt and acceptance of complimentary items or services will never influence the content, topics, or posts in this blog. I write the truth, the whole truth, and nothing but the truth.