The pilot announced the weather as we landed in Reykjavik, Iceland: grey, rainy, and 38 degrees Fahrenheit. I grimaced briefly, then zipped my sweatshirt jacket up to my chin and headed for the bus that would drop me off at the Iceland's famous Blue Lagoon…to go swimming!
Never a fan of cold weather, I was more than a little apprehensive about peeling down to a swimsuit in the chilly morning air. Fortunately, the Blue Lagoon had invited me to experience their Luxury Package, which included use of the Exclusive Lounge, with its fireplace, reclining chairs, snack bar, and direct access to the lagoon. I glanced longingly at the fireplace, then gingerly walked down the interior steps into the water. By the time I had parted the plastic strips hanging over the doorway leading to the lagoon, I was cocooned in thermal water up to my chin.
The Blue Lagoon was created when Iceland Power drilled into deep underground reservoirs of water that is heated to 464 degrees Fahrenheit (240 degrees Celsius) by underlying volcanic activity. After using the super heated water to generate geothermal power, they dumped it into lava fields next to the plant. Rather than seeping into the ground as expected, the water stayed on top and created the lagoon. Initially, a few people started sneaking into the site at night but when word got out, they realized its potential for a tourist attraction. Today the power plant and the Blue Lagoon stand side by side, living in symbiosis. Iceland gets a source of renewable power and the lagoon water is completely renewed every 40 minutes.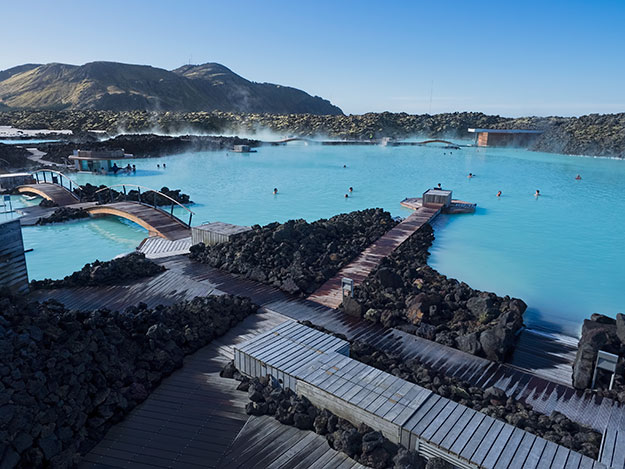 I waded out to hotter pools where steam rose and twirled around my head, then back to the main pool, where a thermal waterfall pounded down on my neck and shoulders. When the last aches from my long plane ride had been washed away, I stepped up to the Mud Mask Bar, a new addition at the Blue Lagoon. Big steel pots hold a clay-like white silica and a green algae mud, both of which are extracted from the mineral laden waters in an on-site facility, using fresh water that people haven't walked in. The silica is said to cure psoriasis and eczema, while the algae has anti-aging properties and boosts collagen. I slathered my face with the silica paste and let it dry, then rinsed and applied the algae mask. Whether or not it made me look younger I can't say, but my skin certainly felt baby smooth afterward.
My fingers were starting to look like prunes, so I changed back into street clothes and finished the morning with a delicious lunch in the LAVA Restaurant. By noon, the lagoon was over-crowded and I was glad I'd arrived at 9 a.m., when it had been nearly deserted. Fortunately, an expansion due to be completed in 2017 will allow more clients to enjoy the Blue Lagoon. New facilities will include the first five star hotel in Iceland, a bigger executive lounge, and a private lagoon with walk-in access from the rooms in the hotel.
Attendance is currently limited to 200-250 people per hour; by the end of each day between 2500 and 4000 people have soaked in its healing waters. As one of Iceland's top tourist attractions, advance reservations are imperative. Those who show up without a reservation must wait two hours, and then can only gain entry if the hourly attendance limits have not been met.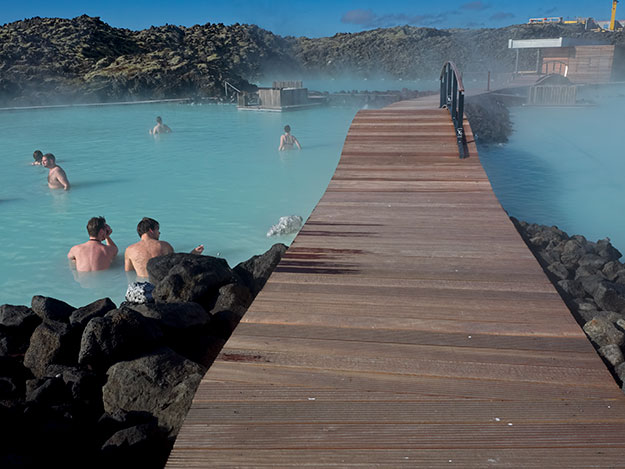 My Luxury Package was priced at $217 per person, based on two people sharing a changing room (the price for one person was $417). The package included entrance to Blue Lagoon; entrance to the Exclusive Lounge; Silica Mud Mask and Algae Mask; use of bathrobe, towel, and slippers; first drink; table reservation and sparkling wine at LAVA Restaurant; and a Spa Journey product set. However the standard package, which includes entrance to the Blue Lagoon and a Silica Mud Mask, is priced at $45 to $56, depending upon season. But whatever package you choose, be sure to reserve online at least two weeks ahead of your scheduled arrival in Iceland or you may be disappointed.
Prior to arriving in Iceland, I'd read conflicting opinions about whether or not the Blue Lagoon was worth the price of admission. Some point out that there are at least 15 other thermal swimming pools scattered around the island, all of which are less expensive and more popular with locals. While that may be true, in my opinion the Blue Lagoon is unlike any other experience in Iceland and should not be missed.
Disclosure: I was a guest of the Blue Lagoon during my stay in Iceland, however the receipt and acceptance of complimentary items or services will never influence the content, topics, or posts in this blog. I write the truth, the whole truth, and nothing but the truth.