Miran, owner of Miran Hostel, is an angry man. "I am not politically correct and you will not like a lot of what I say," he announced as we climbed into his van for a tour of Mostar and southwest Bosnia-Herzegovina. He slammed the sliding door shut and popped a Bosnian folk rock DVD into the stereo, cranking up the volume as high as it would go. Shouting to be heard, he launched into a tirade about the evils of fascism, capitalism, Obama, Putin, war, and the breakup of the former Yugoslavia.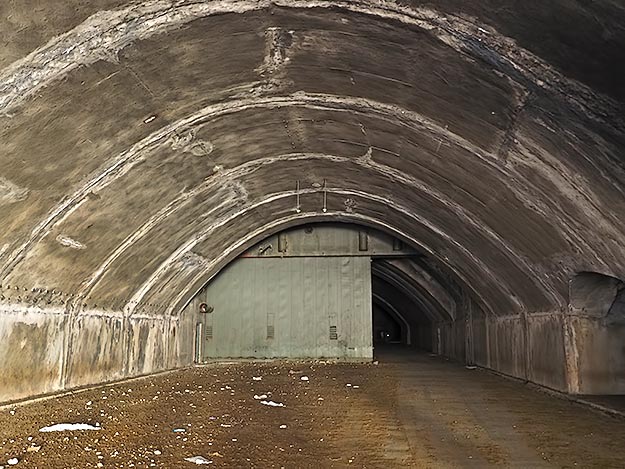 Not far from Mostar, he turned onto a weed-choked strip of concrete that doglegged to the right between two rocky cliffs. The road ended at a gaping concrete hangar that had been carved into the hillside. Armed with flashlights, we walked around the nuclear-proof door that today hangs partially open and followed Miran into murky depths. He led us past abandoned toilets and bunk rooms to a wide concrete strip at the other end of the hangar that had once been used for takeoffs and landings. "This was a secret air base for many years; not even the people from the town that sits atop the hangar knew it existed and soldiers had permission to shoot intruders on sight. The hangar could hold more than 20 planes, along with all the equipment and personnel to service them. I've been trying to open a museum here; my friends and I even have some of the planes that were kept here, but we can't get the permits because our government is so corrupt."
Back in the van we careered down country roads, trying to make up time lost during our unscheduled stop. Mercifully, we reached Blagaj before my motion sickness would have elicited projectile vomiting. I climbed out on wobbly legs but was soon restored by cool breezes sweeping up from the Buna River. After lunch, we followed a path to the source of the river, a Karstic spring that flowed from a cave at the foot of limestone cliffs. On the opposite shore stood a brilliant white Tekke – a 16th century Dervish Monastery built specifically for gatherings of a Sufi brotherhood. Today visitors can tour the Dervish House or enjoy tea and Turkish coffee in the garden, although it is not open to the public during Sufi ceremonies. I would loved to have basked in the energy from thousands of years of prayers inside the Tekke, but time was again running short. It was back to the van for another mad dash.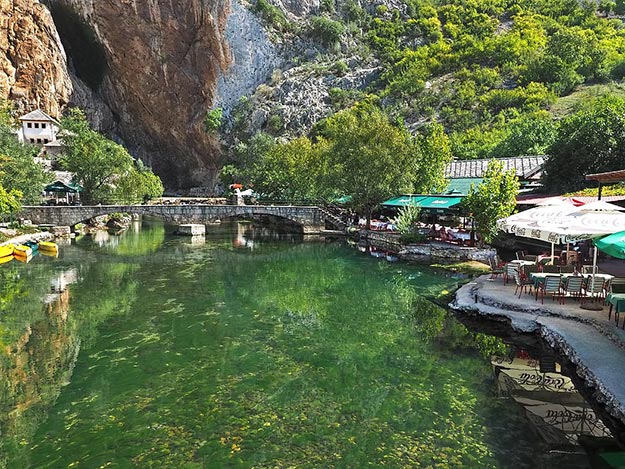 On the way to our next stop, Miran let loose more of his seemingly endless pent-up anger.
"Democracy is shit," he declared. "When we were Yugoslavia, everyone had free school, health care, and the state gave us a free apartment to live in. Everyone was the same. Now we have democracy, where the rich get richer and the poor get poorer. Moslem kids go to different schools than Christian kids, and learn a different history. Our crazy constitution came out of the Dayton Accord, which ended the Bosnian War," he continued. "It was written by negotiators who sat around a table in Dayton, Ohio and decided the fate of our country. It requires us to have three Presidents, one from each ethnic group, who rotate every eight months. Even my political science professor at university admitted he doesn't understand our Constitution, which is written in English."
It was a fascinating window into the recent history of Bosnia-Herzegovina, but his anger was exhausting. I was relieved when we pulled into the village of Pocitelj. Like Miran, Pocitelj has had its share of ups and downs. The town was first mentioned in 1444, and some documents indicate it was built as early as the late 14th century upon the order of the Bosnian King Tvrtko. Following the King's death, Pocitelj was occupied by Hungarian forces, who surrounded the town with stone walls and built a hilltop fortress as a protection against an Ottoman invasion. The Ottomans finally prevailed in 1471 and spent the next 227 years constructing schools, mosques, a hammam (traditional bath), and a clock tower, all of which still exist. Pocitelj regained some of its strategic importance in 1698, as the Venetians rose to power in the area, but lost it again 200 years later when it came under the aegis of the Austro-Hungarian Empire. The gradual decline in population from that period continued during the 1992 Bosnian War, when most of the remaining residents fled in the face of heavy bombing. Fortunately, after the cessation of hostilities, the Bosnian government saw fit to restore Pocitelj and it was subsequently granted UNESCO World Heritage status.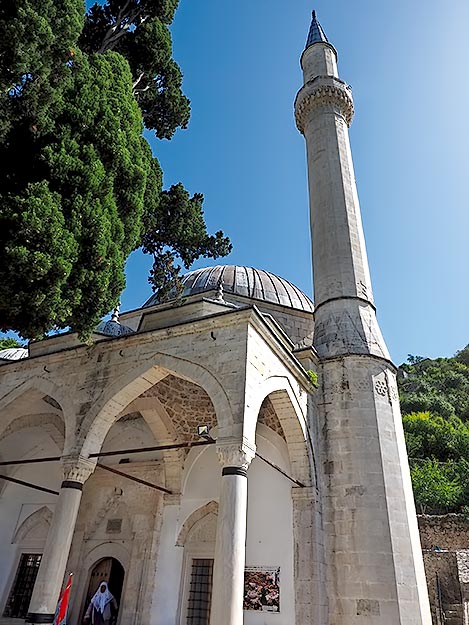 We climbed the ancient stone steps up to Hajji Alija Mosque, where Miran ducked inside to attend Friday afternoon services. Left to our own devices, we wandered around the grounds of the mosque and browsed trinkets displayed in nearby shops. Half an hour later, Miran emerged and began telling us about the Imam's weekly lesson, which raged against capitalist systems that place too much emphasis on material goods. Back at the van, someone asked, "Aren't we going up to the old fortress?" Miran stopped in his tracks. "You were supposed to go while I was at the mosque." "You didn't tell us that," I said. Most of us retired to a nearby cafe for tea while the more energetic ones sprinted up the hill to snap a few photos.
By the time we arrived at the Kravice Waterfall, famously referred to as the Niagara of Bosnia-Herzegovina, the falls were back-lit, making good photography difficult. As we cooled down with refreshments at an outdoor cafe, Miran seemed to relax, but his good mood lasted only until it was time to head for Medjugorje. It was here in 1981, that six local children claimed the Virgin Mary had appeared to them while hiking in the hills around town. When news of the miracle leaked out, people from around the globe began arriving to pray for healings and intercessions. Today Medjugorje is the third most important apparition site in Europe, attracting more than a million pilgrims every year.
Miran was not impressed. "This used to be a poor town, but they have gotten rich from this legend," he sneered. He had a point. Every street was crammed with shops selling religious icons, Rosaries, and pictures of Mary. The six visionaries, who are now adults, insist that Mary continues to appear and speak to them at regular intervals. Marija Lunetti claims to receive messages on the 25th of every month, Mirjana Soldo receives messages on the second of every month, while three others communicate with Blessed Mother at 6:40 p.m. each day. When asked about Medjugorje in 2013, Pope Francis remarked, "Our Lady… is not a postmaster, sending messages every day." And just one week prior to my visit, the Vatican prohibited the alleged visionaries from spreading their messages inside their parish, which many see as an indication that the Vatican will soon render a decision that the Medjugorje apparitions are a hoax.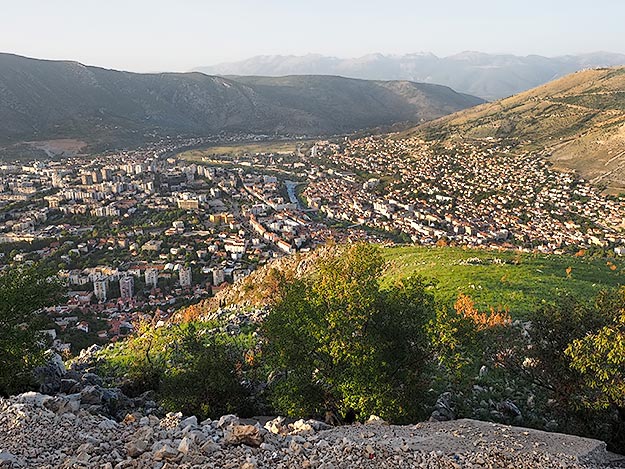 As the sun set, our van climbed a series of switchbacks to an enormous cross that stood at the summit of a hill overlooking Mostar. "This cross should never have been put here," Miran raged. "I have no problem with erecting a memorial to Christians, but putting it on this hill is inappropriate. Over three years, thousands of Moslems, including many members of my family, were killed by missiles launched from the Croatian bunker that once sat here." Miran dropped an old bullet casing in my palm for effect. Skeptical, I scoured the area but saw no others. Twenty years on, it is unlikely that such artifacts would still be scattered on the ground.
Our tour ended at our host's 27-room guest house, Hostel Miran, which has earned a reputation as the best in town. Miran stopped before entering the front door and turned to us. "Watch this," he said with a broad smile. His daughter started yelling the moment he stepped over the threshold. "Daddy, daddy, DADDY!!!!" she cried, leaping into his arms. Brooding, angry Miran was replaced by joyous Miran. "She does this every time I come home." He was still beaming when I left.
So, is Miran really an angry young man? Having lost 20 members of his immediate family during the war, in addition to witnessing his grandfather being killed by a sniper, he has much to be angry about. But it seems unlikely that such vehement anger could be sustained 20 years after the war. Perhaps his anger only bubbles to the surface during tours. Or maybe, just maybe, Miran has seized upon an effective marketing ploy. And considering his hostel and his plans to open a museum at the former secret airbase, Miran is every bit the capitalist that he espouses to hate.
Author's note: When I first published this story, I searched for a link to Miran's Tour of Mostar. I found what I mistakenly thought was his company and his last name and included a link to it in the article. Regrettably, that link led to another tour company, whose owner also happens to have the same first name. The 'Miran' referred to in my article, and the man who conducted the tour I took, is the owner of Hostel Miran. I have made corrections to the article and company name and sincerely apologize for my mistake.