Author's note: The below information was correct at the time of writing, but in April of 2016, the Old Town Hostel in Kotor, Montenegro started providing bus service between Tirana, Shkoder, Podgorica, Budva, and Kotor. Tickets are available online at Kotortotirana.com.
Figuring out how to get from Tirana to Montenegro should have been easy, but it was unbelievably difficult. I had spent a few days in Albania's capital on my way to the coastal cities of Montenegro. Tirana was only 98 miles away from Podgorica, the capital of Montenegro, yet I discovered that there was not a single scheduled bus that ran between the two cities. I spent hours searching the Internet with no success, and after visiting several travel agencies, I found only one that offered bus service between Tirana and Montenegro; it ran only during peak months and I was visiting off-season.
The only method seemed to be to take a 2.5 hour bus or minibus to Shkodër (Shkodra), a city in the north of Albania that shares a border with Montenegro, and transfer to another minibus for another two-hour ride to the coastal city of Ulcinj (the only available scheduled transport from Shkodër to Montenegro). I knew what that meant – rattletrap buses and drivers that would likely try to hold me up for an additional fare for my suitcase. Plus, I would still be hours away from my preferred destinations of Budva or Kotor Bay.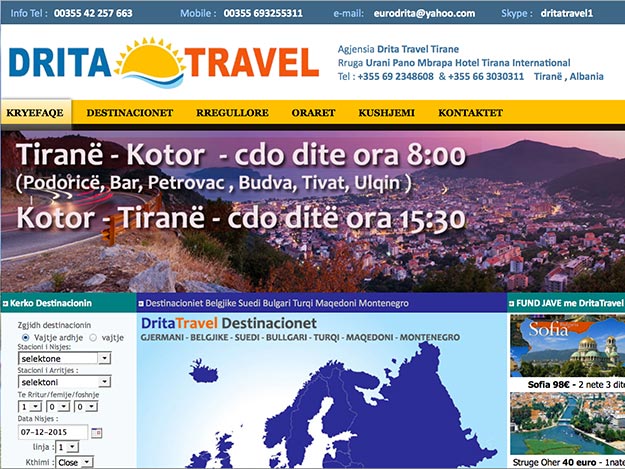 Fortunately, I had arranged a day tour to the towns of Kruja and Durres through the Albania Tourism Center in the Opera building on Skanderberg Square (not the country's official tourism agency), and my fantastic guide pointed me to Drita Travel.
Located directly behind the Tirana International Hotel, this agency runs full-size, air conditioned tour buses across the border into Montenegro every day. Even this trip was not easy. The immigration and customs station at the border is operated jointly by agents from Albania and Montenegro. Our bus stopped first on the Albanian side, where we turned in our passports. A short time later, all our passports were returned and the bus moved 20 feet ahead for the Montenegrin border entry. Our passports were collected again, but this time, after an inordinately long wait, everyone was made to get off the bus, retrieve and open their luggage for inspection and drug-sniffing dogs.
Finally, we were on our way again, but not for long. A few miles inside Montenegro the big bus pulled over and everyone was transferred to vans, according to the passengers' destinations. The vans were comfortable and air conditioned, and there was plenty of room for our luggage. It wasn't perfect, but it was certainly better than any of the other options I had considered for how to get from Tirana to Montenegro.
The following are the prices and schedule for all the destinations that Drita Travel serves in Montenegro:
Tirana to Ulcinj:           20 Euro one way/30 Euro RT
Tirana to Bar:               20 Euro one way/35 Euro RT
Tiana to Kotor:             30 Euro one way/50 Euro RT
Tirana to Tivat:             30 Euro one way/50 Euro RT
Tirana to Budva:          25 Euro one way/45 Euro RT
Tirana to Petrovac:      20 Euro one way/40 Euro RT
Tirana to Sutomore:    20 Euro one way/35 Euro RT
Tirana to Podgorica:    25 Euro one way/40 Euro RT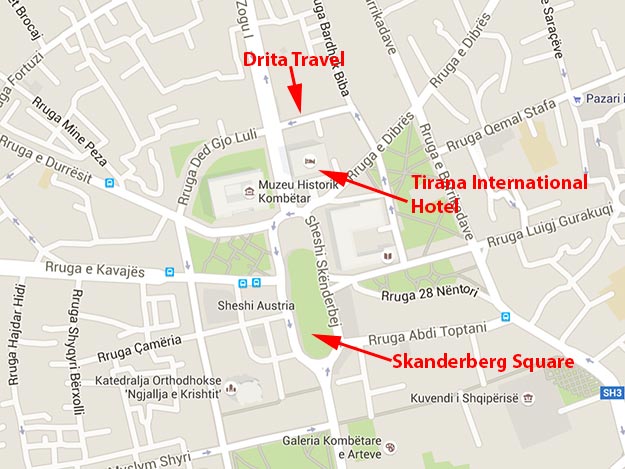 The buses run every day from mid-May through the end of September; off season every Wednesday and Saturday. They depart at 8 a.m. from the Drita Travel Office, located on the street directly behind the Tirana International Hotel in the city center. If you have a mobile phone with a sim card for Albania, you can call their office for more information, at one of the following four mobile numbers: (0)55-69-2348608, (0)55-67-2348608, (0)55-69-3255311, or (0)55-67-3255311. Tickets can be purchased in person at their office, or at the Albanian Tourism Center, located in the Opera building on Skanderberg Square in the city center.