For some inexplicable reason, I had long wanted to visit the region of Puglia, Italy. Sometimes I can trace my chosen destinations to a travel article, a recommendation from a fellow traveler, or even to an overheard comment, but in this case, I have no idea why the heel of Italy's "boot" held such fascination for me. Perhaps what drew me was my eternal search for places that have not yet been ruined by tourism. Puglia qualifies in that regard, as it is little known in travel circles outside of Italy. Certainly, I knew next to nothing about it. I pictured rainbow-hued houses cascading down high rocky cliffs and pocket beaches where brilliant white sand beaches cozied up to turquoise seas. The reality was not quite what I had envisioned.
My journey began in Split, Croatia, where I hopped aboard a Blue Line Ferry for the overnight sail to Italy. Twelve hours later, having suffered a sleepless night in a cabin that reeked of sewer gasses, I disembarked in Ancona, located midway down Italy's east coast. A short walk took me to the train station, where I hopped aboard Italy's famed Adriatic Railroad. Within minutes of pulling out of the station we were rolling alongside the sea, with only a few feet separating our track from the water.
Town after town flew by, each less interesting than the one before it. With their unadorned facades, flat-roofs, and dull colors, the houses and apartment buildings reminded me of the Soviet architectural style referred to as brutalism. Many appeared to be vacant, as if they had been put up in haste during boom times and left to decay during the ensuing bust years. Beyond the towns, not even a molehill interrupted my view over an endless baked plain dotted with cactus.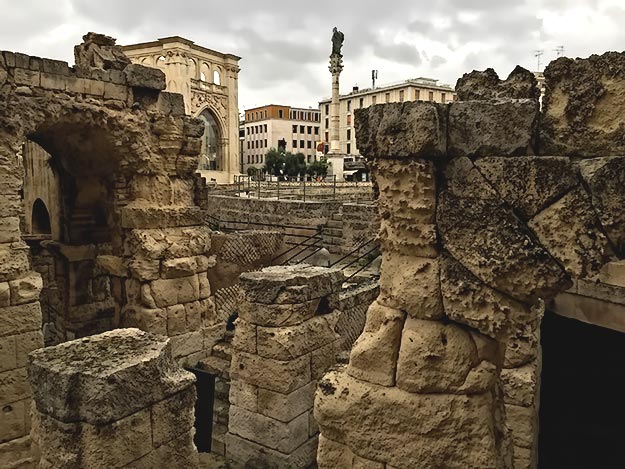 A few hours into the ride, the train crossed into Puglia and veered inland to skirt the city of Bari, considered to be the gateway to Puglia. By the time I arrived in Lecce, thunderheads were threatening a deluge. I raced through the ancient stone streets, stopping every few blocks to check my GPS, hoping I would find my hostel before the storm let loose. Exhausted from 36 hours of continuous travel, I collapsed into bed without so much as a stroll around Lecce's Piazza Saint Oronzo, heart of the city known as "Florence of the South."
The next morning, I had just enough time to take a quick stroll around the piazza before driving rain sent me scurrying back to the hostel to await the van that would transport me to a week long holiday with Flavours Holidays, with a focus on preparing traditional Italian food. When my driver arrived, precisely on time but two blocks away from the traffic-restricted piazza, I dashed through the downpour and waded across rivers of storm water to meet it. Soggy from head to toe, I sank back into the seat for the ride to Casino Pisanelli, a restored 17th century hunting lodge in a rural area of the Salentine Peninsula. The last thing I cared about at that point was seeing more of Puglia. My only wish was for dry clothes and a soft bed.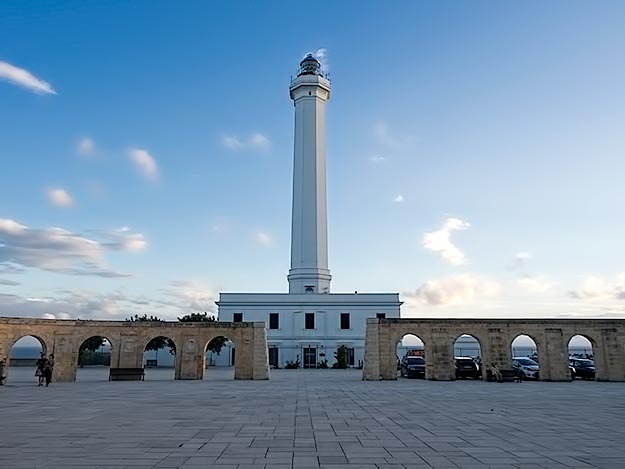 Fortunately, my first morning at Casino Pisanelli offered cerulean skies and brilliant sunshine. With a restorative breakfast and lunch under our belts, our little group piled back into the van to visit the village of Santa Maria di Leuca, located at the southernmost tip of the Salentine Peninsula. From the upper levels of town we followed a maze of wooden boardwalks around the harbor. The setting sun poured liquid gold over the marina while beams from the second tallest lighthouse in Italy swept over the cliffs and down into town. The Ionian and Adriatic Seas meet here, luring surfers who ride enormous foam-topped waves, dropping back into the water just shy of the rocky shoreline. Perched upon these same rocks are a string of old concrete cabanas, each with a hole in the floor, which allowed aristocratic families from bygone eras by to bathe in the sea without being seen by commoners.
Another afternoon, our driver dropped us at the entrance to the Old Town of Lecce. Fluffy clouds scudded across a deep blue sky, providing a magnificent frame for the 17th and 18th century Baroque churches and palaces that lined the streets.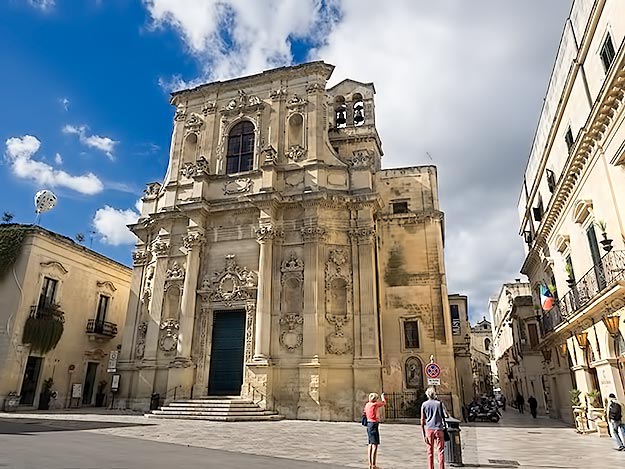 Artists squatted on stools in front of tiny shops, painting the giant papier-mâché figures for which Lecce is famous. Papier-mâché art began in response to complaints that the stone statues of patron saints were too heavy to carry through the streets on festival days. Clever Lecce residents solved the problem by recreating the icons out of scraps of paper and glue so accurately that no one could tell the difference. Today, a papier-mâché industry thrives in the town; nearly every shop features a selection of the lightweight figurines.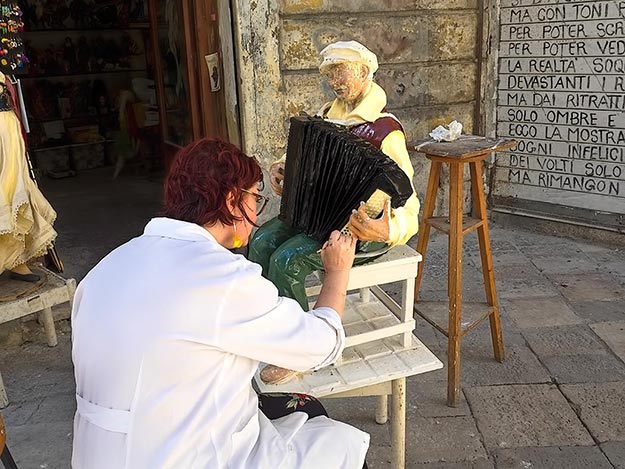 Upon reaching Saint Oronzo Piazza, where I had begun my soggy journey just a few days earlier, my jaw dropped open. Lecce's dreary skies and sea of umbrellas had been replaced by people sipping latte di mandorla (iced coffee with almond syrup) and touring the ruins of the old Roman amphitheater around which the square is built. What a difference a sunny day can make! Puglia was beginning to grow on me.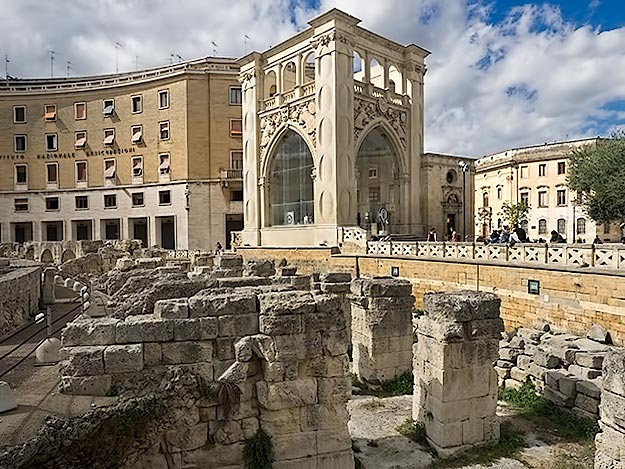 Otranto was like falling into a painting where the artist had decided to use only two colors from his palette. White on white buildings, sculptures, and pavement contrasted with baby blue skies and a turquoise sea that lapped gently at the base of the Lungomare, the city's stately seafront promenade.
We tore ourselves away from the stunning blues and whites long enough to pop into the Cathedral, famous for its 12th-century "tree of life" mosaic that covers the entire floor of the nave and its two side aisles. Originally a Greek town, Otranto's location just 45 miles from Albania made it a prime target for invaders. Over the centuries, it was occupied by Romans, Byzantines, Normans, Ottomans, and even French. Though today the city is undeniably Italian, signs of previous conquerors remain in the mosaic floor, which incorporates everything from elephants that hold up the "tree of life" to a depiction of Alexander the Great. Even signs of the zodiac can be found by those who look closely.
Our final trip outside the lodge took us to Gallipoli on the west coast. We arrived just in time to watch the sun sink over the Ionian Sea and the buildings of the old town light up in peachy hues. After dark, locals stood in pools of light cast by streetlights, exchanging news and gossip. In one dark, narrow lane, dozens waited to buy tickets for a musical performance in a popular local club. Others leaned against cool stone walls, listening to a quartet from the Santa Cecilia Band practice.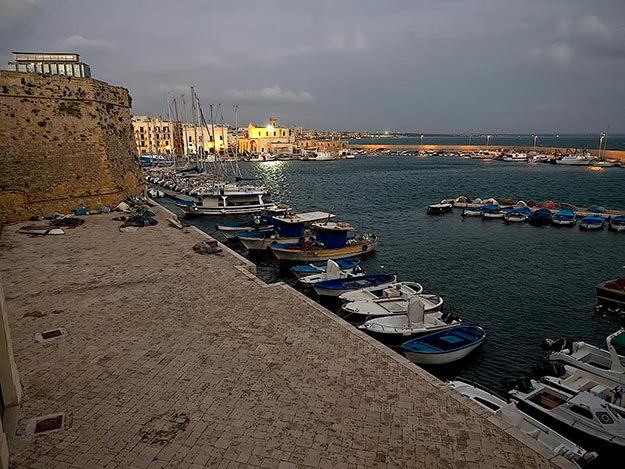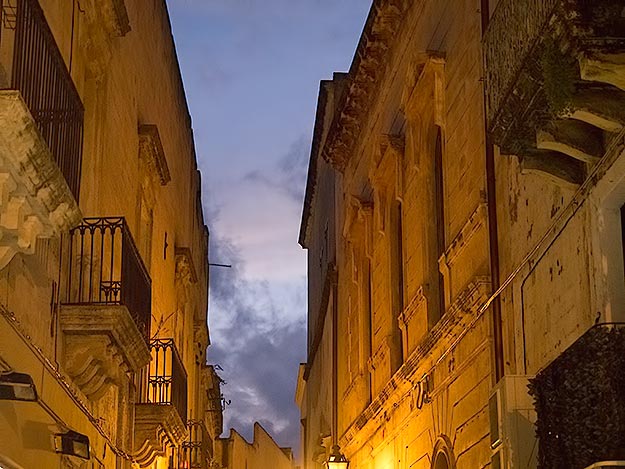 Back on the waterfront, we squeezed into a tiny local taberna, where we grazed our way through seven courses that had me waddling back to the van. As on my first night in Puglia, I fell into bed, but this time in a state of bliss rather than exhaustion. Puglia may not have been what I expected, but thanks to Flavours Holidays, I've had a taste of how truly wonderful this little-known region of Italy can be.
Note: I was a guest of Flavours Holidays during my week long cooking holiday in Puglia, Italy, however, the receipt and acceptance of complimentary items or services will never influence the content, topics, or posts in this blog. I write the truth, the whole truth, and nothing but the truth.