The young man in the dirty jeans and faded navy T-shirt wouldn't tell me his name. I'd asked the group of refugees hanging around the park in front of the Belgrade bus station if any one spoke English and they'd pushed him forward. He was willing to speak to me on condition of anonymity, so I'll call him David.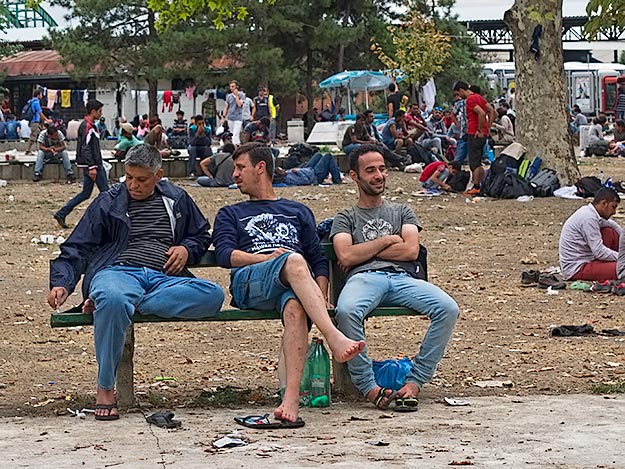 David is from Syria, one of thousands of refugees who are currently making their way through the Balkans in search of a better life. When I asked him why he left Syria he grinned, revealing one dimple and crooked, tobacco stained teeth. "There is nothing in Syria. No water, no electricity, no food." Though he couldn't have been older than 20, his story is already four years in the making. He fled to Turkey, where he spent two years working at any job he could get, in order to save enough money to get to Europe. Over the last two years, he traversed Greece and Macedonia, arriving in Serbia just a couple of weeks earlier.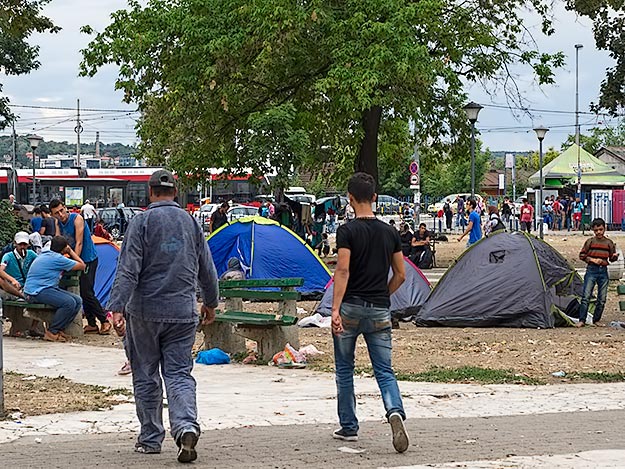 He and his friends, all of whom appear to be in their early twenties, clustered around an ancient oak tree in the park, hanging on one another as much for moral support as camaraderie. The boys were all elbows and dark eyes and olive skin, and despite the hardship of having no home and no idea what tomorrow would bring, they seemed cheerful. "Where will you go?" I asked. "To Germany," he replied unhesitatingly. "You will go through Hungary?" I pressed. When he nodded, I asked if he knew that the Hungarian government had built a fence along the border between the two countries. He laughed, his hand making a going over, going under, going around motion. "We will cross. I know a guy…" So young. So positive. I wondered if could I have been so brave at his age.
I wished David and his friends good luck and moved on. Another woman, also from Syria, moved up to the fence. In broken English, she introduced me to her family one by one, though she too refused to have photos taken. When I inquired why they had left she used almost exactly the same words as David. "There is nothing."
A bit further on, three little girls backed up to a row of metal trash bins, pulled their pants down to their knees and squatted. They defecated in public, then turned and picked up their feces with a plastic bag and deposited them into the bins. The bus station public toilet was just steps away, but it cost money.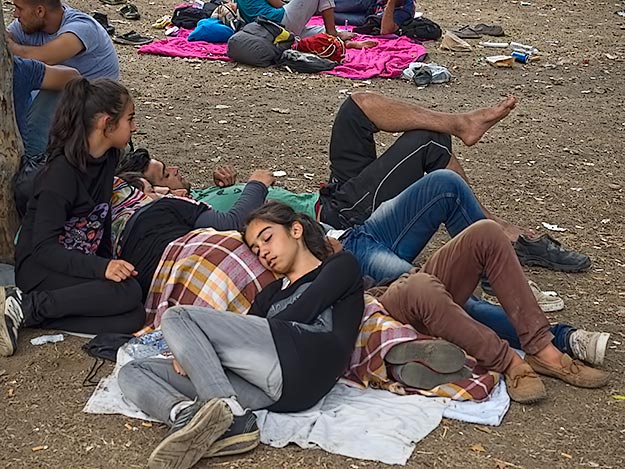 Some of the refugees had tents but the overwhelming majority appeared to have only the clothes they were wearing or, at most, a small backpack. Nearby, a group of older men used pieces of cardboard to sweep litter away from the base of a tree, creating a clean place to bed down for the night. At least they would be able to sleep comfortably; the deadly heat wave that had been plaguing Europe for more than a month had finally abated.
I continued to the train station, where I encountered even more refugees. The local taxi drivers leaned against their cabs, arms crossed, surveying the situation. One of them told me more than 40,000 refugees had come through Belgrade. "They are fleeing war and starvation in Syria, Afghanistan, Somalia. It is very sad." I asked if the police or government were trying to stem the tide of refugees through Syria. "Oh no, they do not want to stay here. They are just passing through on their way to Western Europe." I considered this for a moment and realized how kind it was. And then I thought once again about the border fence that the Hungarian government had built.
Not long after I my interview, 84 people were found dead in the back of a truck abandoned by human traffickers on a highway in Austria. When I learned they were mostly Syrian and Iranian refugees, I wondered about David. Was he among those who suffocated in the back of this small delivery truck? I will never know.