With only three days in Budapest during my first visit to the city, I'd missed a lot of what it had to offer. Fortunately, I had a second chance to explore it more thoroughly. My Viking River Cruises Grand European Tour ended in the city that is often described as the Paris of the East. The most glaring omission during my first trip had been not visiting the famous thermal baths in Budapest. I was determined to rectify that situation.
Time would not allow me to visit all seven of the facilities in the city, so I focused on the three most famous: Rudas, Széchenyi, and Gellért, all of which have thermal baths and swimming pools. There is little I can add to the thousands of articles that have been written about the baths of Budapest, except to describe my personal experience at each and provide my opinion as to which is best.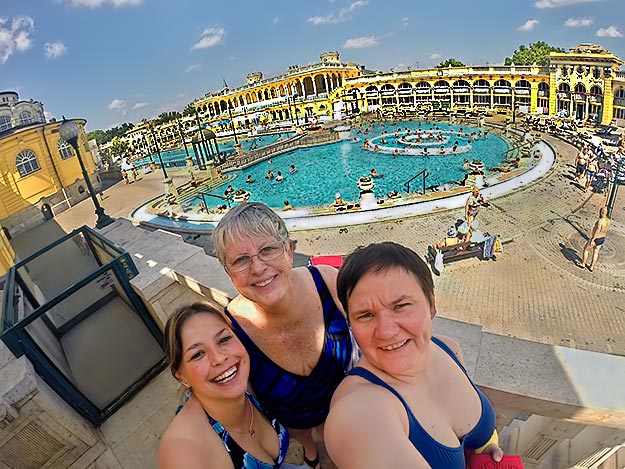 For my visit to the Széchenyi Thermal Baths, I joined friends Agi and Dessy. Initially I had suggested we just meet at the bath, but Agi, who used to live in Budapest, advised otherwise. "I tried that once and spent the entire day looking for my friends." Instead, we met at the Metro station and went as a group. Once inside, I understood what Agi meant. The facility is immense. After hours of snooping around, I still hadn't seen everything Széchenyi had to offer.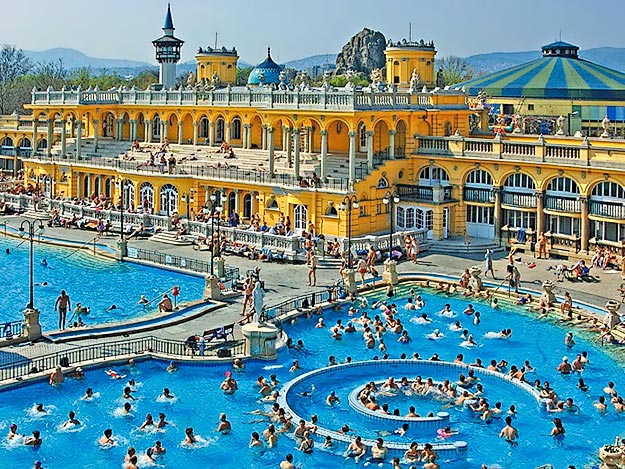 We began outdoors, at the three enormous swimming pools. The center pool is for those who wish to swim laps, and is the only one that requires the use of swimming caps. On either side are two two thermal pools, one of which fluctuates between 86-90 degrees, while the other is kept at a toasty 100 degrees. We spent the majority of our time in the two end pools, alternating between being swept around by the current in the center "eye" and watching groups of men playing chess on waterproof boards.
Inside, 11 thermal pools range from 82 to 104 degrees, and, for those brave enough to try it, a cold immersion pool is maintained at 64 degrees. Later in the day, we retired to the massage rooms for a blissful one-hour treatment. Afterward, we grabbed a bite at the on-site cafe and returned to the outside pools to catch some rays late in the day. I never did make it to the steam rooms and saunas.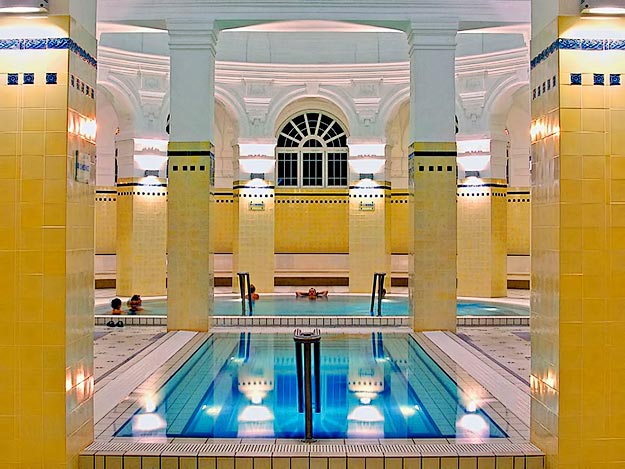 The thermal waters at Széchenyi contain concentrations of minerals (sodium, calcium, magnesium, lithium, potassium, chloride, bromide, iodide, fluoride, and sulfate, among others), that are said to have therapeutic benefits for conditions such as degenerative joint diseases, chronic and sub-acute arthritis, and orthopedic and post-accident treatments. I'm not a doctor and have no medical training, but I am a believer. Whenever I visit a thermal bath, my hip and knee pain virtually disappears and stays gone for a while. Széchenyi was no different; I felt like a million bucks the next day.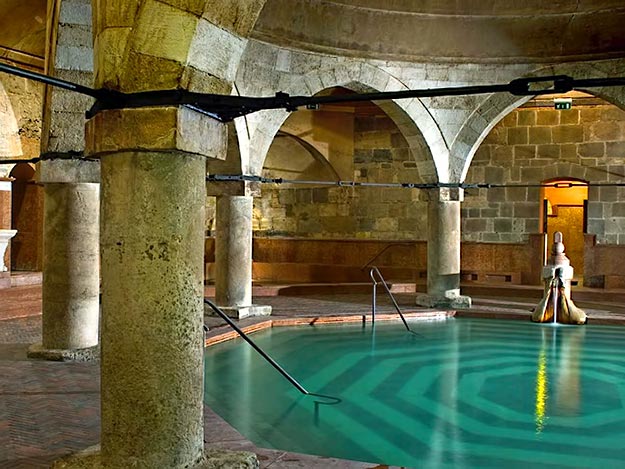 A week later I went to Rudas Thermal Bath, located on the banks of the Danube River. Built in the 16th century during the Turkish occupation of Budapest, Rudas is the smallest of the three baths. It offers five thermal pools that range in temperature from 82 to 104 degrees, and one 60-degree cold plunge, but the centerpiece is the Turkish Bath, an octagonal-shaped pool that lies beneath a stone dome supported by eight pillars.
I went on a Tuesday, as it is the only day of the week that the Turkish Bath is open to women (for many years, it was ONLY open to men), and thus clothing optional. Additionally, Rudas offers a brand new wellness section with four pools, including a 107-degree thermal pool and a 52-degree cold plunge pool. For me, the hottest pool was too hot, and the cold plunge too cold; I couldn't endure the ice cubes that were regularly ejected from a slot in the wall! With poor signage and relatively unhelpful staff members, it took me a while to even find the rooftop "swimming pool," which is little more than a glorified hot tub. Again, I scheduled a massage, but unlike the one at Széchenyi, my therapist in this case was poorly trained. And while the mineral content of the water is similar to Széchenyi (calcium-magnesium-hydrogen carbonate that also contains sodium and sulphate and has a significant content of fluoride ions), I did not feel substantially better after my visit.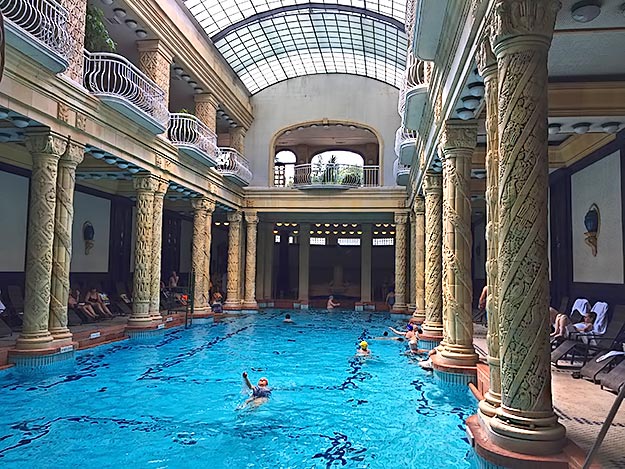 Gellért Thermal Bath was my final stop. Again, I found this facility to be a confusing maze, but here the staff was happy to help me find my way round. Gellért has one indoor pool for laps and six indoor thermal pools ranging in temperature from 95 to 104 degrees (one is co-ed, with the balance separated for male and female use). Additionally, there is a cold plunge in each of the female/male thermal pool areas. Outside, the spa offers an enormous wave pool (79 degrees) and an "adventure pool" with thermal water maintained at 96.8 degrees. After spending a good deal of time at the indoor thermal/cold plunge pools, I spent the balance of my day at the "adventure pool," which was simply a larger thermal pool with an adjacent Swedish sauna and wooden cold plunge tub.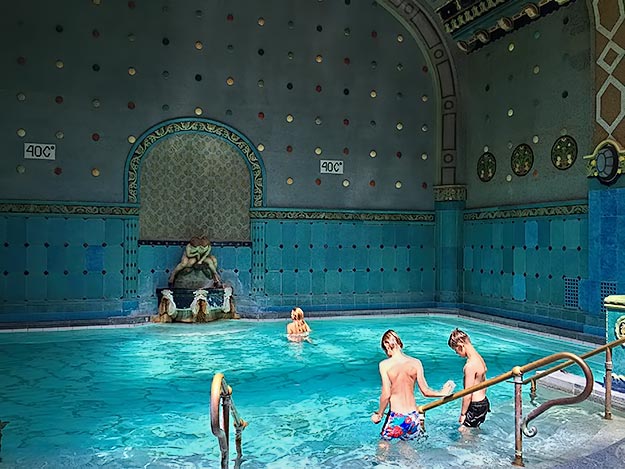 The hot spring that is the source of the waters for Gellért contains calcium, magnesium, hydrogen-carbonate, sulphate-chloride, sodium, and a significant content of fluoride ions. The waters are believed to help conditions including degenerative joint diseases, spinal deformity, arthritis, herniated discs and neuralgia, as well as circulatory and respiratory conditions. Once again, I experienced a near complete elimination of any joint pain, which continued for a number of weeks. Whatever is going on with these waters, they're a miracle cure for me.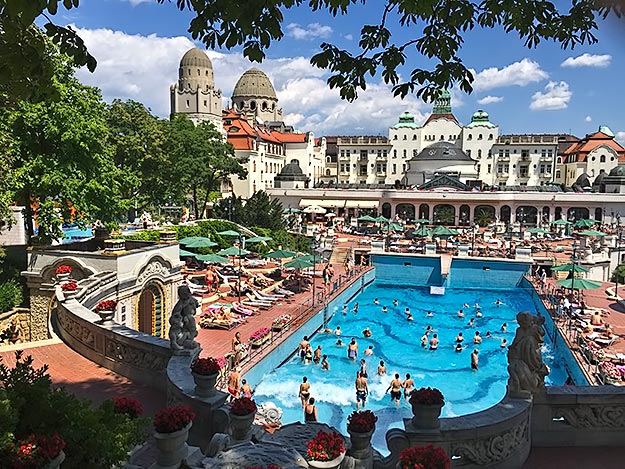 So, which of the thermal baths in Budapest was my favorite? I can say definitively that Rudas was my least favoritebut unfortunately, the Turkish Bath was overrated. I did not have a good massage, and the facilities, though recently renovated, seemed dowdy. One woman fell on the slippery stone floor the day I visited. I liked both Gellért and Széchenyi, but for different reasons. The thermal baths/cold plunges at Gellért were my absolute favorite, as the temperatures of both were perfect. But the swimming pools at Széchenyi were fabulous. Bottom line, anyone planning to visit Budapest would be well advised to try both!