On a visit to Hungary two years ago, I struggled to find vegetarian food of any quality, much less good quality, but on my most recent visit I discovered that the country once known for uninteresting meat and potatoes dishes is fast becoming a food mecca.
I began my review of the top new Hungarian restaurants at the Michelin star Borkonyha Restaurant, which the owners describe as "a blend between a French-style bistro and a contemporary family restaurant offering the best of Hungarian cuisine." Tucked into a small storefront near Deak Ferenc Square in central Budapest, this restaurant does big things, as I discovered during a three-hour culinary romp that included an appetizer, soup, main course, and a dessert.
My meal began with a braised scallop on a bed of mango, over which cold Vichyssoise was poured. This was followed by an inspired appetizer of Sea Bream on a bed of risotto and beet root; topped with mussels, shaved truffle slices, pearl onion segments, and edible flowers; finished with a rich butter sauce. To my surprise, a second starter appeared: medallions of tuna resting on a bed of soured strawberries.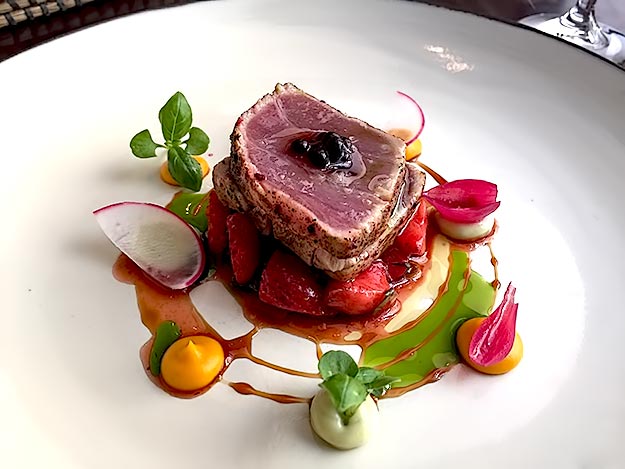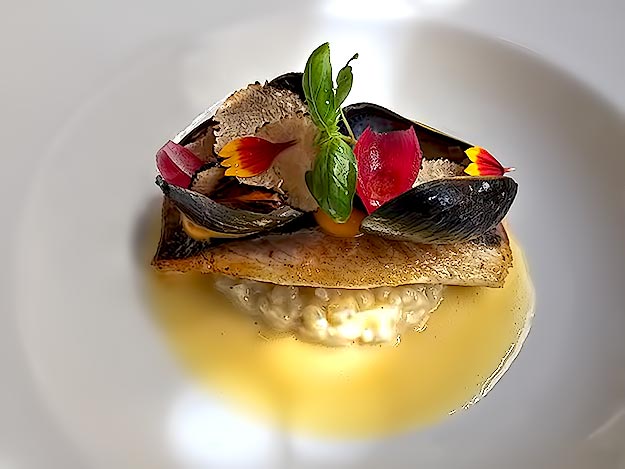 The main course featured goat cheese balls colored with beetroot and carrot, parmesan-encrusted fried goat cheese balls, and grilled bok choy in a pool of celery and cauliflower purees.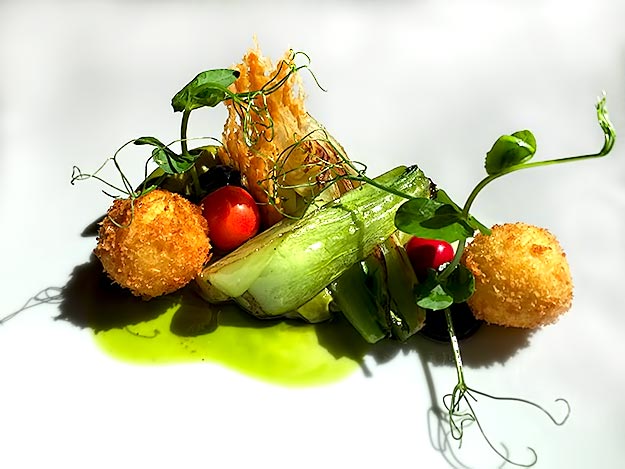 Just when I thought I couldn't eat another bite, they marched out a spectacular dessert of strawberry sorbet on a graham cracker bed, with raspberry sauce, fresh strawberries and raspberries, strawberry mouse, and dried chocolate yogurt.
True to their name, which translates to Wine Kitchen, Borkonyha offers 200 different varieties of wine, most of which are Hungarian, and pours 48 of them by the glass. As a non-drinker, I did not sample the wines, but the Chef Ákos Sárközi had made other arrangements. Each course of my meal was accompanied by a different local beverage, the standouts of which were the strawberry syrup that accompanied my fruity dessert and an apricot nectar served with my main course.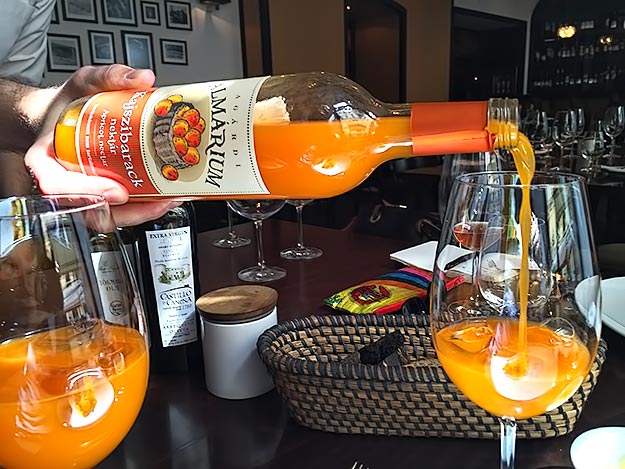 Chef Sárközi bases his menu on fresh, seasonal ingredients, thus the menu changes regularly, with daily creations scrawled on a blackboard in the dining room. In addition to my vegetarian and seafood selections, the menu includes a selection of traditional Hungarian meat dishes, which Chef has recreated with his usual flair: Mangalica pork belly with buttered vegetables, red wine boiled veal cheeks and saddle of goat with vanilla-flavored kohlrabi, Angus beef tenderloin with young squash and tarragon mustard, and Duck breast with roasted pepper and chervil-flavored celeriac. Best of all, Borkonyha is no stuffy starred establishment. The atmosphere is casual and dressy attire is not necessary. My entire meal was priced slightly less than $60.
Just a short stroll from Borkonyha, around the corner from Ferenciek Square, is Napfenyes, the new vegan-vegetarian restaurant in central Budapest. Dishes here are prepared from purely vegetarian ingredients, using no meat, eggs, dairy products, or alcohol. The majority of the products they source are organically grown and the use of preservatives, additives, or coloring agents is avoided. Rather than wheat flour, white sugar, cocoa, and bean coffee, they use spelt flour, cane sugar, carob, and grain coffee. All of their dishes are made with purified water. The food was delicious and ample each of the three times I dined at Napfenyes, and for vegetarians and vegan visitors to Budapest this restaurant is a must. I especially recommend the Green Pea sop with spelt dumplings, stuffed seitan Kiev breaded in walnuts, and the vegan skewers of seitan, tofu cubes, and soy hotdogs, marinated in garlic and paprika. Main courses range from $7-15, with soups, salads, and desserts being priced as low as $2, which is typical for Hungary.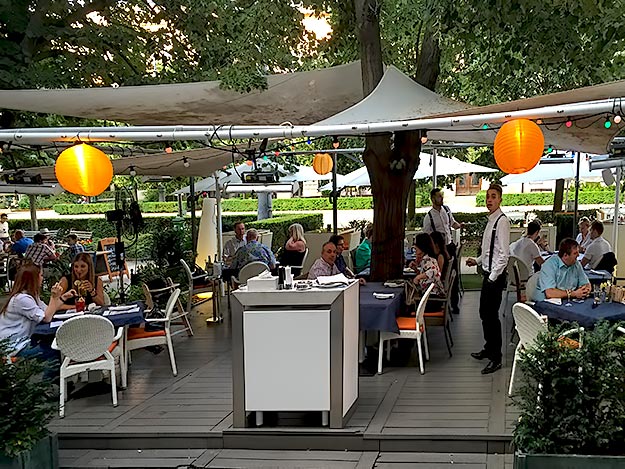 The emerging cuisine scene in Hungary is not limited to Budapest. In Debrecen, the largest city in eastern Hungary, IKON Restaurant is fast making a name for itself. Each day, they source fresh, local, and seasonal artisan ingredients from local producers located within 30 kilometers of the restaurant. On the evening I visited, I opted for a Caesar Salad and homemade pasta with caramelized cabbage, an updated version of an old Hungarian favorite. It was the best Caesar Salad I have ever eaten, and the pasta was so delicious that I craved it for weeks after leaving Hungary. Starters at IKON range from $5-9, with main courses ranging from $7-18.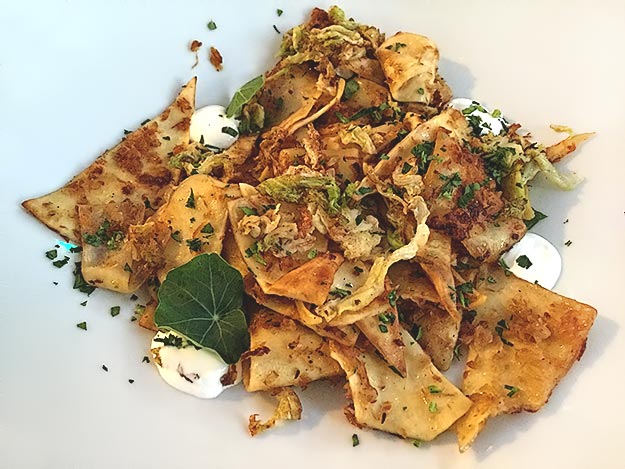 Never again will I have to worry about eating well or finding vegetarian cuisine in Hungary. And with four Michelin star restaurants in Budapest, I can look forward to even more delicious food adventures the next time I visit my favorite East European country.