My friend, Ambrus, pointed out the black flag hanging just outside the church door. Someone has died in Panyola. Later, I mentioned this to his wife, Zsuzsa. "Yes, I know, they rang the bells," she said. Curious, I asked if the bells had been rung once for each year of age of the deceased, as they used to do in some smaller parishes in England. "No, here the bells tell us if it was a man, woman, or child."
This tiny village in Hungary's far eastern Szatmar County has changed little since I last visited, nearly two years ago. It's half-dozen streets are home to about 500 people, and aside from a small grocery store the only other commercial enterprise is the Panyolai Palinka Distillery, which produces some of the country's finest fruit brandies from the Nemtudom ("I don't know") plums that grow only in this part of Hungary. The trees are heavy laden this year. "Even trees that have never produced are full," Ambrus says. No one knows why. It is not related to rainfall or cold or heat; it's just the natural cycle of things.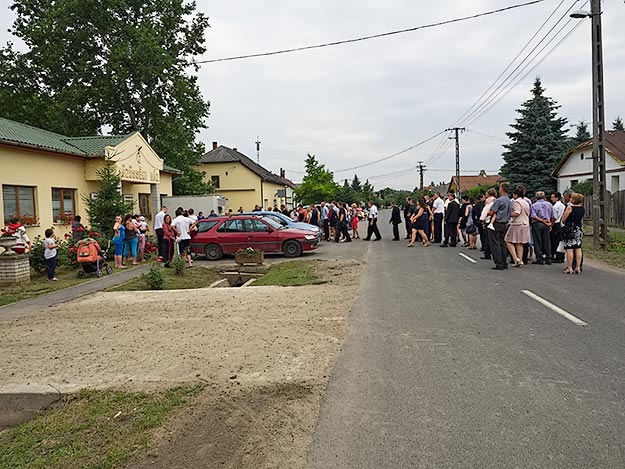 This is good news for the new owners of the distillery, who recently purchased it from the three local men who brought it back to life after it was abandoned following the collapse of the Soviet Union. According to Zsuzsa, the three men had a vision but lacked the necessary management skills. Sadly, the plant is not a source of employment for the town, as the new owner has brought in outside workers, with the exception of the brewmaster.
Unemployment and under-employment are the most pressing issues facing the small rural communities of Eastern Hungary. On the day I joined Ambrus for his weekly shopping trip to Beregove, in neighboring Ukraine, we passed village after sleepy village where simple masonry houses with wooden gables and ceramic tiled roofs lined the streets. When we passed an airport with an overgrown grass landing strip, Ambrus commented that the only plane he has ever seen here was a military fighter on a training exercise, and it crashed during an attempted landing. I wondered aloud what all these people do for a living.
"That's a good question," he said. "Before the European Union, everyone had a cow in their backyard, which they milked twice a day, retaining a small portion for personal use and for making cottage cheese and sour cream. The rest was taken to a central collection point, where the local residents were immediately paid for their milk. A couple of times each year, a truck would arrive from Ukraine to buy hogs from the residents, and once a year, trucks would arrive from Italy to purchase the cows that were no longer producing. But since the formation of the EU, all that has disappeared." Enterprises like the milk collection site and the processing plant were forced to close their doors, as they could not afford to retrofit or reequip to meet more stringent EU regulations. As a result, residents must now buy all their milk products at the grocery store.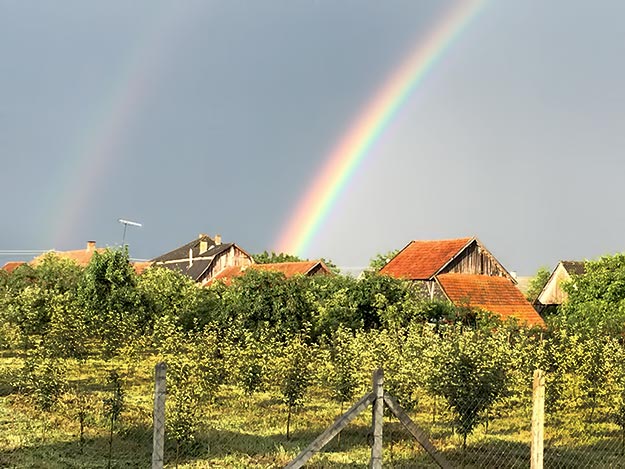 These days, most residents of small Hungarian villages work for the local government. In a system that echoes feudalism, residents pay taxes to the federal government, which sends money back to the villages with a mandate to create jobs for residents. Local elected officials assign residents to trim trees, work in local museums, clean and maintain government buildings, and even sweep the streets. "Most  days, you can see people sitting by the side of the street, waiting for their shifts to end so they can go home," said Ambrus. But since nearly every family has someone employed by the government, no one is willing to speak out against the rampant corruption that exists in Hungary, for fear of losing their job.
Prior to World War II, Hungarian rural residents were stratified into three classes. The poorest owned the parcel of land upon which their home sat as well as a small garden plot which provided some of their food needs. To buy other food and necessities such a firewood, they hired out to the upper class landowners who controlled more land than they could plant and harvest themselves. Between these two were the middle class landowners, who had modest size landholdings that were planted and harvested by immediate family members, making them almost entirely self-sufficient. After WWII, Russia took control of the Eastern Bloc countries, nationalized the farmland, and created cooperatives. Residents were forced to work in these cooperatives, sometimes on the very land they used to own, with all profits going to the State. When the Soviet Union fell in 1989, residents were offered the opportunity to buy back their land, but most were too poor to do so. Much of the land was snapped up by ex-Communist officials, the only ones who had prospered enough during Communist times to afford property.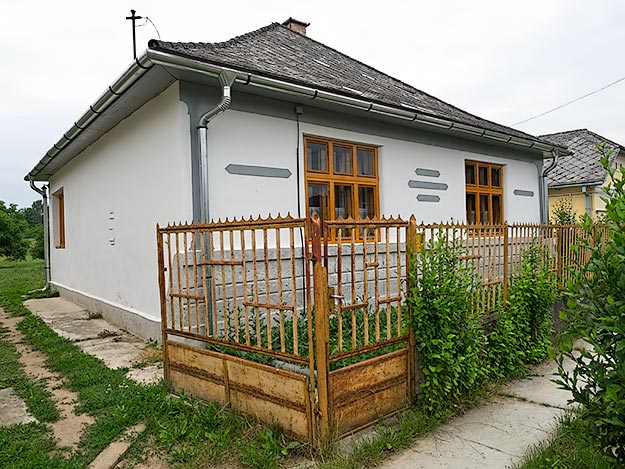 Yet, there is some hope. A trickle of people have started to return to the villages. Perhaps, like me, they sense something special in Szatmar County. This place, with its endless plains and meandering rivers, soothes my soul. Each morning I throw open the front door to my two-bedroom house, inclusive of washer and fireplace, which I have rented for $10 per night. I carry my bowl of fresh fruit and yogurt to the backyard table and read a book for a leisurely half-hour. Chickens cluck in the adjacent yard and songbirds serenade me from their tree perches. Most days, temperatures hover in the 70's and puffy clouds scud through a brilliant blue sky. There is no TV to distract me; instead I hook up my portable stereo and play soothing music to stimulate my creative process. Afternoons are spent biking around the area; evenings are for visiting friends and whipping up impromptu dinners. I am at peace.
Zsuzsa and Ambrus feel much the same; both were professors at a University in Budapest before moving to Panyola. "I had a good job with a nice office that faced the Parliament Building in Budapest," explained Zsuzsa. "But the money I earned all went to pay for private club memberships so my kids could have safe recreational activities in the city." In Panyola, children roam safely and Zsuzsa insists that not only is the quality of education better than in Budapest, the schools are more personally involved with the students and parents. "At one point, we asked the kids if they wanted to move back to Budapest. My youngest stood up and left the room. My oldest boy declared, 'I want to finish school here, get a job, live here all my life, and be buried in the corner cemetery.'"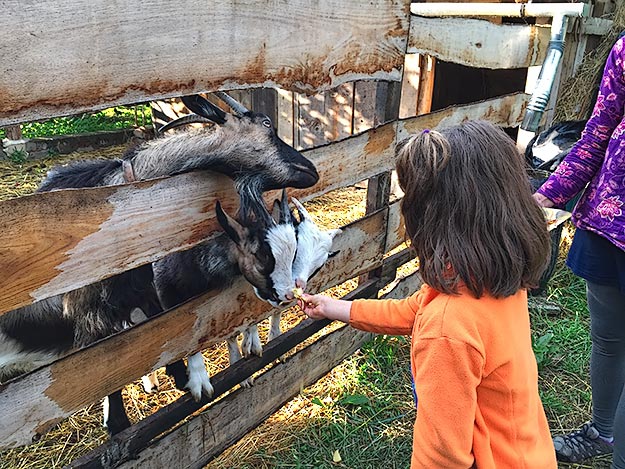 Others have followed. Zsolti and Gaby, a young couple that owns a PR firm in Budapest, just purchased a house in an adjacent village. Another young couple with two children recently bought a second home and now split their time between Panyola and a northern suburb of Budapest. This youthful new energy has been a boon to the village. Zsuzsa is working to attract tourism and Ambrus is a partner in a cooperative that manufactures products from local produce, including dried apple rings, marmalades, and apple spread. With the help of the forward-thinking mayor, a festival celebrating the annual harvest of the Nemtudom plum is beginning to draw tourists from all over the country each fall.
But there is still much to do, and the ever increasing rules and regulations of the EU are, at the very least, impeding progress. Has the grand experiment known as the European Union failed? The more difficult it becomes to create new businesses, the less likely that new life can be breathed into poor villages like Panyola. More than 25 of the town's elderly residents passed away last year, and only two babies were born. I can only hope that new residents begin to outnumber the times a black flag is flown at the church. I could not bear it if this Shangri-la became a ghost town.