The pungent scent of over-ripe fruit perfumed the air in Panyola, Hungary on the day I arrived. Limbs heavily laden with Nem tudom plums dripped over garden fences or scraped the ground in fields where trees stood in orderly rows.
"Almost everyone has a small orchard or at least a few trees in their yard," said my host, Zsuzsa Méhész.
This tiny purple plum is the sole ingredient in Hungarian palinka, a traditional high-alcohol content fruit brandy that has been produced since the Middle Ages. Villages in the Szatmár region of far eastern Hungary are famous for their pálinkas but none more so than Panyola, where the intersecting Tisza, Túr and Szamos Rivers create an ideal micro-climate for the Nem tudom plum. Locals insist the name, which means "I don't know" in English, is derived from a long-ago conversation when someone who was asked the name of the plum replied "Nem tudom." The name stuck.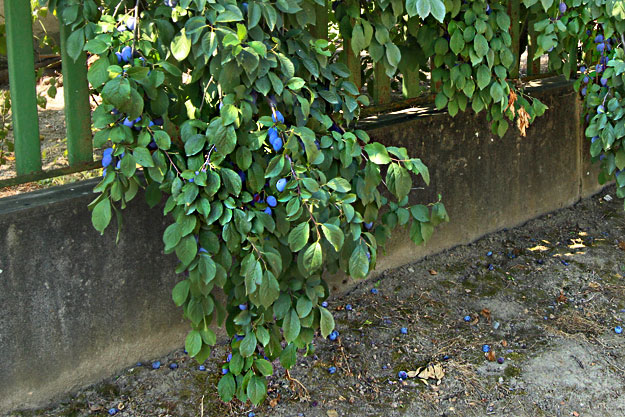 The Panyola Pálinka Distillery was almost as tenacious as the plum's name. First mentioned in a document dated 1752, it survived through innumerable geopolitical upheavals, two World Wars, and a major flood in 1970. When other distilleries were ordered closed during the Soviet Era, Panyola's facility remained open because János Kádár, the communist leader of Hungary from 1956 to 1988, liked his pálinka. Ironically, it was the fall of the Soviet Union that finally signed the distillery's death warrant. Under communism, vital businesses were not required to be profitable. Though the distillery had always produced a superior product, no attention had been paid to bottle design and labeling, marketing was non-existent, and no one had the knowledge or expertise to turn the plant into a money-making enterprise. After a few years of struggle, it was closed in 1997.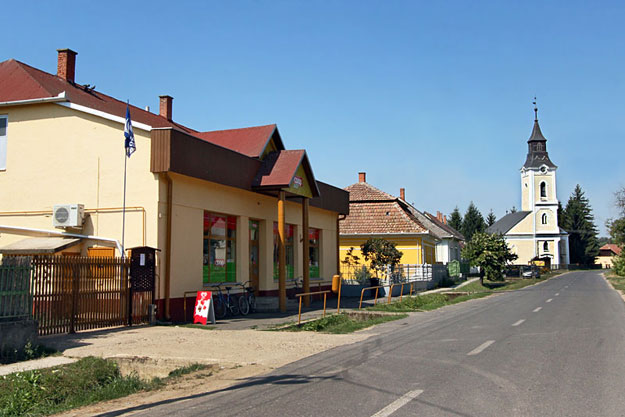 Panyola's young people fled to the big cities in search of employment. Lacking a market for their plums, the remaining older residents suffered extreme hardship, living on what they could grow in their gardens. With no money for fuel, they began cutting down the Nem tudom trees for firewood in order to survive Hungary's brutal winters. Through it all, they despaired the loss of their beloved distillery. To Hungarians, special occasions are inconceivable without pálinka: entertaining guests, holidays, weddings, celebrating a birth, and festivals.
Five years later, the son of a Panyola resident, stuck in a severe storm in the Italian mountains with two friends, commented that this would have been the perfect situation to sip pálinka.  By the time the storm cleared, the trio had decided to purchase the facility. Acquiring the land and dilapidated building took every penny they had, leaving them with no money for crucial repairs and start-up costs, nor did they have any idea how to make pálinka. Fortunately, Panyola residents came to the rescue.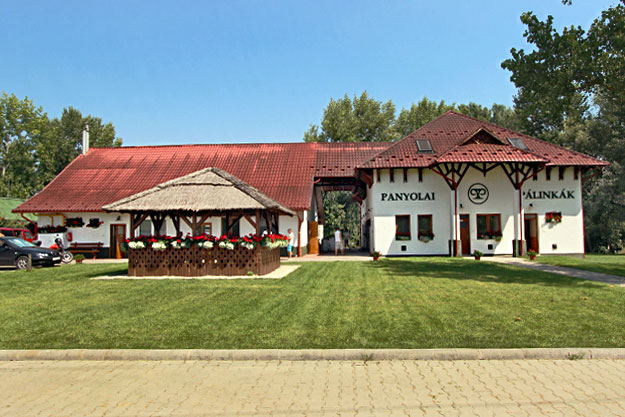 "Locals showed up every day and walked the three young owners through the process," Zsuzsa said. "A local carpenter repaired the leaking roof without payment, insisting he could be paid later, in pálinka. Men and women who were too old to work brought jugs of hot tea and prepared lunches for the workers. The whole town pulled together to get the distillery up and running." And, they stopped cutting down trees and began to care for the orchards once again.
Today, Panyola Pálinka produces brandy from 11 varieties of local fruit: plum, apricot, quince, cherry, sour cherry, pear, apple, strawberry, red currant, black currant, and elderberry. The day before I was scheduled to leave I toured the distillery. The harvest had just begun and fruit was arriving by the truckload, as well as in single crates strapped to the back of bicycles. Because they pulled together, Panyola residents will be able to sell their fruit to the distillery in perpetuity, no matter how small the amount. In some cases, the meager revenues they earn mean the difference between starvation and having sufficient food to last through the winter.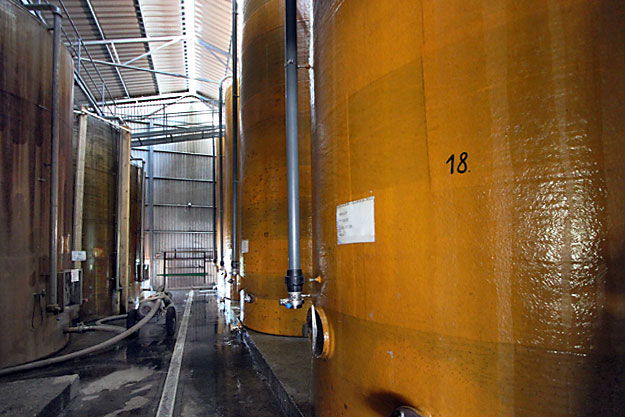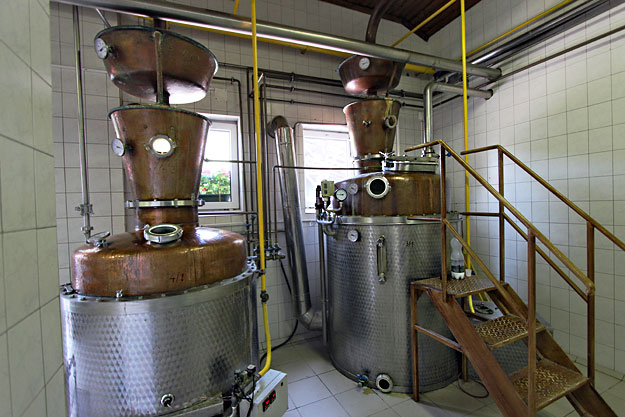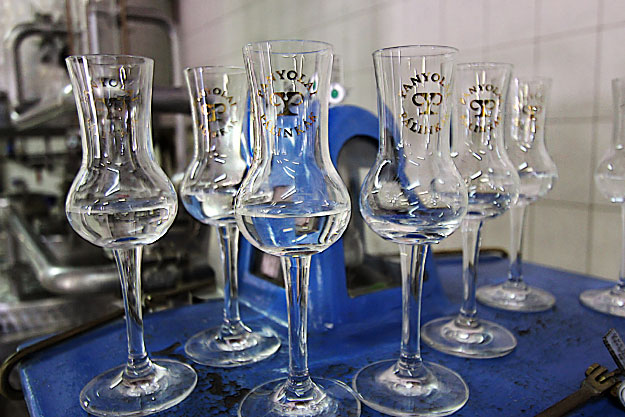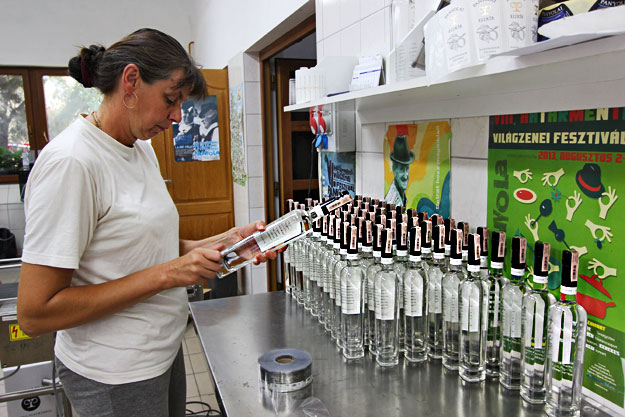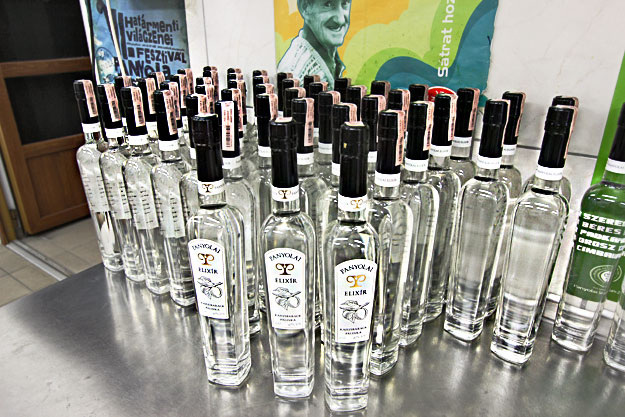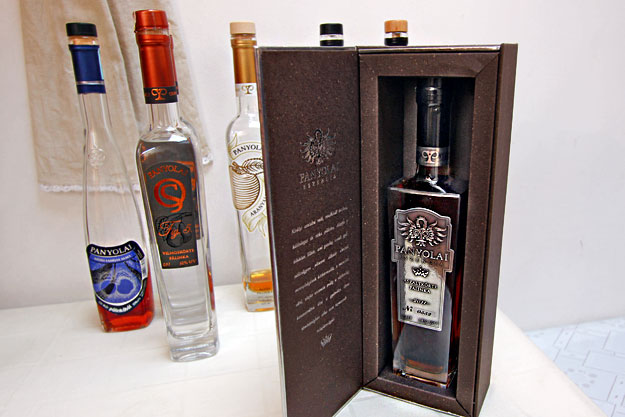 Despite the distillery's success, Zsuzsa insists that the story is not about pálinka:
"The fruit is the most important thing. It is a part of the local history. (Panyola) is a small village and the people are quite poor and very isolated. Of course they can sell their fruit and get money, but the most important factor is that it makes them proud, gives them an identity. They have something to show, something of quality. In the big cities (people) don't care if they hurt you – they will not see you anymore. Here, we know each other, so the respect is very important. And this plum somehow stands for keeping respect for one another."
This sense of joint accomplishment has done more than resurrect an old factory, it has energized the whole community. Slightly more than a year ago, a group of locals that includes the town's mayor and Zsuzsa's husband, Ambrus Barabas, formed a co-op to produce compotes, dried fruits, and sauces from local fruits and vegetables. Like Hungarian Palinka, there are no additives in the co-op products. Fruits used in the production of compotes are sorted, cleaned, split, and pitted by hand, then cooked over a slow fire in huge vats to bring out the natural sweetness of the fruit. The mixture must be stirred constantly and everyone pitches in during these few labor-intensive weeks each fall. Other fruits are laid out on long wooden racks for slow-roasting inside a giant wood-fired oven.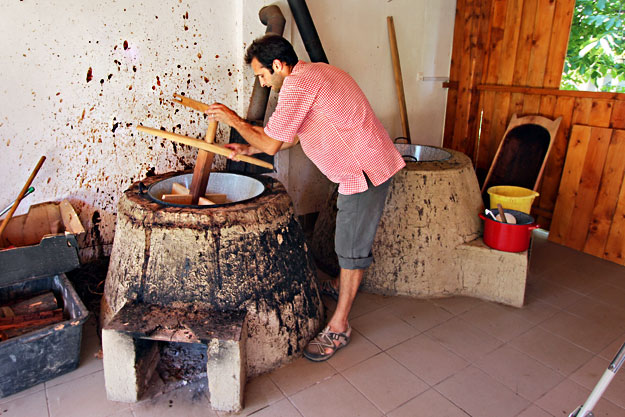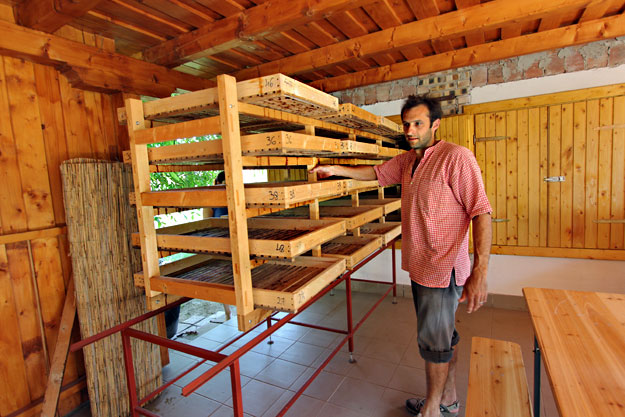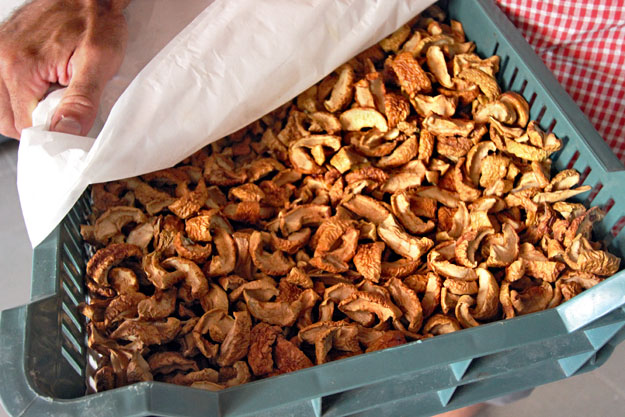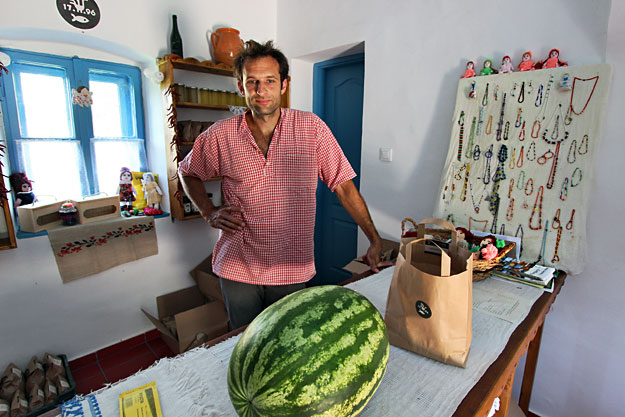 I left just a few days before the plum harvest began, but wanted to show my readers some images of the locals bringing in the crop and producing the final products. Zsuzsa, ever helpful, provided me with the following photos:
Can't view the above slideshow about harvesting the plums in Szatmar County, Hungary? Click here.
As often happens, the positive energy and can-do spirit of Panyola seems to be increasing exponentially. Zsuzsa and Ambrus were among the first new, young residents of the village. They abandoned their corporate jobs in Budapest, Hungary several years ago, seeking a simpler, more rewarding life. Other young couples have followed and some of the children are returning after completing university. Recently, a baby was born in Panyola, the first in many years; the entire village celebrated. The mayor sold the car that was provided as part of his office and bought the vacant land behind city hall with the proceeds. He turned it into a park, which is used for the annual World Music Festival, held in August each year.
Zsuzsa, Ambrus, and a passel of like-minded, forward-thinking folks from Panyola believe that the area is ripe for tourism. Though the town is tiny, it has a lovely sand beach, church, post office, a small grocery store, and it is an ideal base for exploring the ancient wooden churches, old mills, and boutique museums scattered around the Szatmár region (more on that in my next story). And of course, a tour of the distillery is not to be missed. But the real attraction is the chance to get to know the locals in a part of the world that hasn't yet been overrun by tourists, where visitors are cherished and warmly welcomed. If asked what the future holds for Panyola, I'd have to answer "Nem tudom," but I suspect whatever it is will be good. There's just too much positive energy in this little village for it to be anything else.
How to Visit Panyola and Szatmár County, Where to Stay and Eat:
When I arrived in Hungary I had never heard of Panyola or Szatmár. My first exposure was a Facebook message from Zsuzsa, who had been following my blog and invited me to be her guest when she saw I would be visiting eastern Hungary. She was a total stranger and her invitation came out of the blue, but my contacts at Debrecen Tourism confirmed that she had done a presentation about far eastern Hungary at one of their functions. As per usual, I was traveling without concrete plans, thus I agreed to an overnight visit, but one day became five and even then I did not want to leave. Zsuzsa and Ambrus embraced me and made me a part of their family. They had nothing to gain personally by inviting me; they simply wanted to introduce me to their adopted town. They hoped I would love it as much as they do…and I did.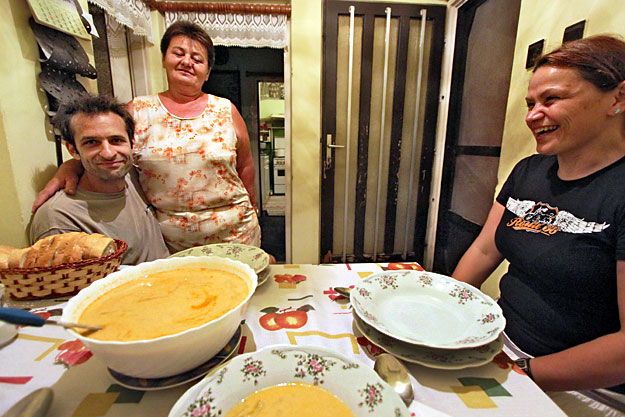 There are no restaurants or bars in Panyola and the only accommodations are Vendégház (guest houses) that are usually built on the grounds of or attached to local homes. I stayed at the Lakatos Vendégház, an entire two bedroom house that rents for about $12 per night. Breakfast each morning was at Zsuzsa's house, and delicious dinners were prepared by another local woman, Iren, who was challenged by my vegetarianism but came through like a champ with exquisite soups, pastas, and crispy fried potato cakes. For more information about Panyola and assistance with arranging a visit, please feel free to email Zsuzsa Méhész at [email protected] or leave a message on her Facebook Page for their new guest house.
Disclosure: I was a guest of Zsuzsa Méhész and Ambrus Barabas during my stay in Panyola, Hungary. However, the receipt and acceptance of complimentary items or services will never influence the content, topics, or posts in this blog. I write the truth, the whole truth, and nothing but the truth.