Luigi delivered the square, dark green bottle to my table, along with a basket of fresh-baked bread. From the unlabeled decanter I poured a quantity of extra virgin olive oil onto a plate, allowing it to spread languidly into a golden pool before sopping some up with a hunk of crusty bread. I closed my eyes and popped it into my mouth. The oil burst onto my tongue, at once fruity and fragrant, with a hint of acid. I nearly swooned; it was one of the most delicious varieties I'd ever sampled. But olive oil was just the beginning. Moments later, my table was covered with a selection of antipasti: beignets filled with artichoke and drizzled with balsamic vinegar, baked aubergine Parmesan casserole, polenta stuffed with artichoke and topped with smoked provolone, sauteed chard and green fava beans topped with sauteed calamari strips, and zappa di legume with fava beans and chickpeas.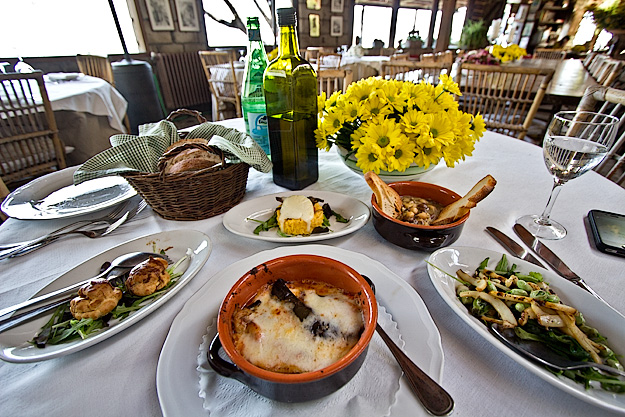 Between bites, I gazed out picture windows to a panoramic view of Li Galli and Vitara islands, where Ulysses had himself lashed to his ship's mast in order to hear the Siren calls without being lost to them. Seated atop a mountain on Italy's Sorrentine peninsula, gazing out over a cerulean Mediterranean while surrounded by gourmet food, I suffered a similar seduction. I wanted to stay forever at Fattoria Terranova Farmhouse and Restaurant, a charming third-generation farm that has been converted to one of Italy's popular Agritourismo accommodations.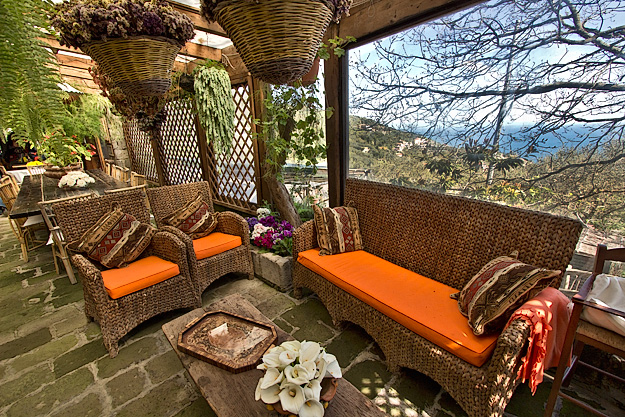 Luigi's grandfather, who started the farm in 1914, handed it down to his son, Claudio Ruoppo. Claudio was already a successful florist in Sorrento with a wife and six children; he had little time to manage a full-fledged farm, much less one that still employed traditional, time-consuming methods. Years later, Claudio confessed to his adult children that he had always dreamed of creating a holiday farm where guests could come in contact with the true essence and nature of the Sorrentine Peninsula, rather than the crowded beaches and tourist-clogged streets of Sorrento. Gradually, he converted the dilapidated farm buildings into guest rooms and a restaurant, and his dream became reality. Today, four of the Ruoppo children help manage Fattoria Teranova; in addition to Luigi, Franchesca is a chef, Rossella is the day-to-day operations manager, and Roberto manages their shop in Sorrento.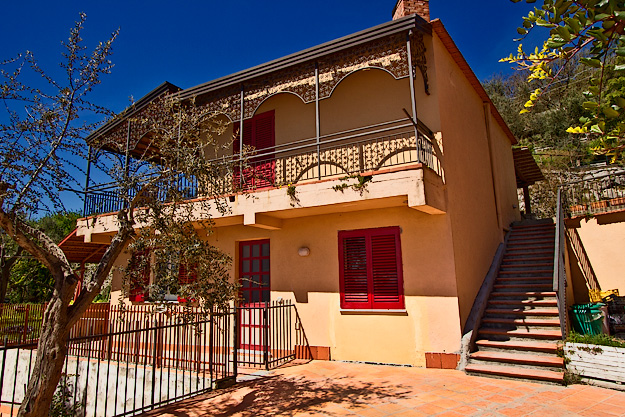 "We implemented mechanized farming techniques and created 12 guest rooms in order to provide agricultural, wellness, relaxation holidays," explained Luigi. Everything on my table, he pointed out proudly, had come from their gardens. "Our restaurant is a 'zero kilometer' concept, so our menu varies according to season." Defined as using and consuming food from the area of production, zero kilometer means whatever is fresh and available on any given day becomes the foundation of their menu. And not only are 80% of the items served at the restaurant vegetarian, all of their products are certified 100% organic.
I turned my attention back to the feast in front of me, stuffing my face with another oil-drenched crust of bread. Olive oil like that produced at Fattoria Terranova Farmhouse and Restaurant makes it easy to understand why this ambrosia was once reserved for gods and nobility. In a way, this regal tradition is preserved at the Eco-farm; they limit production to only 600 kilograms (about 1,300 pounds) per year and sell it only in their small shop.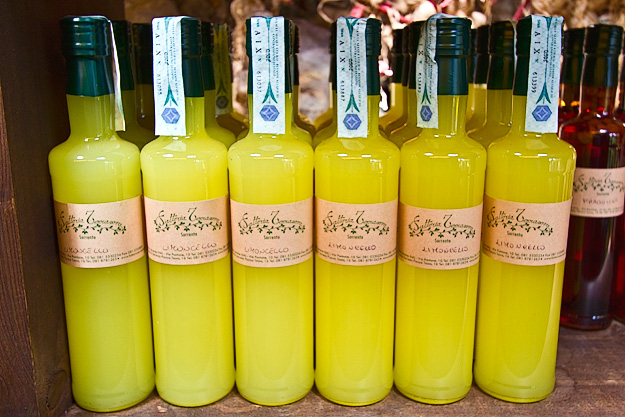 Limoncello, a potent liqueur made from the gargantuan lemons for which Sorrento is so famous, is also manufactured in strictly controlled quantities. When I questioned why they didn't make more, Luigi had a ready answer. "I have two people in the factory who make in one year about 20,000 bottles of Limoncello. Two people. Half a day. Slow. No stress. Localization. Happy employees. If I want to make 40,000 bottles I have to change. I must have more facilities, more equipment, more employees, more debt. The price goes down but maybe the quality goes down as well. I prefer to sell the highest quality for the highest price."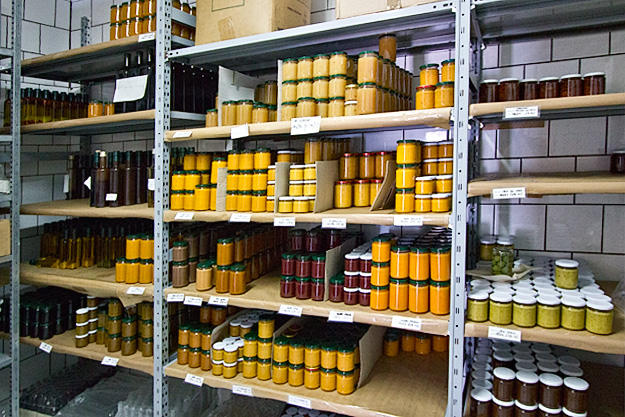 Liqueurs produced from their own farm-grown walnuts, oranges, strawberries, and pistachios were tucked into corner niches. Jars of marmalade preserves, sun dried tomatoes, and black and green olive pates were neatly arranged on shelves scattered around the restaurant. Overhead, strings of onions, garlic, yellow cherry tomatoes, and corn hung from the ceiling.
I wanted to taste it all, and I might have had an opportunity to do so, had I been able to return the next morning for a cooking class. Though the idea for the business started with the resurrection of the farm, demand for Eco-tourism and authentic travel experiences prompted them to add a series of hands-on workshops.
"We offer 14 different activities," said Rossa. "Cooking classes, mozarella making, pizza making, bread making, pastry school, tasting of typical products, and wine tastings – we even do a cooking class for 'little chefs', where we make cuisine for children using traditional foods of the area."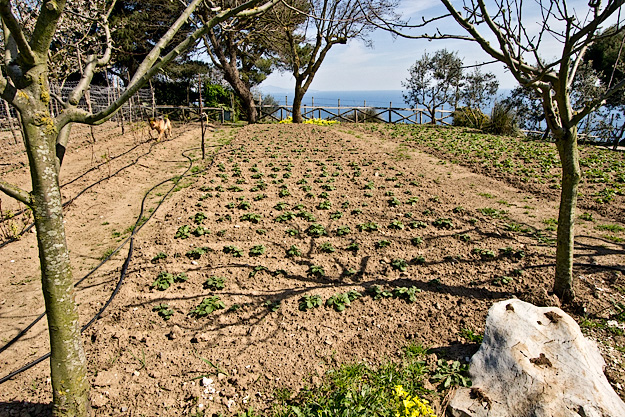 Luigi tried to force dessert on me but I couldn't make room for one more bite. Instead, we climbed to the gardens on top of the hill. Beyond neatly planted rows of artichokes and beans, the shimmering Tyrrhenian Sea stretched to the horizon. I closed my eyes and breathed in the rich loamy scent of earth, allowing the late afternoon sun to soak into my shoulders, wondering whether paradise could be any better than this.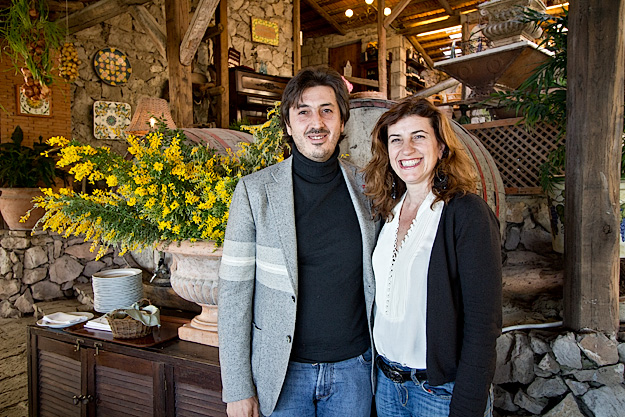 Getting to Fattoria Terranova:
The Terranova farmhouse is located in the hills behind Sorrento, with views toward the Amalfi Coast. Guests arriving via air at Naples International Airport will take the Curreri line buses for Sorrento and get off at the last stop (about 1.5 hours). Those arriving at the Garibaldi Central Train Station in Naples will take the escalators down one level and catch the Circumvesuviana train to Sorrento (about 1.5 hours). From Sorrento, rental cars are available, or take the local SITA bus for Sant' Agata sui due Golfi (Via Priora). The stop is only 1 km away from the farmhouse.
Accommodations:
The 12 guest rooms, two of which are equipped with full kitchens, can accommodate up to 40 guests, and a maximum stay of two weeks is allowed. Prices depend upon season, but the average is 89 Euro ($121 USD) per night, which includes a buffet breakfast, free wifi (in the restaurant and some rooms), access to swimming pool, and laundry. There is no air conditioning in the rooms because there is no need; being located in the hills, the climate and temperature is always cool.
Farmhouse Restaurant:
The restaurant is open to guests not staying at the farm. For additional information or to make a reservation fill out the contact form on their website or call +39 081.5330234.
Classes and Workshops:
For more detailed information about classes and workshops, fill out their contact form or call +39 081.5330234. Reservations for classes may also be made at their retail shop, located on Piazza Tasso in the center of Sorrento.